smokelong quarterly
The 28th outing of Smokelong Quarterly is a massive double issue you're going to want to read.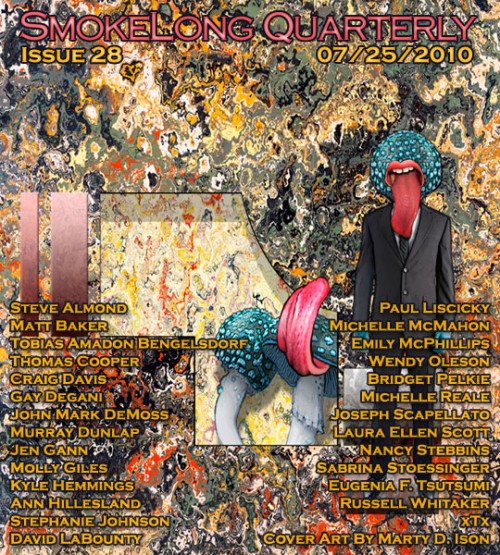 Uncategorized /
2 Comments
July 26th, 2010 / 1:59 pm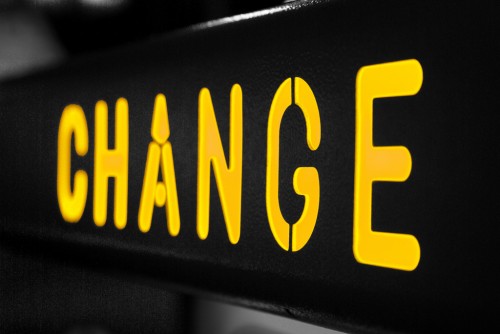 Blake had a post a while back about the problems that slush presents for every lit mag. When magazines start out, their slushes are pretty small, the editors are really excited about reading, and for the most part, they go into reading each piece with the hope of finding a piece to publish. As lit mags get older, their slushes get larger, the editors get a bit more burnt out, and because the amount of space the mags have is the same, they can't accept as high a percentage of subs, and tend to start reading each sub with an eye toward finding a reason to reject. It's kind of horrible and numbing. How do mags avoid this?
Uncategorized /
89 Comments
December 31st, 2009 / 10:00 am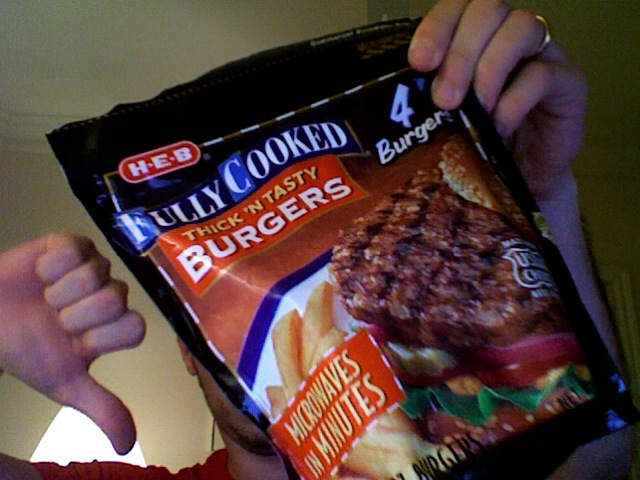 Sorry to bump the Boobs Friday post down, but Friday is nearly over and I'd like to post this before I forget. Also, I ate a really bad hamburger tonight, so I'm in a bad mood. It was one of those patties that are precooked and you just pull it out of the freezer and heat it up in the microwave. See, HEB was giving them away for free at one of their new stores here (they mailed out coupons or something) and I could not resist. I have three more left. I will probably eat those too and complain again. Sorry. I cannot control myself.
Okay, to the important information.
Smokelong has just announced that they are now accepting applications for the 2009 Kathy Fish Fellowship. You can read guidelines at their site, but here's a nice excerpt:
We want to foster that sort of commitment to new writers, and in that vein, we created the Kathy Fish Fellowship. All writers previously unpublished in SmokeLong Quarterly are eligible to apply.
I like the idea for the fellowship. I wonder if other journals do this? I know The Southern Review has a fellowship (but it's a little different), and maybe the folks at West Branch too?
Anyhow, the deadline is December 20th, so yeah. Send in your applications, people.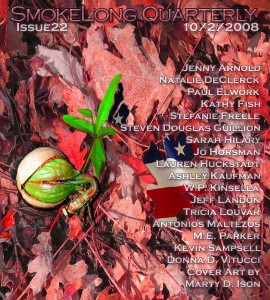 There's a new issue of Smokelong Quarterly now live.
Issue Twenty-Two (October 2, 2008): Innocence, Briefly by Jenny Arnold «» Tapioca O's by Natalie DeClerck «» How Anything Got Done by Paul Elwork «» Tenderoni by Kathy Fish «» Breathing Oysters by Stefanie Freele «» The Mime's Dog by Steven Douglas Gullion «» Two Minute Silence by Sarah Hilary «» Constructing Birds by Jo Horsman «» Crazy Sun by Lauren Huckstadt «» One Night Out by Ashley Kaufman «» Asian Girl by W.P. Kinsella «» Fatback by Jeff Landon «» Bounty by Tricia Louvar «» Beautiful by Antonios Maltezos «» Private Room by M.E. Parker «» True Identity by Kevin Sampsell «» Campfire by Donna D. Vitucci «» Interviews: Jenny Arnold «» Paul Elwork «» Kathy Fish «» Stefanie Freele «» Steven Douglas Gullion «» Sarah Hilary «» Jo Horsman «» Ashley Kaufman «» Jeff Landon «» Tricia Louvar «» Antonios Maltezos «» M.E. Parker «» Kevin Sampsell «» Donna D. Vitucci «» Cover Art "November Leaves" by Marty D. Ison «» Letter From the Editor
Uncategorized /
Comments Off

on Smokelong 22
October 3rd, 2008 / 1:33 am