SubMishMash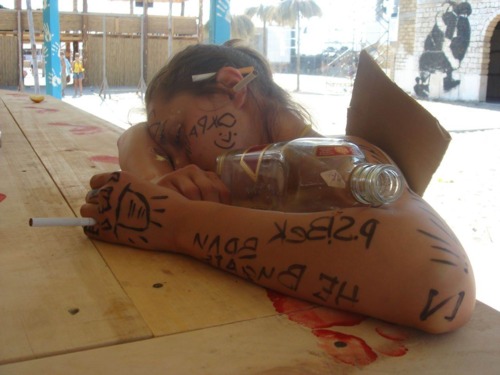 [matchup #59 in Tournament of Bookshit]
This being my first venture into sports writing, I think what I'll do is recap alcoholism's inevitable rise to power before tonight's  "game," then we can all pop some High Lifes and pull them hot wings out of the freezer.
Alcoholism was on a tear until HTML decided to drop Tournament of Bookshits and review books. Shame, because there were some real gems in there. Take these gems from the Giancarlo Ditrapano-moderated Facebook status updates re: present MS word count vs. Alcoholism:
If you write 5,000 words, chances are that 4,950 of them are shit
I miss workshops already. READ MORE >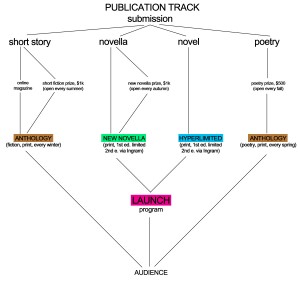 Flatmancrooked has decided to offer Expedited Submissions where a senior editor will respond to such submissions in 14 days or fewer. The fee? $5. I understand the inclination, have definitely considered some sort of tiered submission structure, but remain uncomfortable with the idea of charging for submissions (and conversely, paying to submit). As a person who enjoys instant gratification, I like the idea of knowing the time frame within which my work will be considered. That privilege just might be worth $5 to me. Then again, I am increasingly less preoccupied with things like response times. And yet. And back and forth I go. Thoughts? Will you pay to play?
Not to get all Wired Magazine on you, but here I've done an interview that includes the words, "It's a services-based MVC architecture. We mostly use open-source technologies (Subsonic, ASP.NET MVC, JQuery)."
See, for the last few years I've been managing Publishing Genius submissions through an email address that directed subs into my personal inbox, where I would use various labels to keep them straight. It was easy, so I figured it was a good solution.
But a couple months ago I stumbled across a service for managing subs called "Submishmash." I liked the curious name, and it was free, so with an ounce of hesitation, I decided to check it out. Since it was in beta, I had to send an email off to the creators. A couple hours later, someone named Michael FitzGerald responded and set me up with an account. He even helped me out by inputting my guidelines from the PG site.
It took me a couple weeks to decide if I wanted to use the service. I had to do my "due diligence" and ask around, find out if they're reputable. Also, I was worried that writers wouldn't send their work if they had to deal with signing up for an account with Submishmash.
When I finally adopted the system, I was immediately surprised by how well Submishmash works. Not only did writing continue to flow in, it seems like I started getting more. I don't know if this is accurate because my old, email-based system doesn't give me any reports. Submishmash, however, has great analytics. It made receiving subs fun again.
Submission management systems aren't new. Famously, One Story developed one and sold it to the CLMP. Theirs is a paid system, though, and I can't afford that, so I have no idea how it works. But I also didn't know how overwhelmed I was with my email solution, and how disorganized. What I do know, however, is that Submishmash has made my job exponentially easier. It's intuitive and powerful. It's packed with features for reading on the screen, automated responding, filtering and reporting. And best of all, at least for me – the developers are great people who know their business, and who know publishing.
I've asked Michael FitzGerald, who aside from being a programmer also wrote the novel Radiant Days, if I could interview him about the project. READ MORE >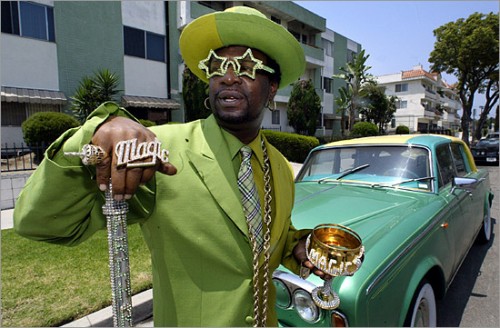 I stumbled upon the St. John's College Reading List and I find it fascinating. Readings cover the Greeks, the Bible, and much much more. A few universities do this sort of thing–a comprehensive reading program to serve as the foundation of a student's education. I think it's a wonderful approach but I agonize over how you decide which books to include. What would be on your reading list?
Mud Luscious Press is having a bookmark contest. Details here.
Another year, another Orange Prize  fracas.
Frequent, lively commenter Amber Sparks has assumed the position of Fiction Editor for Emprise Review. Send her some great writing, won't you?
Come April, Letter Machine Editions is reading manuscripts.
Offered without commentary: Robert Swartwood vs. Narrative, Part II.
I read a couple of great books this weekend and you may want to check them out—Congratulations! There's No Last Place If Everyone is Dead by Matthew DeBenedictis (sold out, sadly) and Non/Fiction by Dan Gutstein. The former came with an odd packet of instant coffee and Yo! MTV Raps trading cards. I now know that there are trading cards for everything.
Submishmash is a great alternative to the CLMP submission manager (which is a fine product albeit a bit pricey) and its run by fine people who are very responsive to their customers. If you're looking for a submission management option, you should check them out.