syllabus
(Thank you HTML Giant, for many wonderful years, for impacting my life in magical ways, for being my friend. xoxo)
This is something I'm teaching right now:
ENGL 534: FORM & TECHNIQUE IN FICTION
PUNCTUATION!
COURSE DESCRIPTION
In this class that focuses on punctuation—take a deep breath now—you will be writing a novel. A complete first draft of a novel: in this class. Yay!
COURSE GOALS
Through this class, you should expect to achieve the following goals:
Develop a complex and sophisticated use of punctuation;
Read Ulysses;
Write a novella[1]
REQUIRED TEXTS
Gabler edition of James Joyce's Ulysses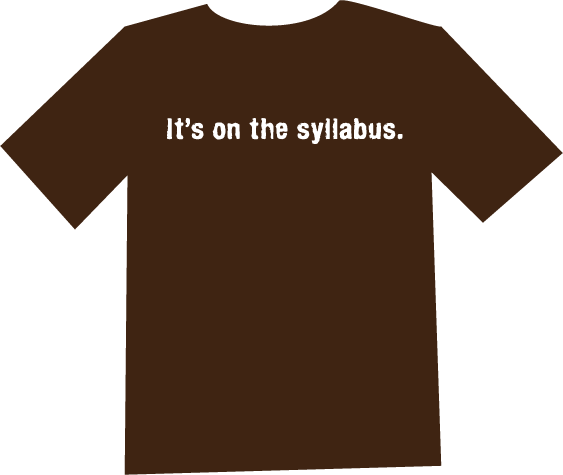 So, I'm teaching my first MFA fiction workshop this spring, which is exciting and pretty cool. I've decided to play with the traditional workshop model, which is two submitted stories per term. Here's the syllabus.
ENGL 574 Syllabus
COURSE DESCRIPTION: This will be an intensive graduate workshop. I am working with a different model, one that emphasizes both generative practices and revision. You will be required to write three new stories very quickly (during the first nine weeks of class), which we will workshop, then we'll spend the last five weeks of class workshopping one revision. It doesn't take a mathematician to realize that we will be "flying" through the stories in the first part in order to focus our time on the revision.
My apologies to Jereme, who recently commented something along the lines of "htmlgiant is like a teacher's lounge," but since I spent the weekend putting together course proposals for next year, I thought I'd share one of the possible reading lists I devised for my "Introduction to American Experimental Fiction" course. You'll notice that all of the selections are on the shorter side <300 pages. This is crucial, so that I can cover a bunch of different texts. Nothing is set in stone yet, so I would love to hear what you would add or subtract from this list, and why:
Ishmael Reed – Mumbo Jumbo
William S. Burroughs – The Soft Machine
Kathy Acker – Blood and Guts in High School
Carole Maso – Aureole
Jean Toomer – Cane
David Markson – This Is Not A Novel
Gertrude Stein – Tender Buttons
Ben Marcus – The Age of Wire and String
*As a bonus, my wife found this cool database of syllabi for American Lit courses from professors at various universities (including a Poetics syllabus from Susan Howe for a course on "Sexuality and Space in 17th – 19th Century American Literature."
Amy McDaniel
—
ISO SYLLABUS SUGGESTIONS: In past semesters, I've mostly taught conventional short stories to my conservative, non-English major Intro Lit students, thinking they'd be turned off by raw/experimental/genre-bending stuff. But I just taught "Cat N' Mouse" by Steven Millhauser, and they loved it the most. Also, in another class, my students dug James Tate, though they were totally down on Lyn Hejinian. So I've changed my thinking, and I'm looking for suggestions of stories and poets to teach that/who are less conventional but more approachable for students who normally see reading as a chore.  Whatcha got?