twin peaks
1. Strange Maps does Twin Peaks.
Ultimately, however, the series' exact location is incidental, even obstructive to its narrative.
1. Excellent Redmond O'Hanlon profile here.
He likes to stack up around himself everything he has ever valued, as if he fears it'll all be taken away: stuffed animals, skulls, a giant pelican, a mummified frog, hundreds of photographs of pygmies, a pair of buffalo horns and lots of cabinets – for beetles, butterflies, birds' eggs and an alarming spider.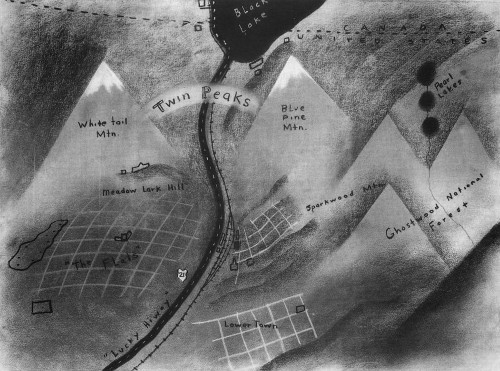 2. Oh eyeballs! Interview with Tony Rauch about Bizarro Fiction.
If you think about it, there's nothing strange about a giant vegetable who lives up in your attic without you knowing about it.
4. Mike Smith writes poems that are all anagrams of each other. Then he chooses poems by sixteen well-known American poets and writes anagrams of some of their poems. WTF?
7. Speaking of reviews, I like when people say a story is "Slight." That is code for thin, as in brief in all universe, as in shallow, as in SUCK. What are other words in reviews that say one thing and mean another?
1. At Burnaway, an Atlanta arts blog, I'm curating a new column of "writers on art," which today features Heather Christle on Joan Miró: "I wanted secrets, and I wanted to laugh, so I snipped letters from my head and sorted them by shapes: those which slant, those which curve, those which face left or face right."
2. At Thought Catalog, Christian Lorentzen writes a long screed for the nonexistence of hipsters, with reasoning including that our generation has never had a good serial killer.
3. At The New York Times, Joshua Cohen turns in a take down on the brand new 1,000 page book from McSweeney's, Adam Levin's The Instructions, calling it "a very long joke." Other readers: yay, nay?
4. At Montevidayo, Johannes Göransson writes about the "ambient violence" of Twin Peaks.
5. Submissions to New York Tyrant are now open.
6. I forgot about this great old music video from Low:
1. @ The Guardian, Twin Peaks celebrates its 20th anniversary.
2. An excerpt from Johannes Göransson's recently completed novel, Haute Surveillance (which is fucking incredible), presented by Andrew Lundwall.
3. A trailer for Ben Mirov's Ghost Machine, forthcoming from Caketrain: