writing as taking a shit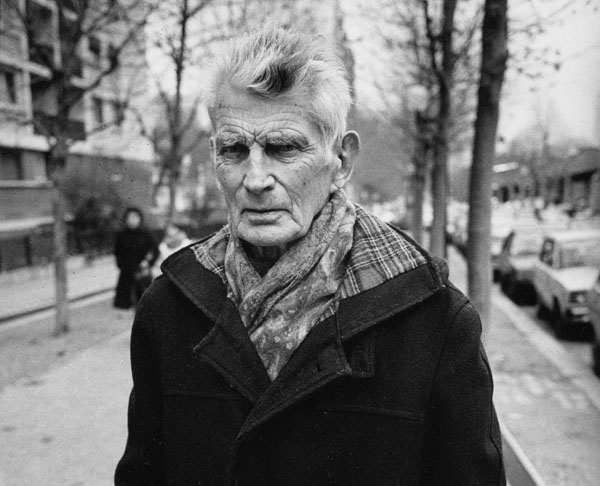 Opening my notebook the morning after a night of woozy ambien scribbling is like opening a present: you never know what's inside. Today there was a note that said, "Beckett—101-2. Shit genre."
Here is the passage I noted. It's from Samuel Beckett's first play Eleuthéria, which was disowned by the Beckett Estate.
Dr. Piouk: What does he do?
Mme. Meck: (With pride) He is a man of letters.
Dr. Piouk: You don't say! (Enter M. Krap. He reaches his armchair and cautiously sits down)
M. Krap: You were saying nice things about me, I feel it.
Mme. Meck: There isn't anything the matter with her?
M. Krap: She is unharmed.
Mme. Meck: She is coming?
M. Krap: She's getting ready for that.
Mme. Piouk: There was a time when you were unaffected.
M. Krap: At the cost of what artifice!
Dr. Piouk: You are a writer, Monsieur?
M. Krap: What gives you leave to–
Dr. Piouk: It can be felt in the way you express yourself.
Mme. Piouk: Where has she been?
Mme. Meck: She is going to tell us.
M. Krap: I will be frank with you. I was a writer.
Mme. Meck: He is a member of the Institute!
M. Krap: What did I tell you.
Dr. Piouk: What genre?
M. Krap: I don't follow you.
Dr. Piouk: I speak of your writings. Your preferences were for what genre?
M. Krap: For the shit genre.
Mme. Piouk: Really.
Dr. Piouk: Poetry or prose?
M. Krap: One day the former, another day the latter.
Dr. Piouk: And you now deem your body of work to be complete?
M. Krap: The lord has flushed me out.
Dr. Piouk: A small book of memoirs does not tempt you?
M. Krap: That would spoil the death throes.
Mme. Meck: Admit that this is a bizarre way to treat guests.
Mlle. Skunk: Extremely odd.
The shit genre. I love that. I'm stealing that. Whenever someone asks me what genre I prefer I will tell them, "The shit genre, of course." You've never heard of it? You must not know much about literature. (Like Beckett's characters, I sometimes fantasize about getting sassy with "legitimate" types….)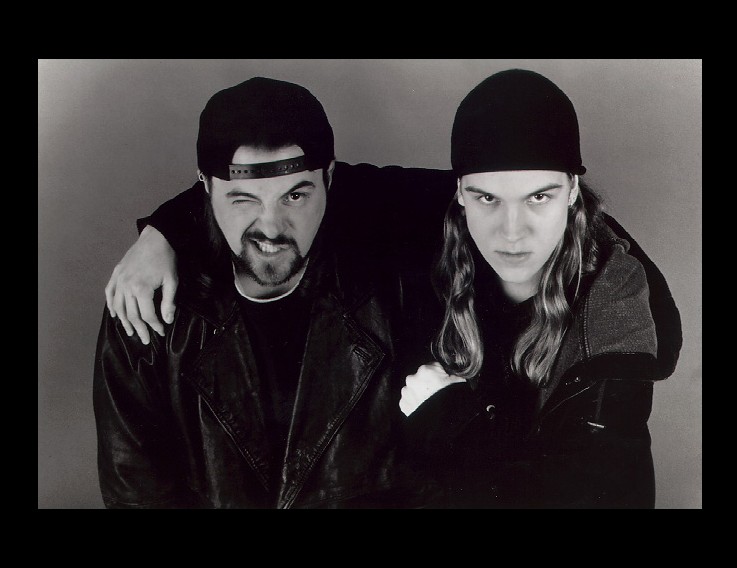 Dear Kevin Smith,
You have a fucking radio show? That's kind of hilarious because you were always the silent one. You were Silent Bob. You went from being pure body to pure voice. Why'd you do it, man? There was something philosophical about your silence, they way you were so expressive without saying anything. We all liked to imagine what you were thinking, how you were perceiving everything that was going on around you. There was a profound quality to your sparse interjections (because you never spoke, because of the scarcity of your words). The law of economics says that when demand exceeds supply, value increases. Maybe I should shut up. Maybe I should retreat into silence like you once did. Maybe then—only then—will people give a shit about any of this. Any of these words.
When you did speak, we felt lucky to be graced by your wise words. Because you never spoke, we felt like you were enlightened, like you were beyond language, like language was something the petty people did, and you did not need it. You were above all that, the way spiritual gurus are above food, the way they no longer need to satiate those earthly desires. You didn't need to feed the part of the body that longs for recognition. You were a watcher, an observer. Everyone around you was always blabbering on and on, but you didn't feel the need to fill up space in the same way. You know, most people feel anxious about silence. It's the hardest thing, to live in silence. You can't just "be" next to someone. It makes you totally nuts to feel like you don't know what they're thinking. Maybe their silence means hatred. Maybe I'm fucking boring. So we talk on and on because we are afraid, because we need to know where the other person is at, because silence can mean anything and we need our interactions to be anchored in certainty.