Jimmy Chen
Directions to forever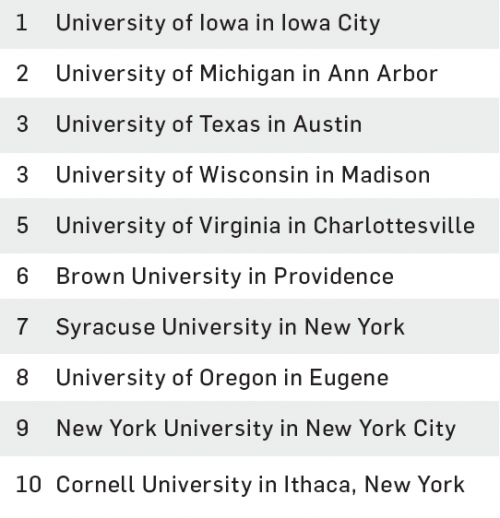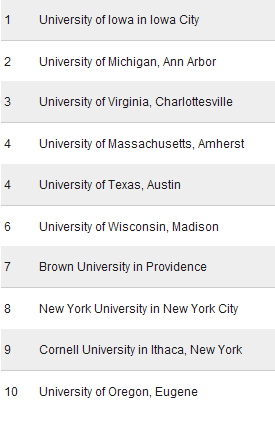 The top ten list just released [left] is almost identical as last year's [right], except University of Massachusetts Amherst was dropped, replaced by Syracuse University. If you care about your future, the drive will take you approximately 4 hours and 23 minutes. If you have to cry in the car, please roll down the windows, as your tears will evaporate quicker. A good place to hide acid tabs should you be pulled over is under your eyelids. A good place to blow someone is America. The best way to get there:
University of Massachusetts

Amherst, MA 01003
1.
Head west

492 ft

2.
Turn right toward Commonwealth Ave

226 ft

3.
Turn right toward Commonwealth Ave

492 ft

4.
Turn left at Commonwealth Ave

0.3 mi

5.
Take the 1st right onto Massachusetts Ave

0.1 mi

6.
Continue onto N032

0.1 mi

7.
Continue onto N Hadley Rd

0.3 mi

8.
Merge onto MA-116 S via the ramp to I-91

1.9 mi

9.
Turn right at MA-9 W/Russell St

4.7 mi

10.
Turn left to merge onto I-91 S

12.9 mi

11.
Take exit 14 toward I-90/Mass Pike/Boston/Albany Ny

0.5 mi

12.
Merge onto W Springfield

0.4 mi

13.
Take the I-90/Mass. Pike ramp to Boston/Albany Ny

0.2 mi

14.
Keep right at the fork, follow signs for I-90 W/Albany and merge onto I-90 W

Entering New York

63.2 mi

15.
Continue onto Ny St Thruway Berkshire Extd

5.9 mi

16.
Continue onto Berkshire Ext Ny Thruway

0.8 mi

17.
Take exit 22-61 to merge onto I-87 N toward I-90/Albany/Buffalo

14.1 mi

18.
Continue onto Governor Thomas E. Dewey Thruway/New York State Thruway

1.3 mi

19.
Merge onto I-90 W

127 mi

20.
Take exit 34A to merge onto I-481 S toward Syracuse

3.6 mi

21.
Take the exit onto I-690 W

4.8 mi

22.
Take exit 13 for Townsend St toward Downtown

0.2 mi

23.
Merge onto Browa St

30 ft

24.
Turn left at N Townsend St

0.3 mi

25.
Turn left at E Genesee St

0.4 mi

26.
Turn right at Irving Ave

0.4 mi

27.
Turn left at Waverly Ave

312 ft

28.
Take the 1st right onto S Crouse Ave

266 ft
Syracuse University

900 S Crouse Ave

Syracuse, New York 13210
Interstate 90 will take you 127 miles west. Go ahead, play some Sufjan Stevens, we understand. For those of your short on time and medium on cash, here are some flight options: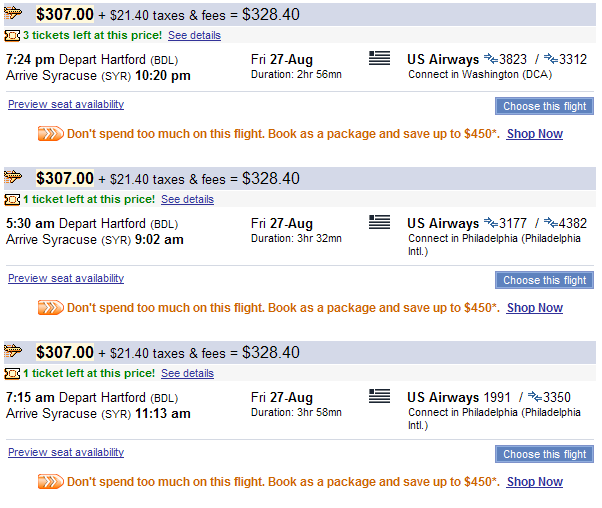 Don't spend too much on this MFA, is what Expedia might have said. The closest airport leaving Amherst is in Connecticut because life is complicated that way. Flights are leaving this Friday. There is little time to pack — just put your extra baggage in some larger baggage. Tentatively store all shoulder chips in a sock. Get rid of Against the Day, time to buy a real ottoman when you get to Syracuse. Before you arrive, you'll need to slow the fuck down, dress like a lifeguard not prepared to enter water, and talk like this guy:
httpv://www.youtube.com/watch?v=a9ymaEgnRYM&feature=player_embedded
That was Seth Abramson, he came up with the list two years in a row. Expect this to happen every year until we outsource English to India (ironic, no?).

When you arrive Syracuse, you will then be greeted by George Saunders, the brave face of their faculty page. You may notice a blurriness in your peripheral vision; that is called "Looking at Guy Published in The New Yorker Envy." It's okay, ENVY+ EGO are the two 'E's in SUCCEED. You sorta subconsciously went to graduate school to escape ennui, and to meet more interesting and type-A personality people. Real life is the best dating website. This will be your boyfriend in three weeks:

He's into capital-R Realism, except when it's time to do laundry. You two exchange drafts, each opening a window on opposite ends of the house. He breaks up with you in 1.5 years, citing artistic differences. He writes a novella about you and you're insulted it's not longer (he never could commit). You finally get a cat, the MFA, move to [insert nearest metropolitan city], and send out CVs for the next two months until your savings run out. Borders is hiring. You join the "Inventory Process Team," as what you presume to be an "Inventory Processor," spending all day fingering the spines of books that your book should really be. It's okay, really, there is a point to everything, like the tip of a shiny pristine sword →
148 Comments