Jimmy Chen
Go Jeeves! Go Life!
"I just read in this morning's paper that [P.G.] Wodehouse says that they give him $104,000 for doing nothing at Hollywood they keep him there but they do not use what they ask him to do."

— Gertrude Stein, from a letter to playwright Thorthon Wilder (1936)
—
"It is a good rule in life never to apologize. The right sort of people do not want apologies, and the wrong sort take a mean advantage of them."

— P.G. Wodehouse
Here, perhaps, according to Wodehouse, Gertrude Stein is the "wrong sort" of person — one that is expecting an apology from him. Let us deduce that, according to Stein, Wodehouse is the "wrong sort" of person — one undeserving of the $104,000 (~$1.5 million today, with inflation). It's funny how everybody likes an unsuccessful writer; the second one makes a large amount of money, they become suspect to moral judgment. Art doesn't like money, which is why Van Gogh is our subliminal Christ. We love him in that small room, an ear in hand; or in the field with crows, a bullet in the belly.
This rarely happens anymore. John Kennedy Toole's tactics eventually worked out, but dang, talk about a gamble. I once heard that suicide is the best PR move for any artist — the halos of a noose or a pool of blood. I know Gertrude simply wrote a letter to a friend, that just a little shit-talking doesn't hurt. It redeems one's notion that they are on the righteous path, even if that path leads to obscurity. Every time an author facebooks, goodreads, or tweets their book, "the next" A Confederacy of Dunces is less and less possible. Nothing can be discovered when the fossils of literature are being self-excavated daily.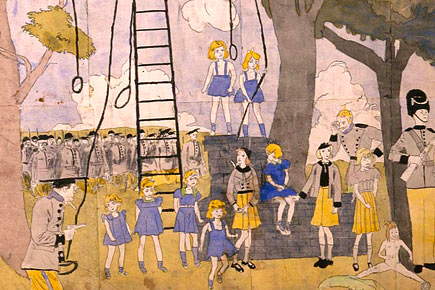 Seth MacFarlane makes $100,000 a day, and Family Guy is no less brilliant. I make $0 a day off writing, and I'm no less stupid. Maybe art's karma is intact, because (and I hate/love to say this) Wodehouse has only made me laugh, and Stein has only made me upset upon not being able to understand her. Henry Darger was a janitor, so was the fictional Will Hunting (keyword being fictional). Oh, the idea that genius mops the floor, unless (and this is a somber nod to Cobain) we mop genius off the floor. I prefer it when my authors stay alive, even if they're pedantic amateur archeologists.
"All writers — no matter how many lions they shoot, no matter how many rebellions they actively support — go to their graves."

— J.D. Salinger, to Harper's, in place of an author bio upon the 1949 publishing of "Down at the Dinghy."
The preachy zen does wonders for Seymour and Buddy, but Jerome, man, chill out. Hey kids, what he's saying, what I'm saying, is this:
Don't kill yourself. Life will do that just fine.
Tags: gertrude stein, P.G. Wodehouse
13 Comments