Adam Robinson
I'm Not Really Sure This Will Work, But Here Goes: A Reading Group
I'm updating this post and bringing it up "above the fold" just to, y'know, make sure everyone who's interested has a chance to comment. It looks like we're going to be reading MAXIMUM GAGA together and talking about it. Because it's DIFFICULT.
Original post:
For a while I've been thinking, you know what HTMLGIANT needs, it needs — no, you know what the WORLD needs, it needs — no, HTMLGIANT and the WORLD are the same thing — you know what we should do, I've been thinking, what we should do is, like, a reading group.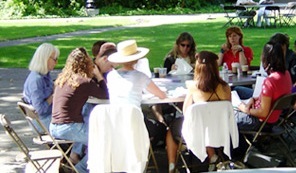 I've been thinking: how?
I've been thinking: what? And who, etc.
Then I'm all, it's Friday, I'll just ask the people.
People, people, anybody wanna be in my reading group? We can figure it out together!
Speaking of conversations with Michael Kimball, check out the conversation with Michael Kimball and Joseph Young that they got out there. Basically, Young wrote a thing and asked Kimball five questions about it and, wapow, Young's thing got really big and hard just by Kimball mulling it over.
That's my idea, bro, to give PROTRACTED ATTENTION to a piece of NEW and DIFFICULT and POETRY.
I feel strongly about NEW and DIFFICULT and POETRY.
All we have to do is decide on a format and a book.
The format, I'm thinking, would be: each person who wants to participate would make a selection from the selected book, read it particularly well, and write a thing about it. That thing ought to be thesis driven, compelling, not so much a review as an argument. It is intended to advance one point, to start a conversation strictly about the selection in question. Then that person would email their thing to me and I will post it here, one thing a week maybe, or two, and everyone else who is participating in the reading group could respond in comments. Respond in comments as if we were at a bar boozing or in Midge's living room crocheting. I mean, however reading groups are done.
In Milwaukee I heard there was a reading group where everyone got together and talked about a story for a while and then did a make out session.
We wouldn't have to cover a whole book. If five people are interested we wouldn't be forced to take 15 poems each or whatever. Just having five conversations about five poems would be amazing enough. If ten people are interested we wouldn't have to draw it out for ten weeks, either. We can post twice a week. If more than ten people are interested, we would still only have ten people write the lead posts, the conversation starter. That portion of the reading group is not meant to be hierarchical AT ALL, only something to provide a forum for everyone else, equally qualified, to converse in.
The comments as a whole need not follow the argument of the initial post, though I think they ought to at least start that way.
These books are NEW and DIFFICULT and POETRY enough, I think, and I don't really get them, which is a big plus.
Chelsea Minnis, POEMLAND
Brandon Shimoda, THE INLAND SEA
Zachary Schomburg SCARY, NO SCARY
Stacy Szymaszek, HYPERGLOSSIA
Lara Glenum, MAXIMUM GAGA
I had a bunch more. At one point my list was at 15 books, all great. Then I realized that was no good, we couldn't vote on that many. Then I thought, screw voting, I'll just pick one. Then I thought, no, pick five, we'll poll, that's better.
Maybe HTMLGIANT staff have ideas about logistics, like not doing this at HTMLGIANT or putting up a permalink to the reading group on the sidebar. Or uploading a polling widget. Or deleting this post! I'm not really sure how this will work out, but here goes.
I'm mentioning this on Friday because if no one is interested it can just get lost in the ether of the weekend. And if there is interest, the idea will prevail. Comment with your ideas/issues and book choice by sometime and I'll follow up with another post.
Tags: difficult poetry, reading group
54 Comments