April 2013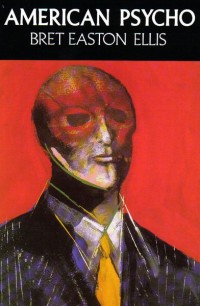 American Psycho
by Bret Easton Ellis
Vintage Books, 1991
416 pages / $15.95 Buy from Powell's or Amazon
1. A few weeks ago, I took a break from holing up inside my apartment and writing my thesis to walk to Powell's Books here in Chicago. I mostly just wanted to get outside for a minute, but I ended up walking around the bookstore for an hour. I first grabbed Bret Easton Ellis's American Psycho and a John Cheever story collection, then decided I didn't want the Cheever but accidentally put the Ellis back instead. In retrospect, this seems like an unheeded signal from the Book Gods of the universe not to read American Psycho.
2. Bret Easton Ellis has been on my mind twice recently: (1) his Twitter rant about David Foster Wallace where he called the writer "the most tedious, overrated, tortured, pretentious writer of my generation" and "a fraud" (2) his tweet about Tao Lin's upcoming novel Taipei: "With 'Taipei' Tao Lin becomes the most interesting prose stylist of his generation, which doesn't mean that 'Taipei' isn't a boring novel…"
(I guess what I really had on my mind, then, was Bret Easton Ellis's Twitter account). So I connected "master prose stylist" and Bret Easton Ellis in my head. After reading the book, I stand by that statement.
3. The place where I felt creepiest while reading American Psycho was eating alone at a diner. It had eerie resonances with the scene in Sandman: Preludes and Nocturnes where John Dee enters a diner and whips all the customers into a crazed frenzy, causing them all to kill one another within 24 hours. Like American Psycho, there's flesh mutilation and cannibalism in this Sandman scene. Luckily, the worst damage to me that night was my friend blowing me off (hence, the eating alone).
4. My cover has these almost delicate ribbons of what is presumably blood, but it's light red, shading off into pink at parts, and doesn't blood darken when it dries? It could just as well be wisps of smoke…red smoke…and this could just as well be a novel about drugs, which play no small part in the book.
5. A Time Out blurb on the back proclaims that American Psycho "examines the mindless preoccupations of the nineties preppy generation." It was first published in 1991, though, so I guess that makes the book a harbinger of the decade that was to follow. Another blurb calls American Psycho a "satire in which the hedonistic, coke-fueled consumerism of the Eighties was taken to its brutal conclusion." Q: is this a novel of its time, tied closely to the period in which it was written and set? Will we be reading American Psycho differently, or at all, in 50 years?
6. There's plenty here to date the story, mostly technology-wise—videotapes, compact disc players, no cell phones—but what keeps signifying "90s" to me is the pervasiveness of cocaine. There's a lot of coke here, people using it, people trying to get it. At one point, main character Patrick Bateman's credit card snaps in half from being constantly used to do the drug.
7. Basic plot: American Psycho is about a closet psychopath, the moneyed Wall Street banker Patrick Bateman, following him around Manhattan as he violently tortures and murders various individuals. Many of his victims are women, some men; lots are existing acquaintances of his, some are unknown parties—homeless people, delivery boys, and prostitutes—and some are animals. Bateman displays a particular (and racialized) cruelty towards beggars, hitting them with the familiar "get a job" lines and dangling dollar bills in their grasp then snatching them away. For Chrissakes, one of his victims is a 5-year old child at the zoo.
8. American Psycho was turned into a movie in 2000, directed by Mary Harron and starring Christian Bale, Chloe Sevigny, Reese Witherspoon, Jared Leto, and Willem Defoe. I have not seen the movie. Of the friends I've told that I'm reading this book, most have seen the movie and about half have read the book. I keep getting it confused in my head with the movie American Beauty (1999), which also portrays murder, but only a single one.
9. I think I've twice had to tell people that this is my first Bret Easton Ellis book, which makes me feel like a poorly-read cretin.
10. Bateman meticulously reports on the dress of most every male and female character and stranger he encounters, along with his own attire at every turn. Like, there are just a lot of brand names, proper nouns, in this book. Sample line: "Price is wearing a six-button wool and silk suit by Ermenegildo Zegna, a cotton shirt with French cuffs by Ike Behar, a Ralph Lauren silk tie and leather wing tips by Fratelli Rossetti." Ad nauseum, every other page. There are also numerous discussions among the characters over the niceties of dressing well: the proper color socks and belt to wear with a gray suit, what kind of tie knot to wear with a rounded collar, the rules for sporting pocket squares, and so on and so forth. At one point, referring to a fellow diner, Bateman asks Evelyn "Hasn't it occurred to him that his suit might inspire loathing?" READ MORE >
Hey, have y'all seen and heard this Story Tapes project that Eliza Smith and Faith Gardner have put together? They have a sweet logo, and they post interviews/audio/video of writers reading their own stories, or swapping and reading another writer's stories, and it's all really nicely produced and soundtracked.
Stories by people like Scott McClanahan, xTx, Delaney Nolan, Dylan Nice, Alissa Nutting, Mary Miller, Sarah Rose Etter, Amber Sparks, Matt Rowan, Lauren Becker, Casey Hannan, Tania Hershman, and some cool new-to-me people like Alicia Mountain, Sean Schlemmer, Josh Denslow, Owen Poindexter, Molly Laich, Megan Kruse, Berit Ellingsen, and more.
More people should do stuff like this. Is this a thing? Are lots of people doing well-designed and steady video/audio reading series things like Story Tapes? Can you post some links in the comments?
1. "These Nachos will help El Capitan—soon he will forget his troubles for nachos make one romantic." A Taste of Texas, 1949.
2. Started as obsession, to blog, to book. I often enjoy when blogs spawn books. You sometimes retain that energy, the flux of, and I think the book strives for this–it wants to be fun. One aspect of nachos is that spontaneity. Homage to the history of nachos is not just the oral or written record. Nachos transcend that accounting. We must also bring forth the culture, the aura, the thing behind the thing.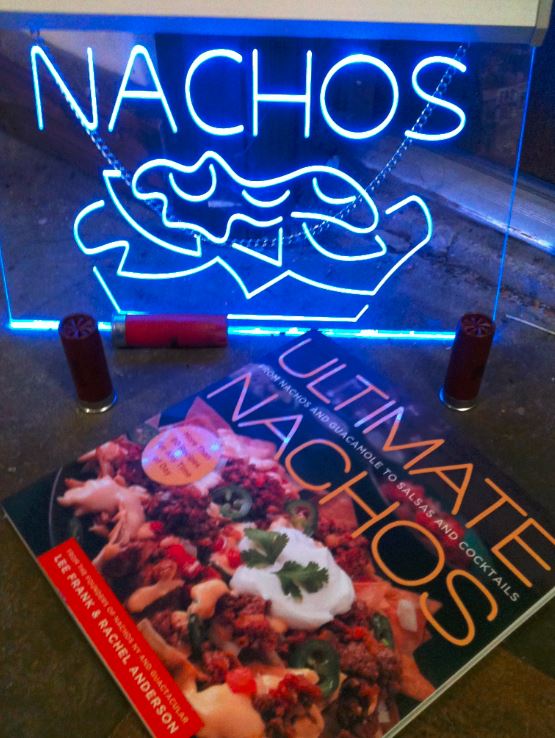 3. I preordered the book, as is my way, and it was delivered yesterday as the rain ran little horses across my roof. I ate nachos for lunch and dinner and then opened the book, read it all, typed about it here (following breakfast nachos? No. I don't eat breakfast). The book is refined. The book is a bit of a creed, clearly an attempt to elevate nachos. This is a good and bad thing, me feels. (See above concerning the cultivation of nacho mythos, silliness/solemnity, direction, soar and science and folklore and seasoning.)
4. Nacho Vidal, the porn actor, is known for his extremely large penis. Especially its girth. (16.5 centimeters in circumference!) But I digress.
5. Ginger!
6. There are rules. Rule # 1: Nachos are not tortilla chips. #4: Nachos are not served on apple slices. # 9: Get down and dirty. Mostly I agreed with the rules, and found some helpful clarifications concerning nachos, though a few of these guidelines were a bit elitist. They argue against a "mountain of nachos" and once they say, "Nachos are not an excuse to clean your refrigerator. That's plain old gross." No, actually it isn't. Let's not forget that nachos have a simmering of scoundrel within their essence. While I'm all for super fresh homemade bon vivant nachos, I also feel it's OK to go janky, to dump whatever—jalapenos, old, crusty black beans, leftover taco sauce—on top and crack open an Icehouse and watch some helicopter crash videos on YouTube.
6.5. The book pays rightful respect by including the original (1943) recipe. Well done.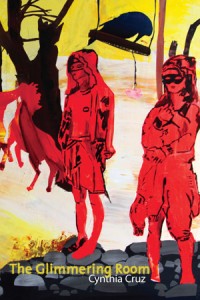 The Glimmering Room
by Cynthia Cruz
Four Way Books, 2012
98 pages / $15.95 buy from Four Way Books or Amazon
1. "If you bring forth what is within you, what is
within you will save you. If you do not bring
forth what is within you, what is within you
will destroy you."
—The Gospel of Thomas
2. When I picked up The Glimmering Room I was on a recent, incurably permanent Nine Inch Nails kick. I was listening to The Downward Spiral the minute the book came in, and kept it on for the entirety of the reading.
3. First poem "Kingdom of Dirt" places the material in the world of it's prelude. The pages are almost hymnal in their design, with white space like musical score margins and titles in austere fonts, like stone engravings. The design works when you get partway through and see it set in deceptively clean and sterile rooms in a psychiatric hospital. It's surprisingly quiet and deadly against the album playing in the foreground.
4. Like The Downward Spiral, there's a concept in The Glimmering Room's organization. I broke up the tracklist on YouTube so I'd force myself to stop and consider the poems, and to consider the album in individual pieces.
5. The thing is, this approach isn't the primary consumer instruction of either work. There's a narrative that runs through both, and The Glimmering Room is a concept book on contemporary hysteria much like The Downward Spiral is a concept album describing the descent of a person's depression into their eventual suicide. Reznor described the album in interviews during the promotion of With Teeth as "friends that sound good next to each other."
6. In the complete accident of getting the copy as I had this album on, I couldn't bring myself turn the music. For one, the similarities of self-hatred in the book and the mental boil listening to those textures will make the room too thick to move.
7. And two, the contrast between noise volume of the two works is eerie. Cruz's first few poems produced a psychological and somatic anxiety that I didn't want to be left alone with the work, or else I might find myself on a dangerous line. Like I know I can't drink and sit with The Downward Spiral's last track in a melancholic mood without it disturbing me into holding a mirror up to myself in a sterile room.
8. The leotards, stuffed animals and tangible suitcases of baggage in The Glimmering Room's anti-sterility play with the quietness of isolation, which is so intense against the heavy textures of The Downward Spiral that it mimics the lack of movement and external aggression of gendered isolation. While we can journal until oblivion, for a young adult woman, it's not acceptable to get entropically and endogenously angry, while a young male enjoys the permission and romance of self-destruction anger.
Against the beautiful cover, their outward concerns with looks, the poems contain (apologies introducing the inevitable mad-lady malady cliché) Plathian stillness and resoluteness brightening fuss of blood-smeared text on a white wall.
9. "The traveling minstrel show
Called girlhood—
I burned it
Down to the ground:"
("Eleven")
The Downward Spiral was famously recorded at the site of the Tate-La Bianca murders, where "Death to Pigs" was smeared by Mason's followers, in Tate's blood, as a "witchy message."  Reznor's told the story of Sharon Tate's sister confronting him on a chance encounter during the rental, asking if he was exploiting the mythology of the site he chose. Afterwords, sick with himself, Reznor went back and cried that night, and the house was razed after the completion of the record. After touring, he returned to New Orleans and installed blackout glass in the windows of a funeral parlor in the French Quarter and stayed behind the gates.
10. Like Reznor's penchant for American history in his material and mental rooms, Cruz doesn't shirk the critical magnifying glass that details traditional hysteria-as-subject– it refrains from slipping into the bedlam tropes of post-Sexton confessionalism:
"Daddy, I am spit
Pasting junk and shit into glittering
Black pink pearls and beads of apathy.
Track down the pony
Trapped on the carnival-like barge
Lit in key lime green like a California
Ferris wheel to the Rhine,
Back to my Germany
Where this awful song began.
Give me back my Ritalin.
Give me my shock
Of medicine. Make sure my spine
Is still living. Mommy,
Slip the black eel
Back in the sealed aquarium."
("Strange Gospels")
With the blunt diction and tonal speech, the work comes to us traceless of affect as an unmarked envelope, and her language is unrecycled, passing like a cult cinema scene on silent. READ MORE >
Comments Off

on 25 Points: The Glimmering Room
April 23rd, 2013 / 3:40 pm
Nobody really gives a shit about the history of adveriting. This isn't a complaint. It's a thesis.
Yesterday I went to the Brooklyn Museum to see the exhibition "Workt by Hand": Hidden Labor and Historical Quilts.
Quilts are awesome.