Author News
***
On February 4th Kevin Sampsell made the following announcement on Future Tense's Facebook page:
In light of recent of recent allegations of abuse, we've decided to remove Gregory Sherl's book, Monogamy Songs, from our catalog. We hope that all people involved can heal and find peace.
Future Tense was not, though, the first press to remove a Gregory Sherl title from its catalog. The day before KMA Sullivan had announced on YesYes Books' Facebook page:
In light of the allegations of abuse that have unfolded over the last few days and my beliefs surrounding these allegations, I have decided to pull Gregory Sherl's book Heavy Petting from the YesYes Books catalog. I commend the women who have come forward. My sincerest hope is that everyone involved receive the support they need.
I've thought about this quite a bit in the last week (and discussed it with a few people I met with during my recent trip to Oakland and San Francisco) and while I agree with and would like to echo the last part of each of these announcements ("We hope that all people involved can heal and find peace" and "My sincerest hope is that everyone involved receive the support they need") I'd like to think that If I was in a similar position I would NOT remove the book from my catalog.
This is to say that regardless of the allegations, or my beliefs surrounding them, I think the right thing would be to continue to make the book available to those who might want to purchase it. I feel where Future Tense and YesYes are coming from in this difficult, emotionally-charged situation– but for me the book is the book and If I thought it was good enough to publish then I'd like to think I would stand by it still (even if doing so made me wince).
***
On a related note The Oregon Trail Is The Oregon Trail, by Gregory Sherl, is still available from Write Bloody Publishing.
For only $40
you can have
your dreams
delivered to you
every day in June,
via that brillig slithy tove
Mathias Svalina,
his vorpal sword in hand.
WHILE SUPPLIES LAST, YOU BETTER GET IT!!!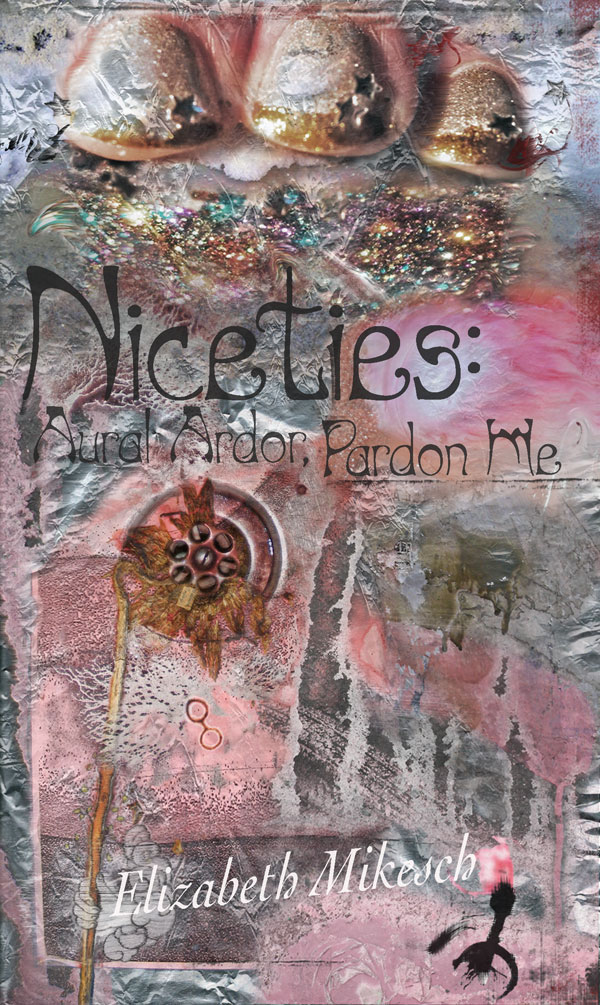 Out today from Calamari Press – Niceties: Aural Ardor, Pardon Me by Elizabeth Mikesch
Niceties debuts today and pokes a hole in the coma of language. The tired factions, lyric versus experience, this tribal cliché, mellifluous pretension, or language generating language, assaulted usually converse by the plain and sneering, story time, popped out of their tepid beers now by a handier relic, just got outmoded – combined to hurt itself inside a voice both beyond and including narration, the personal event broken to the heart's proper arrhythmia. A flaying can still be vulnerable even if it takes you with it. The sobriety of our times cannot support this book because the general crusade has been swatted operatic. Anything without khakis is giggled about in these great plots for safety so-called artists use to call themselves important. How much precedence might ones pellet-sized message keep in the face of such wrought mystic twirling up the bowel meant for silence?  Don't fret. Mikesch is here to kick you out of your crib and flout the world that hasn't started. Think those loops Markus swerves us through tied up in a Finnish peninsular whelp, with an elbow caught between each breath, the chorus tapping out a feel good suicide. I don't want beauty unless it's clawing me permanent.
There is a fundraiser to help Gregory Sherl fight his OCD by contributing towards the costs of an inpatient treatment program.
There is also a statement from Kat Dixon in which she accuses Sherl of "constant physical, emotional, and sexual abuse."
Andrew Keating, publisher of Cobalt Press, wrote the following on Facebook  a little earlier this evening:
When I first saw Gregory Sherl's bullshit fundraiser, I was conflicted. I want the dude to get help, but I also think that he should be forced into hardship for the terrible things he's done to people. Recovery from the type of behavior that Sherl has been accustomed to getting away with should not be easy, and he should not be permitted to exploit our good nature, especially when it is good-natured people that he has so terribly exploited and abused in the past.
Yes, I am aware that this fundraiser is tied to an affliction that he is categorizing as OCD; however, I'm not about to assume that a man beating on his wife because she couldn't get a stain out of his shirt is a simple matter of an obsessive need for cleanliness.
Thanks to Kat Dixon for so plainly reminding us that we should not be supporting those who abuse or take advantage of women.
On 16 January 2014,  a writer boy named Paul Auster conversed with someone named Dr. Isaac Gewirtz (this boy likely had friends & relations who were a part of the Holocaust) at the Morgan Library (which seems quite splendid, though it may not be if Mayor Bloomberg was able to blow his matzoh-ball-soup breath on it).
According to girl writer & Huffington Post blogger Anne Margaret Daniel, Paul put forth the category of a "boy writer," which means:
someone who is so excited, takes such a sense of glee and delight in being clever, in puzzles, in games, in… and you can feel these boys cackling in their rooms when they write a good sentence, just enjoying the whole adventure of it. And the boy writers are the ones you read, and you understand why you love literature so much.
I concur with Paul — because of "boy writers," literature is the best thing ever (except Christianity).
Arthur Rimbaud is a boy writer, which is why he stabbed people at poetry readings and yelled "shit" after the insipid readers declaimed their dull verse.
Edgar Allan Poe, as Paul points out, is a boy writer, as he composed stories on murder and poems on special girls, like the "beautiful Annabel Lee."
There's not a lot of boy writers who are un-dead. Most, nowadays, correspond to what Paul terms a "grown-up writer." Stephen Burt, Carl Phillips, Dobby Gibson, Geoffrey G. O'Brien, Bob Hicok are examples of a "grown-up writer." They don't spotlight the "puzzles" and the "games" of the violence, theatricality, exploitation, and upsetness in the postlapsarian world. They document liberal middle class averageness. "It's about settling down and settling in," says Burt.
But some boy writers are un-dead.
Johannes Goransson likes makeup and violence. "mascara is infected / belongs to assaults," the Action Books editor and boy writer elucidates in Pilot (Johann the Carousel Horse).
HTML Giant's own Blake Butler is a boy writer. In Sky Saw, his characters aren't given names but numbers (just like in the Holocaust and in the War on Terror). Reading his books are sort of close to witnessing a disembowelment.
Paul Legault (because he likes Emily Dickinson like someone would like an American Girl doll), Walter Mackey (because he likes Barbie), and Julian Brolaski (because his language reads like sticky, sweet, chewy watermelon bubblegum), are all un-dead boy writers.
But the best boy writers (maybe ever) are dead, and they're Eric Harris and Dylan Klebold. Glee? Delight? Cackling in their rooms? Enjoying the whole adventure? All the attribute's of Paul's boy writer align with Eric and Dylan. They kept journals, websites, and videos so everyone in the whole wide world could be cognizant of the glee-enjoying-cackling-delight-adventure that they had in planning their massacre. As Eric stated, "I could convince them that I'm going to climb Mount Everest, or that I have a twin brother growing out of my back. I can make you believe anything."
I'm pleased to announce that the tenth issue of Requited is now online and contains:
Furthermore, in the journal's rapidly-growing archives, you'll find poetry by Molly Gaudry and Nate Pritts; fiction by James Tadd Adcox, Jimmy Chen, Jac Jemc, Tim Jones-Yelvington, and Suzanne Scanlon; nonfiction by William Bowers, Jeremy M. Davies, Julianne Hill, Steve Katz, Mark Rappaport, Keiler Roberts, Viktor Shklovsky, and Curtis White; interviews with Robert Ashley and Vanessa Place—and other wonderful things.
Enjoy!