HTMLGIANT / Author News
Rauan Klassnik
***
On February 4th Kevin Sampsell made the following announcement on Future Tense's Facebook page:
In light of recent of recent allegations of abuse, we've decided to remove Gregory Sherl's book, Monogamy Songs, from our catalog. We hope that all people involved can heal and find peace.
Future Tense was not, though, the first press to remove a Gregory Sherl title from its catalog. The day before KMA Sullivan had announced on YesYes Books' Facebook page:
In light of the allegations of abuse that have unfolded over the last few days and my beliefs surrounding these allegations, I have decided to pull Gregory Sherl's book Heavy Petting from the YesYes Books catalog. I commend the women who have come forward. My sincerest hope is that everyone involved receive the support they need.
I've thought about this quite a bit in the last week (and discussed it with a few people I met with during my recent trip to Oakland and San Francisco) and while I agree with and would like to echo the last part of each of these announcements ("We hope that all people involved can heal and find peace" and "My sincerest hope is that everyone involved receive the support they need") I'd like to think that If I was in a similar position I would NOT remove the book from my catalog.
This is to say that regardless of the allegations, or my beliefs surrounding them, I think the right thing would be to continue to make the book available to those who might want to purchase it. I feel where Future Tense and YesYes are coming from in this difficult, emotionally-charged situation– but for me the book is the book and If I thought it was good enough to publish then I'd like to think I would stand by it still (even if doing so made me wince).
***
On a related note The Oregon Trail Is The Oregon Trail, by Gregory Sherl, is still available from Write Bloody Publishing.
Author News
/
41 Comments
February 11th, 2014 / 2:03 am
Christopher Higgs
For only $40
you can have
your dreams
delivered to you
every day in June,
via that brillig slithy tove
Mathias Svalina,
his vorpal sword in hand.
WHILE SUPPLIES LAST, YOU BETTER GET IT!!!
Author News
&
Events
&
Massive People
/
No Comments
February 8th, 2014 / 12:02 am
Sean Kilpatrick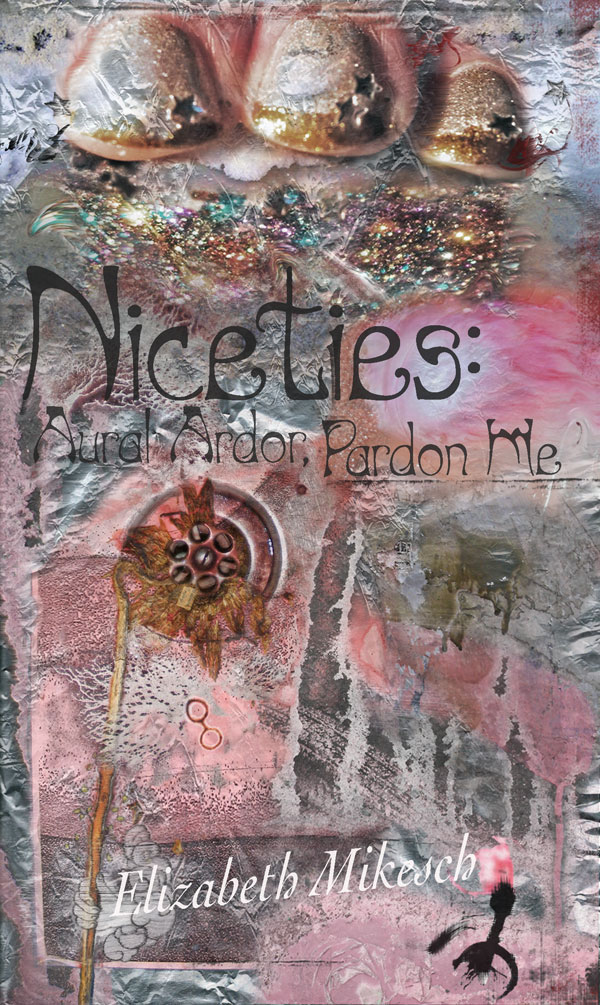 Out today from Calamari Press – Niceties: Aural Ardor, Pardon Me by Elizabeth Mikesch
Niceties debuts today and pokes a hole in the coma of language. The tired factions, lyric versus experience, this tribal cliché, mellifluous pretension, or language generating language, assaulted usually converse by the plain and sneering, story time, popped out of their tepid beers now by a handier relic, just got outmoded – combined to hurt itself inside a voice both beyond and including narration, the personal event broken to the heart's proper arrhythmia. A flaying can still be vulnerable even if it takes you with it. The sobriety of our times cannot support this book because the general crusade has been swatted operatic. Anything without khakis is giggled about in these great plots for safety so-called artists use to call themselves important. How much precedence might ones pellet-sized message keep in the face of such wrought mystic twirling up the bowel meant for silence?  Don't fret. Mikesch is here to kick you out of your crib and flout the world that hasn't started. Think those loops Markus swerves us through tied up in a Finnish peninsular whelp, with an elbow caught between each breath, the chorus tapping out a feel good suicide. I don't want beauty unless it's clawing me permanent.
Author News
/
1 Comment
February 1st, 2014 / 6:32 pm
Rauan Klassnik
There is a fundraiser to help Gregory Sherl fight his OCD by contributing towards the costs of an inpatient treatment program.
There is also a statement from Kat Dixon in which she accuses Sherl of "constant physical, emotional, and sexual abuse."
Andrew Keating, publisher of Cobalt Press, wrote the following on Facebook  a little earlier this evening:
When I first saw Gregory Sherl's bullshit fundraiser, I was conflicted. I want the dude to get help, but I also think that he should be forced into hardship for the terrible things he's done to people. Recovery from the type of behavior that Sherl has been accustomed to getting away with should not be easy, and he should not be permitted to exploit our good nature, especially when it is good-natured people that he has so terribly exploited and abused in the past.
Yes, I am aware that this fundraiser is tied to an affliction that he is categorizing as OCD; however, I'm not about to assume that a man beating on his wife because she couldn't get a stain out of his shirt is a simple matter of an obsessive need for cleanliness.
Thanks to Kat Dixon for so plainly reminding us that we should not be supporting those who abuse or take advantage of women.
Author News
/
166 Comments
January 30th, 2014 / 8:51 pm
Seth Oelbaum
On 16 January 2014,  a writer boy named Paul Auster conversed with someone named Dr. Isaac Gewirtz (this boy likely had friends & relations who were a part of the Holocaust) at the Morgan Library (which seems quite splendid, though it may not be if Mayor Bloomberg was able to blow his matzoh-ball-soup breath on it).
According to girl writer & Huffington Post blogger Anne Margaret Daniel, Paul put forth the category of a "boy writer," which means:
someone who is so excited, takes such a sense of glee and delight in being clever, in puzzles, in games, in… and you can feel these boys cackling in their rooms when they write a good sentence, just enjoying the whole adventure of it. And the boy writers are the ones you read, and you understand why you love literature so much.
I concur with Paul — because of "boy writers," literature is the best thing ever (except Christianity).
Arthur Rimbaud is a boy writer, which is why he stabbed people at poetry readings and yelled "shit" after the insipid readers declaimed their dull verse.
Edgar Allan Poe, as Paul points out, is a boy writer, as he composed stories on murder and poems on special girls, like the "beautiful Annabel Lee."
There's not a lot of boy writers who are un-dead. Most, nowadays, correspond to what Paul terms a "grown-up writer." Stephen Burt, Carl Phillips, Dobby Gibson, Geoffrey G. O'Brien, Bob Hicok are examples of a "grown-up writer." They don't spotlight the "puzzles" and the "games" of the violence, theatricality, exploitation, and upsetness in the postlapsarian world. They document liberal middle class averageness. "It's about settling down and settling in," says Burt.
But some boy writers are un-dead.
Johannes Goransson likes makeup and violence. "mascara is infected / belongs to assaults," the Action Books editor and boy writer elucidates in Pilot (Johann the Carousel Horse).
HTML Giant's own Blake Butler is a boy writer. In Sky Saw, his characters aren't given names but numbers (just like in the Holocaust and in the War on Terror). Reading his books are sort of close to witnessing a disembowelment.
Paul Legault (because he likes Emily Dickinson like someone would like an American Girl doll), Walter Mackey (because he likes Barbie), and Julian Brolaski (because his language reads like sticky, sweet, chewy watermelon bubblegum), are all un-dead boy writers.
But the best boy writers (maybe ever) are dead, and they're Eric Harris and Dylan Klebold. Glee? Delight? Cackling in their rooms? Enjoying the whole adventure? All the attribute's of Paul's boy writer align with Eric and Dylan. They kept journals, websites, and videos so everyone in the whole wide world could be cognizant of the glee-enjoying-cackling-delight-adventure that they had in planning their massacre. As Eric stated, "I could convince them that I'm going to climb Mount Everest, or that I have a twin brother growing out of my back. I can make you believe anything."
Author News
&
I Like __ A Lot
/
7 Comments
January 29th, 2014 / 2:45 pm
A D Jameson
I'm pleased to announce that the tenth issue of Requited is now online and contains:
Furthermore, in the journal's rapidly-growing archives, you'll find poetry by Molly Gaudry and Nate Pritts; fiction by James Tadd Adcox, Jimmy Chen, Jac Jemc, Tim Jones-Yelvington, and Suzanne Scanlon; nonfiction by William Bowers, Jeremy M. Davies, Julianne Hill, Steve Katz, Mark Rappaport, Keiler Roberts, Viktor Shklovsky, and Curtis White; interviews with Robert Ashley and Vanessa Place—and other wonderful things.
Enjoy!
Author News
/
2 Comments
January 23rd, 2014 / 7:56 pm
Carrie Lorig
"Swarming, in other words, maximizes the advantages of formlessness over form…Because such action is self-organizing and self-producing…it is liable to occur spontaneously at all levels of social organization…Not only does Swarm threaten Empire's monuments and armies…At the level of language, swarming is a sign of poetic activity."
–Andrew Joron, "Terror Conduction," The Cry at Zero
Over at Big Lucks, there is a Mike Young poem flapping open with some blankspaces that need filling. The poem is from a chapbook SOON TO COME called Who Can Make It. Maybe it's a title about survival. Maybe it's a title about creation. Either way, Big Lucks and Mike Young want you to go visit those blankspaces in Mike Young's poem with your stormwords, with your birdclouds. Go to the website and fill in the blankspaces and maybe you get a glow shout in the acknowledgments / a chance to be in the newest issue of Big Lucks. Yeah? I think it seems like the kill rhythm. I think it seems like the way to get some colored fumes around here. Winners will be announced on the Big Lucks FB page in January. 
Many of these footprints were in large numbers close together and, just by looking quietly at them, men, who themselves originally lived in small hordes, were made aware of the contrast between their own number and the enormous numbers of some animal herds. They were always hungry and on the watch for game; and the more there was of it the better for them. But they also wanted to be more than themselves. Man's feeling for his own increase was always strong and is certainly not to be understood only as his urge for self-propagation. Men wanted to be more, then and there; the large numbers of the herd which they hunted blended, in their feeling with their own numbers which they wished to be large, and they expressed this in a specific state of communal excitement which I shall call the rhythmic or throbbing crowd.
-Elias Canetti, "Rhythm," Crowds and Power  
Author News
&
Contests
/
2 Comments
December 3rd, 2013 / 11:05 am
Rauan Klassnik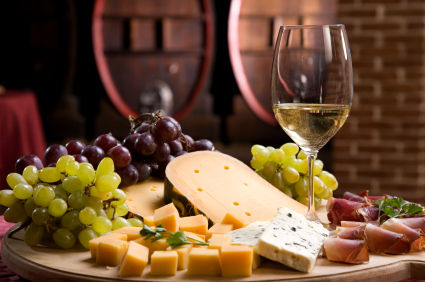 Rauan: Seattle's a polite town. Everyone's super polite, cordial, in a way, cool in their dealings. But not so warm all the time. Seldom even maybe. What do you think of this? And do you think Seattle's writing (poetry, etc, whatnot) suffers and/or benefits from a similar sort of politeness? Coolness?
Rebecca: Seattle used to be considered a "friendly" town but Seattle grew up and is now a Big City. Seattle suffers from a kind of passive/aggression. I've seen people at six way stops get out of their cars and start fighting over who goes first. We also have a lot of homeless displaced people here but they are mostly ignored or hidden so the city will look prettier. Seattle is famous for leading the way in cutting down its carbon footprint but the city's largest private employer makes airplanes. No one (at least publicly) acknowledges how jet fuel which emits carbon dioxide and other greenhouse gases into the atmosphere at an alarming rate contributes to the acceleration of global warming. And yet you can no longer get paper or plastic bags at Seattle stores because it's bad for the environment.
Seattle writers are friendly among themselves those writers who write similar poems those writers who are polite whose poems are polite whose work doesn't take risks whose poems are widely published in polite poetry journals. It's an easy place to be a poet. You can't swing a contrabassoon without hitting a poetry reading in Seattle. This city has supported poetry on buses poetry readings for the city council poetry readings in museums and offers all kinds of grants and opportunities to poets who write polite non-threatening poetry. Sometimes Seattle gets lucky and brings in outside poets to read but mostly it's the same circle of poets making the rounds being passive aggressively nice with their nice natural fiber clothes their hybrid cars their little hemp bags in which to put their shopping and their polite nice poetry.
*****
*****
Okay, so that was the first part of my latest Seattle Author Spotlight, the 11th, featuring Rebecca Loudon. Several years I did an interview with Rebecca regarding her excellent book Cadaver Dogs (which you can read here, it contains info about her being a violinist as well as some of the very personal elements of that book) but this time I had the pleasure of meeting Rebecca in person. Rebecca claims to be a sort of hermit, but we got along great, intensities coming and going. And Rebecca's work as I'm finding out is getting stranger and stronger READ MORE >
Author News
&
Author Spotlight
&
Behind the Scenes
&
HTMLGIANT Features
/
4 Comments
November 5th, 2013 / 10:52 am
Rauan Klassnik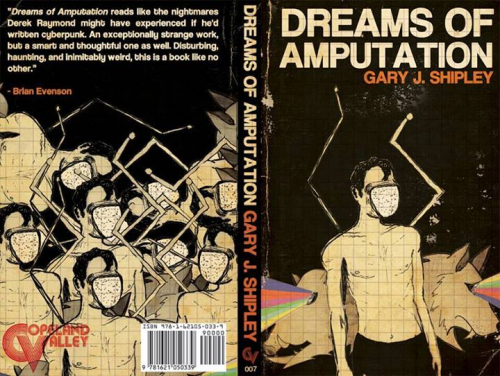 Gary J. Shipley's "Dreams of Amputation" is now available.
Here are a couple of excerpts:
The station is full of copies, thought-structures all breathing the same boxed air as him, screwed down into new estates, their borrowed movements vapour trails of the imperceptible multitudes that precede them, his forced embodiment a shriek he cannot hear, its explicit exclusion of human context conveyed in a series of smirks and titters causing him to wake repeatedly inside glimpses of himself, a reluctant conduit to spasms outside the insulation of a body, some dead agent without a face and him mad yellow escaping his dismembered endurance, expanding into nothing in the artificial disfigurement of their smiles until he finds an unsecured staircase, and unaware of any alien intent they carry it up after him, hands formed like mouths barking, their dreams of souls all shrunken cages in its swarm of dead beginnings, their every defect growing into holes, and up into the street and they disperse around him their brains once again made of the digitalised ooze of money and fucking and blood, his own voice coming back removed as if from a TV in another room, his limbs appendixes to an earthquake camouflaged by some Sadean baptism of puke and shit, and nothing and no sound, its hold fixed on the ends of unpronounced words, agitating images of string, an animated ossuary squeezed with rainless faces shining like simulated sick…
and
For a second or two there is the man, on his feet reaching for the back of his chair with his right hand, and then the dance of the vanishing begins: the flailing honeycombed limbs, naked bone READ MORE >
Author News
&
Massive People
/
No Comments
October 29th, 2013 / 11:10 am
Blake Butler
Now available for preorder from Future Tense (and for a limited time in hardcover) is freaky Jamie Iredell's newest, an essay collection with the uncanny title, I was A Fat Drunk Catholic School Insomniac, funded by its even more uncanny cover: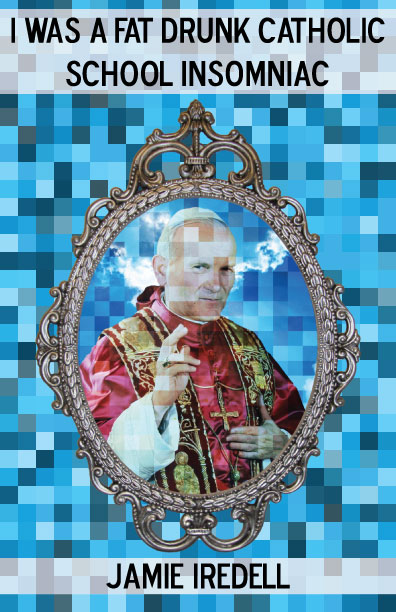 Iredell's essays never shy from getting up in the face of the nasty phases of one's life, and how those phases make you into someone wiser, grateful to have survived. This book goes hard.
For a taste, check out his body-image-catalogying essay "Fat" at the Rumpus.
Author News
/
No Comments
October 24th, 2013 / 2:10 pm