Vicarious MFA
A couple of days ago Baby Adolf, the first Bambi Muse baby despot, and I met up at a McDonald's near a Germanic bakery located somewhere on the Upper East Side.
My outfit featured, among other things, sunnies. As for Baby Adolf, his deck was brown.
Both Baby Adolf and I ordered vanilla ice cream cones. And after we ordered second vanilla ice cream cones, Baby Adolf screamed (unlike PhD's, &c, no one at Bambi Muse is captivated by "conversation") about how he wanted to be on HTML Giant quite badly. After all, Baby George III has been and so has Baby Marie-Antoinette. Why should the boy who will one day kill six million you-know-whos and five million other oh-who-cares be denied the chance to appear on the site run by the continually cute-looking Blake Butler?
"Maybe," I said to Baby Adolf, at the McDonald's near the Germanic bakery on the Upper East Side, "if you gave me three Baby Ruths, four Jujubes, and a Coca-Cola then I'll publish your summary of the 5th-annual CUNY chapbook festival on 9 May 2013."
Baby Adolf grumbled his assent. What follows is Baby Adolf's summary:
***
On Saturday Baby Adolf, accompanied by his mommy, Klara Hitler, visited the 5th annual chapbook festival at CUNY. For some time, Baby Adolf believed CUNY was just another way to say NYU. After Saturday, though, Baby Adolf realized that they were two separate entities. NYU is a big ugly college that's usurping the West Village, while CUNY is a big ugly building in Midtown.
The festival took place in a plain white hallway, and, according to Baby Adolf's eyes, there wasn't anything particular festive going on. There weren't any military marches or bellicose speeches prophesying global war along with the resurrection of the fatherland. Unfortunately, there were too many boys who looked like they'd just blown in from Bedford as well as a fair amount of girls whose clothes suggested that they had just come here from their weekly Park Slope Lesbian Separatist meeting.
But some commendable creatures were present, like Baby Ji Yoon. She spent most of her time at the festival taking mysterious notes, as if she were spying for a certain country that starts with North and ends in Korea.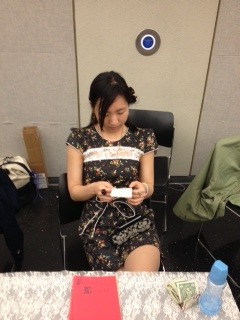 Mean
&
Vicarious MFA
/
Comments Off

on Baby Adolf's Summary of the 5th Annual CUNY Chapbook Festival
May 9th, 2013 / 3:02 pm
Yesterday I went to the Brooklyn Museum to see the exhibition "Workt by Hand": Hidden Labor and Historical Quilts.
Quilts are awesome.
ALL OVER THE NEW GESTURAL POETRY.
The Internet taught children to design themselves in a white space. Now, they are to create in that space. This burden. Laughter.
Appropriation was the first mimetic. The late remix, post-DJ culture of the 20whatevers sidevolved into a romance of the weird and origin-less. Repeat, offend, react. Horse eBooks, PT Cruiser, drugs, fetishes about whispering, shitting, looking into a new blank digital void. But it lasted only as long a generational breath. Weird Twitter rose and fell like a bird in a harsh wind.
This is what happened in my grad Form & Technique in Fiction class today: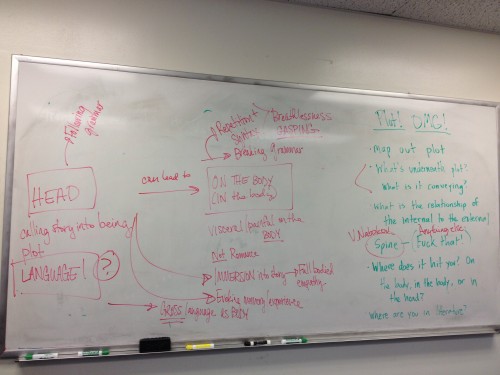 Here is how it happened. Every Wednesday, students read articles and essays that are NOT fiction. Last class, they read & we discussed a unit I called "The Human Body," which included the following texts: Dong et al, "Unilateral Deep Brain Stimulation of the Right Globus Pallidus Internus in Patients with Tourette's Syndrome"
(from The Journal of International Medicine); Grahek, Feeling Pain and Being in Pain, "Ch. 1: The Biological Function & Importance of Pain"; Ramachandran, Tell-Tale Brain, "Ch. 3: Loud Colors and Hot Babes: Synesthesia"; and
 Scarry, The Body in Pain, "Ch.3: Pain and Imagining."
[Update: I posted a follow-up to this post, here.]
1.
Susan Sontag's seminal mid-60s essay has come up several times at this site. I've been busy rereading it since Xmas, and want to take this chance to set down some thoughts regarding it.
2.
Obviously, whatever interpretation is, Sontag seems against it.
3.
What, then, does Sontag mean by "interpretation"? Does she mean any and all interpretation, as my fellow contributor Chris Higgs recently argued? Or something else, something more specific?
The bourgeoisie, by the rapid improvement of all instruments of production, by the immensely facilitated means of communication, draws all, even the most barbarian, nations into civilization.
The cheap prices of commodities are the heavy artillery with which it forces the barbarians' intensely obstinate hatred of foreigners to capitulate.
It compels all nations, on pain of extinction, to adopt the bourgeois mode of production; it compels them to introduce what it calls civilization into their midst, i.e., to become bourgeois themselves. In one word, it creates a world after its own image.
Unified gaze theory? Would that be called Tunnel Vision Theory? Or just tunnel vision? Hegemony about Hegemony? As a man, I'm allowed to talk about everything, while understanding very little.
Theory: what we have developed is a kind of tunnel vision for the sake of re-producing culture and economy. You know of this post-Marxist system; I will not write of the components in a more clear way than has already been written by others.
We remember: The Gaze was a perfect piece of gender-biopower technology, a software that everyone wanted to run, a software that reproduced itself onscreen, without showing how it was made. Tickets sold themselves. Sex-less sex. War-less war. READ MORE >
Technology
&
Vicarious MFA
/
Comments Off

on I SEE U GIRL: The Elegant Blindness of Masculine Mimetic
February 27th, 2013 / 11:14 am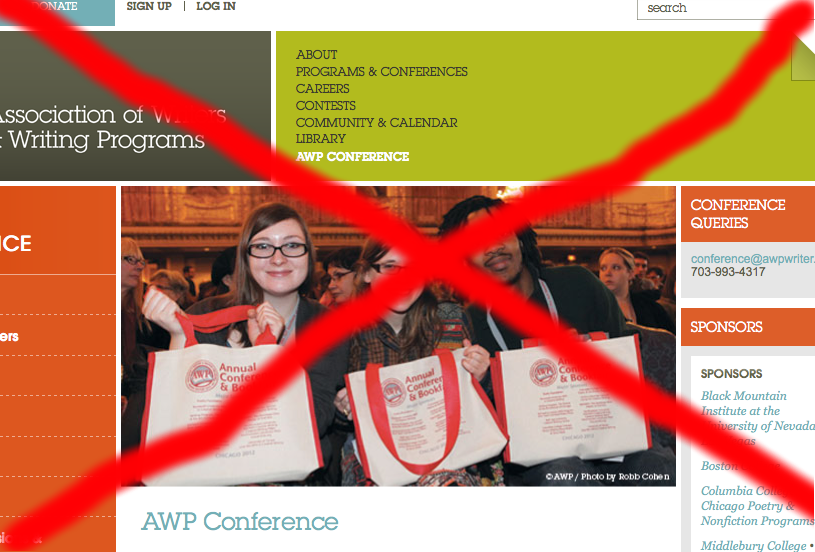 There shouldn't be an AWP. There should only be one if it would result in me meeting Gina Abelkop. She is the publisher of Birds of Lace, a press that publishes books about girl groups, adventurous twins, and girls who justify murder in high school essays. Most Birds of Lace books fulfill one of the primary attributes of literature: They transmute the reader to magical, mysterious worlds of death, babysitters, and big hair. Gina and I could meet for tea (or vanilla cupcakes). We could discuss trenchant topics, like the veils in Meadham Kirchoff's Fall 13 collection or Disney princesses. Why, we could even mosey to a Disney store (if there are Disney stores in Boston) and she could purchase an Ariel doll (because she's a girl) and I could purchase a Buzz Lightyear doll (because I'm a boy). It'd all be rather idyllic. But according to the grapevine Gina won't be attending this year. So I won't either, which is fine, since the AWP is as disgusting as gay people, straight people, bisexual people, and Brooklyn.
On their site, the AWP claims to be "the largest literary conference in North America." But the AWP has little relation to literature. Only around one percent of the attendees make literature. There's just a tiny fraction who formulate texts that are monstrous and divine – that, like those German boys, possess the grit and glamour to wage war on basically everyone on the globe. As for the rest – the 99 percent of AWP people – they are not poets and they are not composing literature. They are not concerned with epic Emily Bronte or moody Frank O'Hara. They are a product of typical middle class capitalism, or, as Karl Marx says, "the bourgeois." According to Karl, the bourgeois live off others' labor. They acquire value through accumulation. As the bourgeois stockpile products their worth increases. This renders them reliable upon the proletariat who must toil night and day with very little rest to keep up with the insatiable, indiscriminate bourgeois.
Reposted from Facebook:
***
Advice for Future MFA applicants:

On a more serious note, now that I've almost read through this year's batch, here's the advice I'd give off the top of my head to future MFA fiction applicants. Most of the applicants were interesting people and trying hard and it's deeply appreciated, particularly when I'm reading so many applications. I don't think any of the applications I read this year had a single malicious bone in their body. But here are a few things that I would want to be told if I was thinking about applying. Please feel free to steal, revise, mutilate, or dispute:1. Turn in your very best piece of fiction. This really, really matters to me, more than anything else. If I love a piece of writing, I will fight for it, and am willing to overlook a multitude of other sins.

2. Better to turn in one shorter excellent piece than a good piece and one bad one. Don't turn in work just to max out the page limit. And if you're finding yourself trying to cram all sorts of things into the page limit by changing the font and single-spacing, then step back and take a deep breath and think again.

3. Don't try to pretend you're something you're not. Most of you don't, and those of you who do don't do it maliciously, but just kind of slowly convince yourself into it as you write and rewrite your application. Look, it's easy to tell if you're faking. So don't fake.

4. Be honest, but "we're dating and getting serious" honest rather than either "First date honest" or "Now that you've proposed, here's all the stuff you need to know about me (like the fact that I killed my first wife)" honest. You can and should talk about your struggles and successes and trials and etc., but in moderation.

5. In the personal statement, write about yourself in a way that allows us to get a real sense of you and the way you are now, right now, and where you're going. If you feel you have to go back to childhood to do that, that's okay, but if I go away with a better sense of how you were when you were in 2nd grade (or whatever) than how you are now, that's not good.

6. Read interesting things and learn how to talk about them in interesting ways. Read, read, read. And read eccentrically. Take chances. There's no reason, no matter what your job or your circumstances, that you shouldn't be reading an interesting book every week or two, and that'll do a great deal for your development as a writer and as a person. It's okay to let us know what books led you to writing, but better if we find out what books you continue to go back to and who you're interested in now.

7. Don't pretend to have read something that you haven't read. Don't google the faculty at a program and then try to include a line in your personal statement that suggests what their book is about. This rarely works, and as a result usually does more harm than good.

8. We're interested in knowing what makes you unique, but within reason. And even if you have a great set of experiences and are incredibly interesting and we'd love to have an 8-hour long coffee with you to learn about your experiences running Substance D. from the American camp to the Norwegian camp in Antarctica, if your writing sample isn't good enough you won't get in. There comes a time when you need to choose to work on the writing instead of getting life experience as a carny.

9. If you already have an advanced degree, you have to explain convincingly why you want to get another, and why we should give this opportunity to you rather than to someone else. If you already have a PhD, we need to be convinced that this is the right thing for you and for us, and that you're not just collecting degrees. But, honestly, the default acceptances for MFAs is usually (but not always) someone who doesn't yet have an advanced degree. We've taken people with advanced degrees in our program, but it's very much the exception rather than the rule.

10. If you already have a book out, same thing. Are you serious about improving your writing or do you want to treat this as a sort of an artist colony? If the latter, well, I'd suggest an artist colony: they'll feed you, and we usually won't. If I get the impression that you want to get the MFA mainly to have a teaching credential, that can be one or more strikes against you.

11. MFA programs make mistakes. We don't always see the potential of people, which may be partly our fault and partly your own. Do everything you can when you put together your application to make sure that the fault is on our side rather than yours. But also remember: any really good program ends up with many more people they'd like to admit than they actually can admit. When it comes down to that final cut, it's very very hard, and we'll have to let people go who, ideally, we'd love to have come. So, if you don't get in, don't take it as a judgement. To our shame, we've turned down many great writers before, and probably will again. But fingers crossed that it won't be you…

Good luck!
Best,
Brian