Anne Carson
The other day I was eating from a large tin of popcorn. Someone asked which is your favorite. Thru chews I said I like them all / for different reasons. That's how I feel about these books.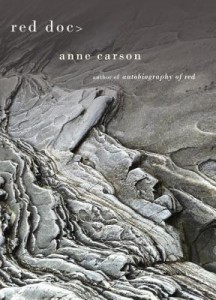 Red Doc> 
by Anne Carson
Knopf, March 2013
192 pages / $24.95  Buy from Amazon or IndieBound
 
As a semblance of promotion for her new book, Anne Carson wrote: "Recently I began to wonder what happened to them in later life. Red Doc> continues their adventures in a very different style and with changed names. To live past the end of your myth is a perilous thing."
Carson made a surprising move releasing a sequel to 1998's Autobiography of Red, a novel in verse about a boy with wings named Geryon and his love affair with Herakles.
Though sequels are better known in blockbuster films, the constellation of literature has its share of sequels, if not always in predictable forms.
Grace Paley uses her character Faith in multiple books as does Junot Diaz with his narrator, Yunior. Anthony Powell's A Dance to the Music of Time, a twelve-novel cycle, delivers an interesting take on the sequel—a word whose etymological roots entail sequence, a body of followers, consequence, descendants.
What a formulaic generic choice a sequel could seem for Carson, who considers herself an instructor and translator of Ancient Greek first, and a literary wunderkind (my word) second.
But doesn't translating ancient works often involve a form of sequencing? There was nothing ancient about the Herakles (Hercules) myths when first recounted. To translate requires fidelity to the original language and intent, while sometimes taking license to contemporize and update the story.
In Red Doc>, Geryon is no longer a boy. He still likes photographs. He is still homosexual. He still has wings.
G, as he's now called, is a military veteran. And whereas Geryon traveled to South America, G drives northward into an icy expanse with a fellow vet named Sad, a reconfigured Herakles.
Their car breaks down and they find themselves at the mouth of a cave. G's wings are itching something fierce. "Stiffened/wing muscles pull hard/against their roots and/move into a lift," Carson writes of her protagonist.
which we were doing at some point in the last 10 or so posts, there's a prose poem of hers from Plainwater that makes me want to die.
On Waterproofing

Franz Kafka was Jewish. He had a sister, Ottla, Jewish. Ottla married a jurist, Josef David, not Jewish. When the Nuremburg Laws were introduced to Bohemia-Moravia in 1942, quiet Ottla suggested to Josef David that they divorce. He at first refused. She spoke about sleep shapes and property and their two daughters and a rational approach. She did not mention, because she did not yet know the word, Auschwitz, where she would die in October 1943. After putting the apartment in order she packed a rucksack and was given a good shoeshine by Josef David. He applied a coat of grease. Now they are waterproof, he said.
These are some books I bought or otherwise acquired recently. A hill of words.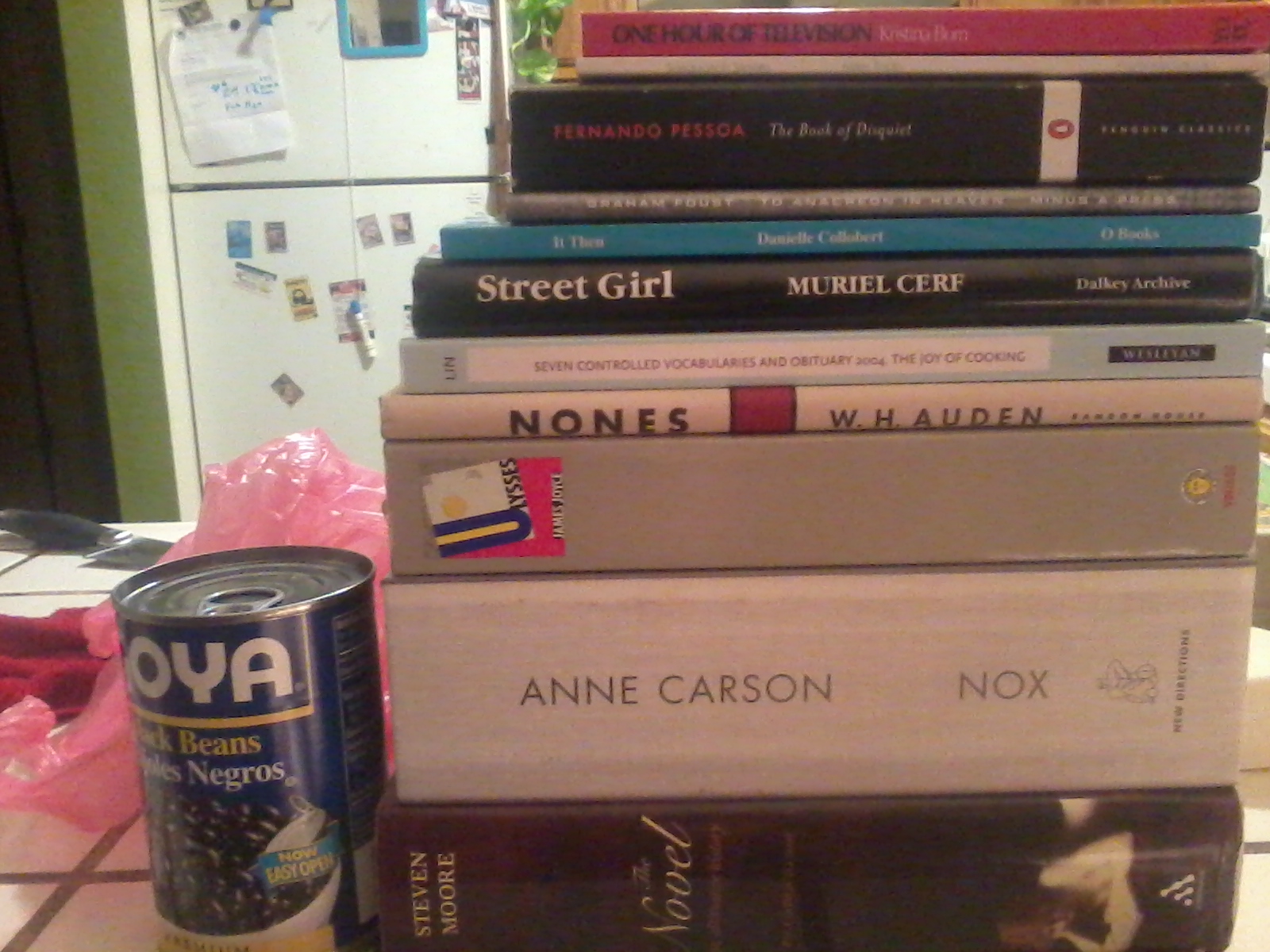 & that is a can of beans.
Ben Mirov
Ghost Machine
(not pictured)
Caketrain
Pittsburgh, PA — 2010
I read most of this book at the park that is in the book on a pretty much perfect day and it was a hell of a pairing I have to say. It has the kind of restraint my own work lacks a lot. Makes me jells but not bad way. Read the rest at my ex's apartment who is no longer my ex while she made me dinner, which I could not believe was happening and yet there it was happening. I often felt breathless and thought maybe that's not such a dumb name for a movie after all. READ MORE >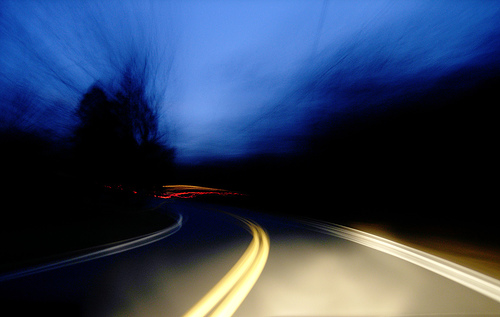 The youth at night would have himself driven around the scream. It lay in the middle of the city gazing back at him with its heat and rosepools of flesh. Terrific lava shone on his soul. He would ride and stare.
-Anne Carson, "On the Youth at Night," in her book Plainwater
I.
In fifth grade, a little girl whose name I don't remember called me tacky—and I was, good god back then I was the oddest confluence of patterns and colors, bowed skirts with striped t's, without a hint of the irony hipsters today sport—and so my older brother took me shopping. I didn't need glasses back then, but he needed a new pair so we stopped at a little spectacle boutique, and I tried on the cutest pair of specs, equipped with rounded tortoise-shell frames, practically wire thin, that hooked around the ears. Back in 1992, I wished my vision would go awry, just so I could look intelligent and stylish. Keep in mind my distorted sense of fashion, which I have yet to shake.
Three years later, I needed glasses, my vision had completely deteriorated, though I hadn't noticed, except that I began falling down arbitrarily, a habit that's stretched my ankles beyond repair, and to this day, I fulfill a prophecy of falling down annually. It's embarrassing and painful and debilitating. But when it came time to get those glasses I'd wanted so badly before, it was sister who took me, and although she's quite fashionable, I ended up with the most hideous glasses—to large, disc-shaped, odd colors—or at least I thought they were and never wore them, such is a story of first glasses.
In high school, late high school, I got my first pair of square plastic frames, tortoise-shell, and despite my very flat bridge, I found the right pair and style. Now, when I was seventeen, I don't remember square frames as being "hip." None of my friends had them, preferring instead oval wire frames, usually colored, but this past January, I gave a reading in Amherst, and I stopped in a coffee shop to do "work" (and meet the very cool Jedidiah Berry), and I looked around. Hot damn, there were twelve people there, including me, ten of which had on square plastic glasses (the other two didn't wear them), eight people had silver Mac Book Pros (two had black Mac Books), I counted three people reading Foucault and five people with Moleskines displayed in some way. And I think back to &Now or AWP, somehow glasses becoming the sign of intelligensia and creativity, commodified, like Apple products, easy, and I've fallen for the trick.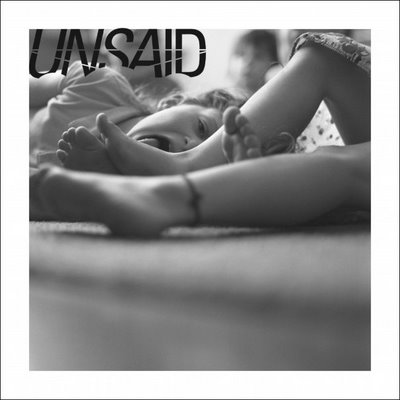 The monolithic Unsaid Magazine has just relaunched their website, with online content from each author in every issue, including the latest #4, with work by: ANNE CARSON, BRIAN EVENSON, BLAKE BUTLER, DAVID OHLE, EVELYN HAMPTON, PETER MARKUS, ALEXIS ALMEIDA, ROBERT LOPEZ, BEAR KIRKPATRICK, MICHAEL KIMBALL, MEGAN LAYTON, DAWN RAFFEL, EUGENE MARTEN, DAVID HOLLANDER, OTTESSA MOSHFEGH, SHELTON WALSMITH, JASON SCHWARTZ, RUDY WILSON, SARAH MANGUSO, PAUL MALISZEWSKI, RICHARD ST. GERMAIN, SAM MICHEL, EMILIA A. PHILLIPS, BRIAN KUBARYCZ, SVEN BIRKERTS, RICK POINSETT, ALYSON JANE, BIANCA GALVEZ, JOE WENDEROTH, M SARKI, JOANNA HOWARD, WILL ENO, JESSICA NEWMAN, PATRICIA O'CONNELL, MATTHEW THOMPSON, CAROLYN ALTMAN, PETER CHRISTOPHER, ANDY DEVINE, DANIELLE BLAU, RACHEL B. GLASER, PATRICK EHLEN, M.T. FALLON, JONATHAN CALLAHAN, LAUREN MCCOLLUM, KRISTINA BORN, JULIA HOLLEMAN, TRIA ANDREWS, VIRGINIA KONCHAN, BJORN VERENSON, MICHAEL STEWART, TRENT ENGLAND, DYLAN T. NICE, BRIAN SCHORN, RYAN MURPHY, SAM PINK, BENJAMIN LANDRY, EMILY MAHAN, SHANE JONES, THOMAS LAVERTY, A. MINETTA GOULD, COOPER ESTEBAN, LINDSAY ANDERSON, JOSHUA KORNREICH, SCOTT GARSON. If you don't have this yet, it's 500+ pages, and brain-eating on every one of them. A true mechanism of new tongues.
Uncategorized /
22 Comments
October 6th, 2009 / 11:46 am