Dennis Cooper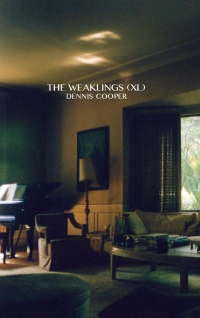 The Weaklings XL
by Dennis Cooper
Sententia Books, 2013
84 pages / $12.95 buy from Sententia Books or Amazon
1. Dennis Cooper's The Weaklings XL repeatedly interrogates three unknowables: the body, desire, and language.
2. Language is eternally indefinite: "You're the / one who fired a gun at his head, so high / on whatever, and so depressed by my / lack of whatever that you were afraid you / might have otherwise not hit the target, / wherever I was at the time."
3. We can never truly know our own bodies, the insides, the way they function. Because of this, one might assume the only way we can ever truly know the idea of a body is through exploration of the body of another. This is akin to Blanchot's conception of death: we can never know our own death, we can only know the death of another.
4. Desire is impossible to ever know, to ever understand, to ever achieve in the sense of a totality. Cooper's poems show how parts of desire can be hinted at in physical altercations, but desire is always immaterial and, thusly, can never be adequately incorporated into an experience.
5. In a suite titled "BOYS2BRELOCATED," a selection of invented "personal ads" by under-age gay (or not gay, because it doesn't really matter) men/boys soliciting sex, 666HEAVYMETAL666, 17 years old, posts the following: "DO YOU REALLY GIVE A CRAP? I'M SCARRED OK." The suite presents a context in which misspelling echoes the reality of the quick-typing mode of the internet, where the reader can imagine these personal ads would be found. However, in a bizarre semantic twist, the context of the typo allows a double reading of the message: "SCARRED" can either be read as it is typed, as "scarred," as in wounded, damaged or affected, or it could be taken as a misspelling of "scared," as in frightened, terrified. This dynamic back-and-forth is all the context any of the personal ads need.
6. Before recent years Dennis Cooper was mostly known as a transgressive writer who was obsessed with writing about the sexual murders of young boys. This is his content. The success of his writing is dependent upon this obsession: it's not literal (as in, I don't think the claim could be made that Dennis Cooper the person is interested in murdering a young boy in a sexual context), but it's the guiding force of the work. It's a metonymic mode that allows a total and occasionally exhausting exploration of the indefinite nature of language, desire, and the body.
7. Somehow in recent years the content of Cooper's work has been "white-washed" and the focus has turned onto his ability to construct sentences. Dennis Cooper is a brilliant prose stylist, and at the level of the sentence is work is amazing. This is demonstrated throughout all his work, I think; the poems here, all of the novels, his work in theater. However, I think ignoring the obsessive thematics of the work is doing the work a disservice. It strikes me as a sort of intellectualization that would position the work as some sort of purely intellectual art. Cooper is a brilliant writer who demonstrates remarkable intellect, but I think to read the sentences while ignoring the content would be a futile gesture. Language and the body, language and desire, these things are all linked.
8. Bernard Noël's early career as a poet consisted of works that interrogated the relation of language to the body. This often resulted in the work carrying on into dark places. As a poet, I think Noël's work is far stronger in its interrogation of the body/language divide, and much more accomplished. However, nobody reads Bernard Noël, especially not American audiences, as very little of the early poetry is available in English, and what is available is in no way easy to come by. In opposition, however, Cooper's novels are far more accomplished than Noël's single 'straight-forward' novel, The Castle of Communion.
9. Cooper's poetry, while less formally/visually interesting or experimental than his novels, strips the words to the core of the problem that is often present in the novels: how can one mete language with desire, with the body.
10. In the annals of juvenile "trying to out-gross" one another, I remember hearing a "joke."
"What's the best thing about having sex with a twelve year old girl in the shower?"
"…"
"Slick her hair back and she looks like an eight year old boy."
Last week I watched Nathan Staplegun eat salted peanuts on spreecast. What started off as Nathan eating salted peanuts soon turned into Nathan asking his roommates or friends (and thus turning the computer camera in their direction) what they were preparing in the kitchen, and quickly became a spreecast showing one of Nathan's online friends playing guitar. On the surface, Nathan Staplegun eating salted peanuts on television (that's what platforms such as spreecast are: do-it-yourself TV) would seem like a snooze, a no-brainer, an excuse to read more books. But, what Nathan did was really great. He put on TV a thing that he would have done anyway and by doing it on TV turned the act of eating salted peanuts into something else: an event, perhaps.
I love to tell the story of Glenn O'Brien's TV Party. In 1978, Glenn O'Brien and friends (and his friends were people like Jean-Michel Basquiat, Amos Poe, Deborah Harry, Walter Steding, Chris Stein) got together and decided to take advantage of public access cable television in New York City. The format was simple: hang out with friends, get high (one episode had Fab Five Freddy in costume teaching viewers how to roll perfect joints), have your friends play music, and talk to people (viewers called in live while the show was on air and used their short time to make death threats and complain about how shitty the show was). By television's standards, the TV Party shows were shitty, but they were fun to watch. And, in their own way, became increasingly popular (special guests included David Byrne, Klaus Nomi, and Mick Jones of The Clash) and influential (in one of his early top ten lists David Letterman cited TV Party as an influence). Art and everyday life will never be separate things; although, the art marketers sure seem to want us to believe that they are. Friends get together, record each other doing silly things, or someone we hardly know broadcasts himself washing dishes or whatever, and art's possibility is renewed, if not, realized.
I have been kicking around the idea of starting a series of posts in which I cruise my facebook friends' facebook photos and post the ones I like as part of 'Creeper: Favorite Facebook Photos of My Facebook Friends'. The word 'creep' (and its variations) has not always had negative connotations. When Radiohead hit the pop charts in 1992 with their debut single "Creep" the song seemed like a strange, wonderful call to embrace the pathos of a loser, a lost subcultural weirdo whose dreams and desires are too much for himself and the world. Much like Beck's "Loser" the song seemed to reinvigorate a long-standing yet dangerous tradition in the arts: the elevation of the low, the loser, the outsider, the emotional clown, to the status of cultural barometer, of artist. Long-standing because American cultural producers had carefully exploited this type for profit since the early days of white rock 'n' roll (Elvis Presley) and the first teen films (Rebel Without A Cause). Dangerous because sometimes people actually believed in these characterizations enough to begin to act like rebels, not satisfied with merely listening to them on the radio or watching them at the movies.
In 1969, Vito Acconci made art by simply following people around New York City. Acconci spotted someone on the street and followed them until they disappeared into a place he couldn't, or didn't, want to go. Acconci's performance lasted almost a month. He'd get up, go outside, spot someone, and follow. Most spreecasts, for better or for worse, go on way too long. But, so does hanging out with one's friends. At some point, you want to be by yourself or hang out with someone else. With the advent of the spreecast you can hang out with people you know or don't know or want to know simply by joining in. It's the logic of the club but not as restrictive. Of course, hanging out on spreecasts may never beat the intimacy of being in the same room with a friend or a loved one or turning it all off and reading a book. But I've known a lot of people who got all the companionship they needed by simply watching episodes of Breaking Bad or whatever–and apparently, according to some, you can be plugged in and still experience solitude.
This isn't a plug for spreecast, who I could give two fucks about. It is a plug for a kind of art that denies the art market and realizes itself in everyday life. One doesn't need an important architectural group, a big publisher, and a major museum to support an effort to follow and document people in your neighbor (although Acconci had all of those). One does need ideas. I was talking to Elizabeth Emily D'Agostino in her car about art. We were parked outside my apartment–a perfect venue to discuss anything. Our conversation shifted to cultural amnesia, an easy target. In our desperate efforts to predict the future I described for her a story written by Tao Lin and boldly proclaimed that this was Lin's crowning moment and that history would look at this moment as an opportunity lost. The story is simple enough:
when i was five
i went fishing with my family
my dad caught a turtle
my mom caught a snapper
my brother caught a crab
i caught a whale
that night we ate crab
the next night we ate turtle
the next night we ate snapper
the next night we ate whale [. . .]
The last line of the story is repeated almost endlessly or as long as the writer/reader can endure it. Although, I have read a version of it where it ends rather abruptly. For a video account of its hilarity, you can listen to Tao read it here.
Why an opportunity lost? Because when an artist with the talent of Tao Lin comes along he seems to come with a two-pronged fork capable of reflecting the zeigeist back to us and/or breaking the hold the zeigeist has on our attitudes, desires, fashions, discourses, etc. In the post-Warholian world in which we live contemporary artists have made it clear that they are more interested in and perhaps more capable of showing us who they are (i.e. reflecting the 'zeigeist' back to us) than breaking the mirrors that bind us to a social-medial and political-economic worldview that reinforces the notion that 'we're fucked.'
We are fucked. In Sheila Heti's novel, How Should a Person Be?, someone comes up with an idea for an ugly painting competition. I say 'someone' because not even Sheila, our narrator, knows who came up with the idea. The idea of making the ugliest painting is more difficult than you'd think. Relationships are ended, lives are changed. During the height of the national crisis that was punk rock in England in the 1970s, a roadie for The Who dismissed the movement as a mere 'revolt of the uglies.' I mean, imagine calling a bunch of teenagers parading their misfortunes, economic hardships, childhood traumas, bad skin, social awkwardnesses, and fashion made of actual garbage found in the street as revolting or, worse, ugly? It is with these two sentiments in mind–a conceptual call to ugliness in the name of something else (Heti) and its celebration as an insult (punks)–that I invoke the writers and artists of the alt lit movement, a movement that has come to signify everything that's right and wrong about everything that's fast, cheap, and out-of-control in the arts today. Perhaps the time has come to break the mirrors that bind us to our own little personal victories (i.e. 'I'm internet famous') and begin the more fun and difficult work of smashing those fucking mirrors so that we–and the big, bad world–may see ourselves again, as something else, something more, something seemingly uglier and thus, perhaps, more beautiful. Of course, you could choose to ignore me (I'm used to it, really)–your career path probably profiting more from it–than listen to me whisper to you, from the salted peanut gallery.
@janeysmithkills
kottonkandyklouds.tumblr.com
Last week's New Yorker (3/12) covers the Whitney Biennial. One passage that caught my eye:
"See, for instance, Gisèle Vienne's mechanized boy mannequin wielding a hand puppet, with a chilling soundtrack by the Los Angeles poet and novelist Dennis Cooper. 'I'm not dead,' the boy muses, 'unless this is death.' The sinister-voiced, twitching puppet comments on things that the boy imagines, in what sounds like a game of exquisite cadaver: 'decapitated head upon severed arms upon mutilated trunk-like logs and branches in a fireplace.'
'Because I said so is the fairly witless way most images get you to look at them,' the poet and performer Ariana Reines writes in an essay that complements, rather than addresses, the grotesque montage photographs and assemblages, satirizing high fashion, by the artist who styles herself K8 Hardy."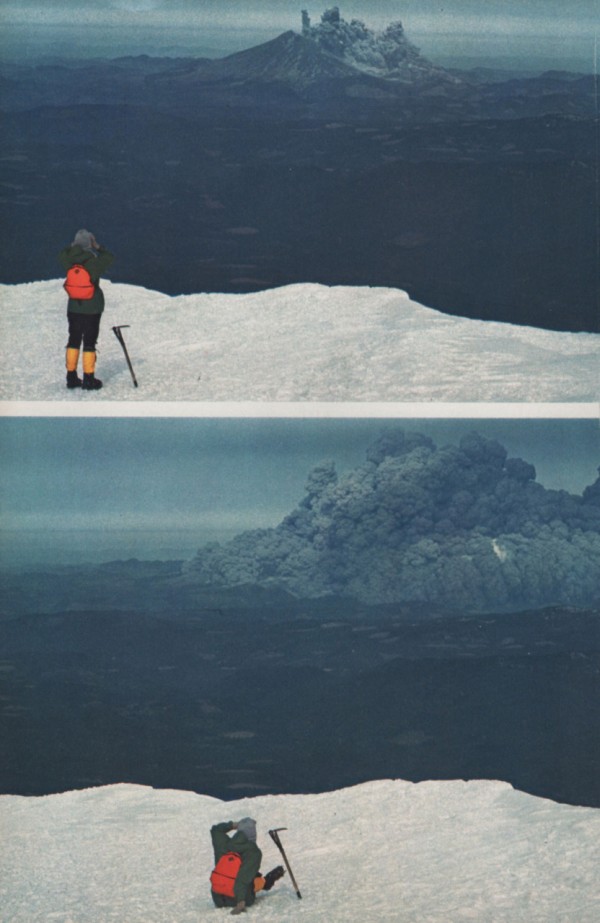 That's the feeling I look for, right? In whatever I'm eating, be it real food, or entertainment, art, people. The major event. A safe, manageable portion of the inner land or map blown away, torn out and away, dissolved or smoked. I only know a couple people who really seek that, or when they say they want that destruction it's a good lie, and maybe they've said it enough so it's shared and indistinguishable from truth. Regardless, it's a common myth, a familiar dragon to chase, that of the Art That Changes For Good. I rarely recognize the mountain exploding in realtime, while reading something or watching a movie, it's felt live that way maybe four times in my adultish life. Mostly it's just feeling the echo of the boom a time later. Still, standing mountains aren't terrible, and are often really nice. But sometimes you get lucky (pictured, pictured). Here's what my year looked like: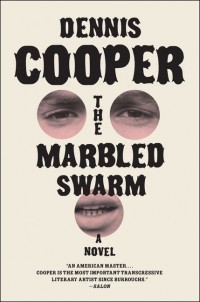 The Marbled Swarm
by Dennis Cooper
Harper Perennial, November 1st, 2011
$10.19 / Buy from Amazon
1. A precursor: the often repeated and often obvious dictum from authors: if one could summarize the idea or express the idea elsewhere, it would not be a book.
2. Another precursor: I have to use numbers for this review. The accumulative force in The Marbled Swarm has made me nervous to write about it. These numbers should help. Related: numbers are very rarely used in the book; we are maybe twice given them as markers, as soft attempts at erasure, but more so as another meter to remember. I understand the absence of counting in the book.
3. Formal book reviews mostly feel homogenous to me; some young limping component of an old structure; sutured to print? The format seems off, or rather: very rarely off. I'm pretty often baffled, too, by the claim that some argument must be lodged and pushed through to agree a reader; maybe I discredit the militaristic form of rhetoric, or of establishing a reading. To me, the reviews, the books too, that are interesting and alive feeling do not seem camped or aimed, yet open and transfixed.
4. I read The Marbled Swarm for the first time on a plane. Enclosed by a tube, moving very fast through different pressured air, hoping for a smooth passage. Fantasizing about puncture. READ MORE >
Ken Baumann
—
Anybody who's remotely interested in the art of/work of writing should pick up the current issue of The Paris Review and flip to Dennis Cooper's interview. It is pure inspiration.