HTMLGIANT / fc2
A D Jameson
This Friday and Saturday, Yuriy Tarnawsky will be reading in Chicago to celebrate the completion of his recent trilogy, The Placebo Effect.
On Friday, he will be reading at Quimby's Bookstore (1854 W. North Ave.) with Eckhard Gerdes.
On Saturday, he will be reading at 567 Studio & Gallery (1800 N. Milwaukee Ave.) with Eckhard, Jane L. Carman, and myself.
Both readings start at 7pm, and are free and open to the public. A reception will follow the Saturday reading.
Here's a recent interview with Yuriy regarding The Placebo Effect Trilogy, conducted by Tantra Bensko. And here's an older interview that I conducted with Yuriy, about his life and work in general.
Since the 1950s, Yuriy Tarnawsky has published more than twenty books of fiction, poetry, drama, and criticism in English and Ukrainian. His most recent work has appeared via FC2, Jaded Ibis Press, and JEF Books. His Three Blondes and Death (FC2, 1993) remains, IMHO, one of the best English-language novels of the past thirty years—indeed, I think it the best book that FC2 has published. (You can read some of it here.)
Hope to see you there!
Author News
/
8 Comments
May 13th, 2014 / 3:00 pm
Guest Posts
Founded in 1974, FC2 is one of America's best-known ongoing literary experiments and progressive art communities. In honor of FC2's fortieth birthday, publisher Lance Olsen has generously answered the following questions about publishing, longevity, and innovation.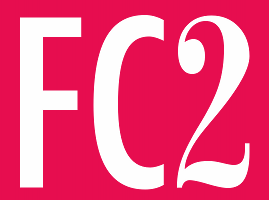 ***

Rachel: What is FC2?
Lance: FC2—short for Fiction Collective Two—is a small, independent, not-for-profit press run by and for innovative authors. One of America's best-known ongoing literary experiments and progressive art communities, for the last 40 years FC2 has dedicated itself to bringing out work too challenging or heterodox for the commercial milieu. Originally founded in 1974 as Fiction Collective by a handful of writers—Ronald Sukenick, Raymond Federman, and Jonathan Baumbach among them—FC2 has so far published more than 200 books by more than 100 authors.
Rachel: What does FC2 mean to you?
Lance: FC2 is an ongoing investigation into what innovative writing means—and that meaning is continuously in flux.  One of the great joys for me about our editorial meetings, which take place once or twice in the fall, and once or twice in the spring, is that they make up an ongoing conversation about such troubled and troubling terms as "cutting-edge," "artistically adventurous," and "experimental."
Those terms mean something else now than they did in, say, 1974; will mean something next Tuesday than they did last Monday; will mean something different to one person than to another—which is to say such terms are inherently unstable ones, open to ongoing modification, depending on who you are, where you are, what you've read, and so on.  That is, they are terms always-already in-process.
By my lights, at the heart of them are a series of implied questions: what is narrative? what are its assumptions? what are its politics and social dynamics? its limits? how does narrative engage with the problematics of representation? identity? temporality? gender? genre? ideas of "literature" and "the literary"? authorship? readership and the act of reading in the twenty-first century?
In other words, perhaps a fruitful way of approaching a tentative definition of such narrativity—represented with respect to FC2 by such diverse authors as Lucy Corin and Brian Evenson, Cris Mazza and Amelia Gray, Michael Martone and Stephen Graham Jones, Matt Kirkpatrick and Samuel R. Delany, Michael Joyce and Clarence Major, Vanessa Place and Hilary Plum, Joanna Ruocco and Leslie Scalapino, Melanie Rae Thon and Yuriy Tarnawsky, Steve Katz and Mac Wellman, Diane Williams and Lidia Yuknavitch—might be to suggest it is the sort that includes a self-reflective awareness of and engagement with theoretical inquiry, concerns, and obsessions.
Behind the Scenes
&
Presses
/
4 Comments
April 25th, 2014 / 10:00 am
A D Jameson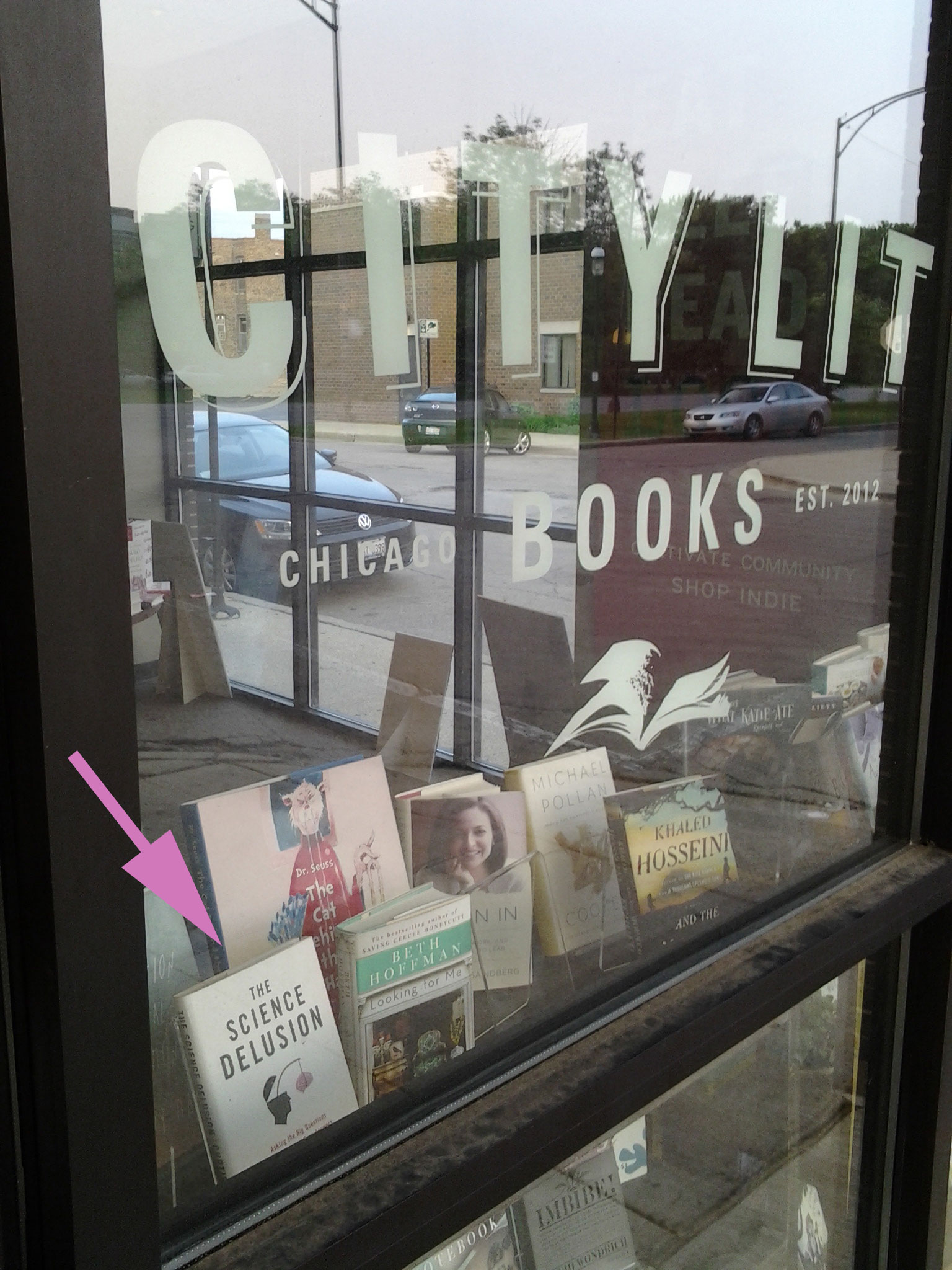 At City Lit in Logan Square, at 6:30pm. Curt will be reading from his new book, The Science Delusion: Asking the Big Questions in a Culture of Easy Answers, which just came out through Melville House.
I did my Master's degree with Curt at Illinois State University, and he's one of the smartest and best writers I know. (He's one of the two profs who first got me reading Viktor Shklovsky.) In the 1980s, he and Ron Sukenick transformed Fiction Collective into FC2, and I learned about FC2 (and ISU) partly through the two "sampler collections" they put out (something I wish more presses did). Curt's also written seven works of fiction, including The Idea of Home and Memories of My Father Watching TV, and now five works of nonfiction, including his infamous attack on Terry Gross (among other things), The Middle Mind. (He may not have made Gross cry, but he sure pissed off a lot of her fans.)
I'm only halfway through this new book (and will be writing more about it later), but so far I'd describe it as an attack on the idea, currently very en vogue, that scientific knowledge is the only or most superior form of knowledge, and thus the only means of accounting for what it means to be human. Right from the start Curt shows how much of science's own knowledge is shoddy and unexamined. For example, it's not uncommon to hear scientists like Stephen Hawking claim that the universe is beautiful, but how do they understand beauty? Not very well, Curt argues. Like in The Spirit of Disobedience, Curt demonstrates how other intellectual traditions—specifically Romanticism, which he traces through the Beats and punk—offer a way around and past some of the more inane debates consuming so many today, such as "science vs. religion." Plus he's funny, too.
If you're in Chicago this Thursday, come by and hear Curt! Discussion will follow during which you can ask him embarrassing questions.
Author News
/
2 Comments
June 11th, 2013 / 11:48 am
A D Jameson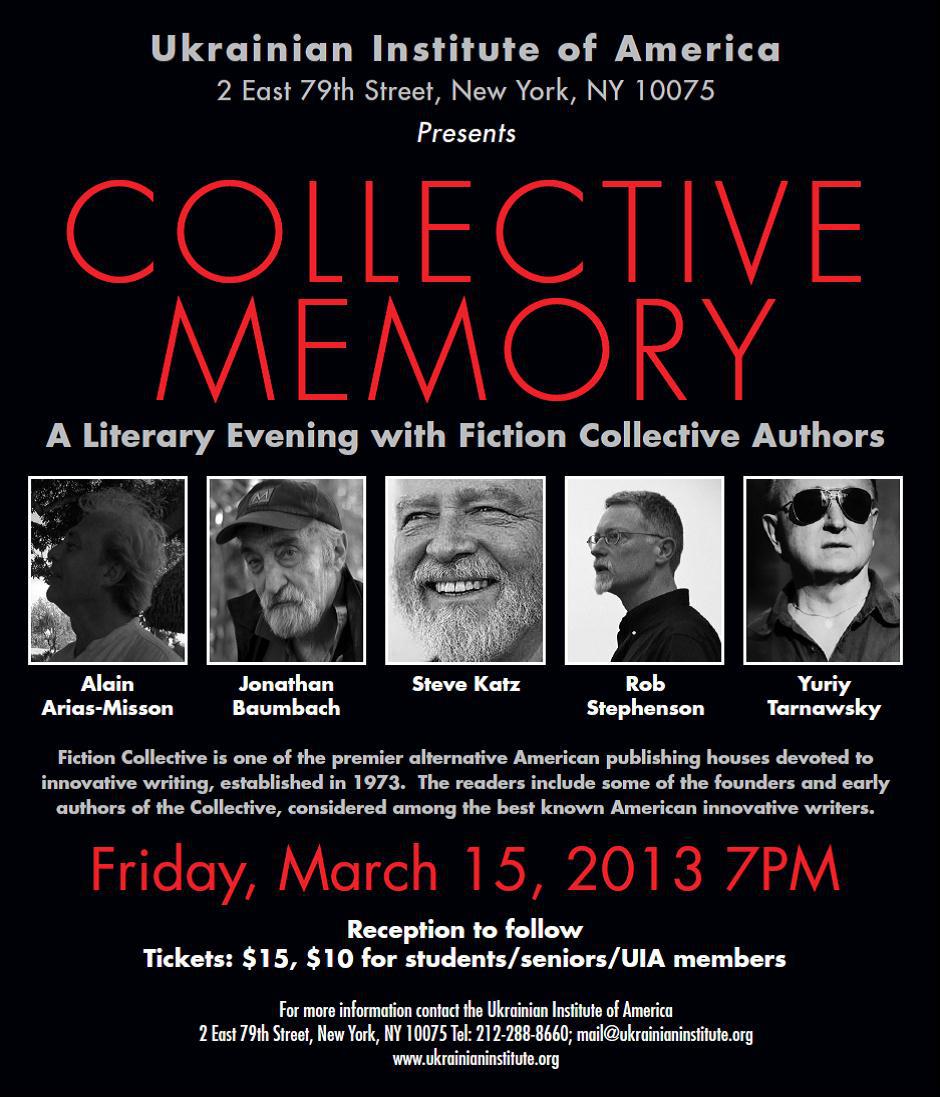 I'd sure go to this if I could.
More on Steve Katz (here & here) and Yuriy Tarnawsky (here, here, here, here, & here).
Events
/
2 Comments
February 17th, 2013 / 4:39 pm
A D Jameson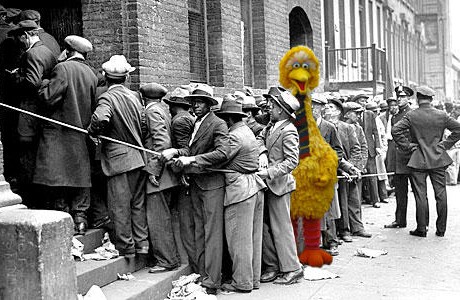 David Fishkind recently asked "Are You Afraid of Politics?", and a lot of people, myself included, chimed in. Since then I've realized I have much more to say on the subject.
I normally don't think of politics in Democrat/Republican/presidential election terms. I'm registered as an independent, and I prefer to live my politics on a daily basis—which is why I don't drive, buy organic food when I can, and support local businesses run by people I know, etc. But it would be damn foolish of me to not recognize that "the political is personal" (to invert a phrase), and that the gentle people elected to the state and federal levels regularly impact both my daily life and my career as a writer. Specifically:
Behind the Scenes
/
23 Comments
October 8th, 2012 / 8:01 am
Janice Lee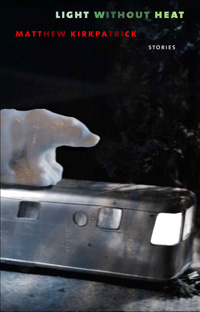 Light Without Heat
by Matt Kirkpatrick
FC2, 2012
192 pages / $14.95  Buy from University of Alabama Press or Amazon
The thrill of reading Matt Kirkpatrick's debut collection, Light Without Heat (FC2, 2012), is like the thrill of stepping into a carefully curated vintage store: each exquisite story has a talismanic magic unto itself, and a unique literary lineage. For example, the executives of a telecommunication company in "The AuralSec Story, a Corporate History, Chapter 7: Our Dependable Grampy," who assure themselves, "Well, at least nobody young is going to die from what we do" have the fatalistic humor of a George Saunders character who's mired in an insufferably corporate universe. Or consider the narrator in "The Board Game Monopoly," whose thoughts gyrate around his destitute neighbors (lesbian heroin addicts, a little girl who steals his cigarettes, a mythomaniac neighbor who lies about "arm cancer"), whose threatening humor belies a deeper melancholy, not dissimilarly to Denis Johnson's character, "Fuckhead." Or consider "Glossary," Kirkpatrick's impossible encyclopedia whose absurdist linguistic humor is reminiscent of Ben Marcus's Notable American Women:
Akron, OH: On June 12, 1978, the "City of Angels" burned to the reduction of artificial application of water to the soil.
Akron, OH: Forty miles east of Akron, OH, in a forest on a hill.
Akureyri: Show me cold water flowing and
Alan Alda: Badly burned on June 1, 1980, while freebasing cocaine.
Alan Alda: A sinkhole opens in a valley to one black cavern glistening. Cold black water glistens.
Reviews
/
3 Comments
May 25th, 2012 / 12:00 pm
Lily Hoang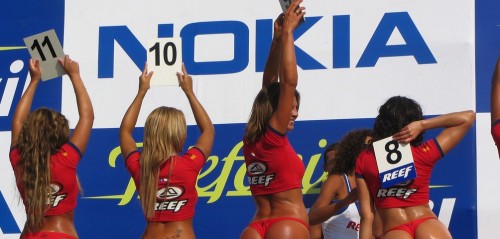 A while back, I posted a link to Les Figues Press's very first book contest. Whereas all I did was post the submission information, many commenters responded, asking questions and giving opinions about contests in general. To clear up any questions about motivation, profit margins, etc, I have assembled four small presses – Les Figues Press, Starcherone Books, Noemi Press, and Fiction Collective 2 – to discuss their contests. I hope you find this conversation as illuminating as I do.
Bios for the presses can be found after the conversation. The publishers representing the presses are as follows:
Les Figues Press (LFP) – Teresa Carmody
Starcherone Books – Ted Pelton
Noemi Press – Carmen Gimenez Smith
Fiction Collective 2 (FC2) – Lance Olsen
Note: You may notice an exclusion in the conversation here, that is, I didn't ask anyone to represent a press who doesn't have a contest. I had considered asking a few people, but ultimately, I wanted to focus on why presses have chosen to run a contest. Expect a post within the next few weeks with presses who have chosen not to run a contest, for whatever reason. Hey publishers: if you have a press that doesn't run a contest and want to participate in a conversation like this one, email me: Lily [dot] Hoang [dot] 326 [at] gmail [dot] com.
LH: How long has your press run a contest, and what was your rationale in starting it? Do you require a submission fee? With the submission fee, does the applicant get any other goodies?
Contests
/
12 Comments
September 1st, 2011 / 2:08 pm
Christopher Higgs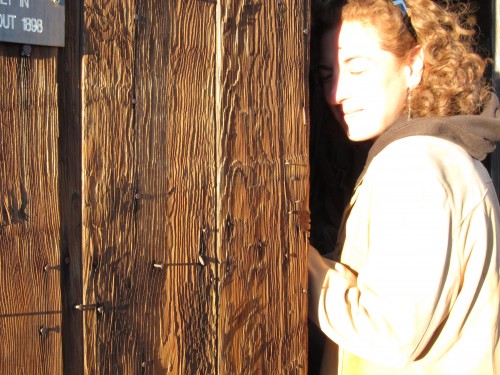 Alexandra Chasin is the author of Kissed By, a collection of short innovative fictions (FC2) and Selling Out: The Gay and Lesbian Movement Goes to Market, a nonfiction/scholarly book (St. Martins).  Chasin's creative work has appeared in print in Unsaid, Hotel Amerika, Post Road, AGNI, Denver Quarterly, and Chain, and online in Exquisite Corpse, elimae, Diagram, and Big Other, among other places.  Relevant bibliography for this piece includes inclusion in Wreckage of Reason: An Anthology of Contemporary XXperimental Prose by Women Writers, edited by Nava Renek.  Chasin has a PhD in Modern Thought and Literature from Stanford, and an MFA in Fiction Writing from Vermont College.  She teaches at Lang College, The New School, and currently serves as Co-chair of the Literary Studies Department there.
Random
/
15 Comments
March 28th, 2011 / 1:37 pm
Blake Butler
This is one for the decade, and came out today. You are going to need at least 1-3 copies. I'd say more but you probably already know. Or here are blurbs.
"Amelia Gray's Museum of the Weird is a cabinet of curiosities—a talking armadillo, a serial killer named God, a woman who amputates her toes for dinner, a man married to a paring knife—this collection of stories is so good and funny and wondrous that I couldn't look away from her dark and curious imagination."—Michael Kimball

"To say Amelia Gray belongs in the hilariously inventive hallows of Ann Quin and Rikki Ducornet would be to miss her light. This book is gleaming evidence of the author as a trophy case unto herself, wrought of magic equally surprising, wicked, giddy, and loaded with a megaton of Boom."—Blake Butler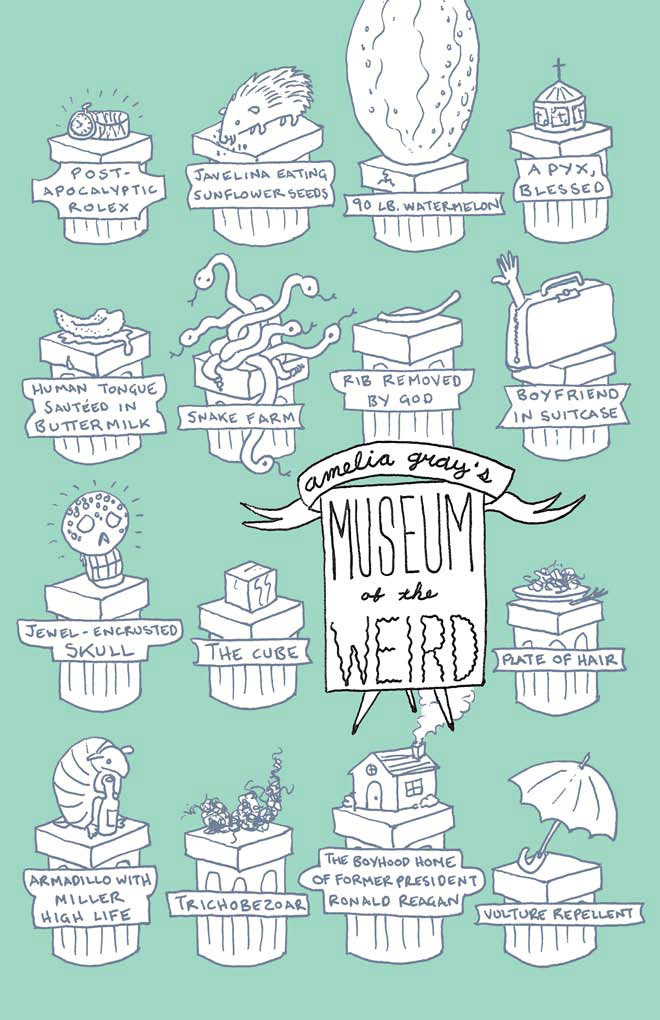 [Here is a sample text from the book: There Will Be Sense.]
Get get now. Do the get. Get the real: straight from FC2.
Or also available here.
Author News
/
89 Comments
September 7th, 2010 / 7:03 pm
Blake Butler
—
Three new titles out now from FC2: The Fixed Stars by Brian Conn; In the House by Lynn K. Kilpatrick; Passes Through by Rob Stephenson.