gertrude stein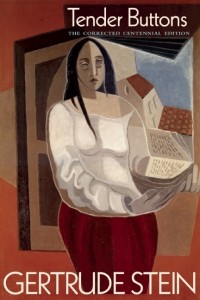 Tender Buttons: The Corrected Centennial Edition
by Gertrude Stein
Edited by Seth Perlow
City Lights Publishers, April 2014
134 pages / $9.95  Buy from City Lights or Amazon

Gertrude Stein's Tender Buttons came at the right time. Of course, it made no sense to me at first, as did the roller coaster of events in my life during the 3 times I read it. I went through some serious changes just trying to figure out how I felt about Stein, much less the book. One minute, I enjoyed her experimentalism, an obvious reflection of her larger-than-life persona. The next, she irritated me, like an itchy eyeball or a throat tortured by the skin of a popcorn kernel.
It took a while to break through the frustration that mirrors that one literary reading you attend where no one wants to admit they're clueless about what the guest speaker is saying. Still, there's a cacophony of 'mmm's' at the conclusion of all his poems. Head nods from the audience give him confidence to admit he wrote the final piece on the bus ride over as he holds the paper at an angle where the room's lighting spills over typed words. But, everyone smiles and over-compliments him at intermission over refreshments, and mocks the boorish girl who tells him that he has a chunk of salami stuck between his front teeth.
I didn't want to be that audience, and I wanted to believe that Stein was the random chick who said the obvious, even when it was hard to digest or accept. That's when I decided to give the text another go (this time, from a different angle) and found the absurdity of Stein's words surprisingly satisfying as I started reading them aloud. I drew the shades one day, lit candles in my tiny apartment, and settled on the futon, paperback in one hand and a glass of wine in the other. The Stein-like shawl I'd draped over my shoulders and pinned with a broach threw me into character and suddenly, I was reading the way I'd seen several of my favorite writers read. With passion and rhythm and a glowing grace. I stopped thinking and felt everything. My tongue was on fire as the words fell out effortlessly.
A CLOTH.
Enough cloth is plenty and more, more is almost enough for that and besides if there is no more spreading is there plenty of room for it. Any occasion shows the best way.
….
A TIME TO EAT.
A pleasant simple habitual and tyrannical and authorised and educated and resumed and articulate separation. This is not tardy.
….
APPLE.
Apple plum, carpet steak, seed clam, colored wine, calm seen, cold cream, best shake, potato, potato and no no gold work with pet, a green seen is called bake and change sweet is bready, a little piece a little piece please.
A little piece please. Cane again to the presupposed and ready eucalyptus tree, count out sherry and ripe plates and little corners of a kind of ham. This is use.
[from Tender Buttons by Gertrude Stein]
1. Super thrilled to hear via twitter that Coffee House Press will be putting out a new collection by Brian Evenson, Windeye. Hopefully by 2011? No date word yet, but Evenson is the kind that I go stand in line for. If you haven't read the titular story yet, it is gorgeous, and available via PEN America.
2. At Electric Literature, Melissa Broder interviews Ryan Call about, what else, litblogging.
3. James Yeh has a new chapbook out, 9/16/10, from a rad small press making beautiful objects, Swill Children.
4. The Complete Recordings of Gertrude Stein Reading Her Own Works @ PennSound
5. Interview with Dorothea Lasky by Nafiza Islam at Thoughts Interjected & interview with Patrick Somerville by Tobias Carroll at Vol 1. Brooklyn.
6. At Ubu, Doug Nufer's Never Again, a 163 pg. novel with no word appearing more than once, which I discovered after an awesome conversation wondering if such a thing existed with Heather Christle and Christopher DeWeese, both of whom have books coming from Octopus in 2011 that I am also mega excited for.
The tradition has always been that you may more or less describe the things that happen you imagine them of course but you more or less describe the things that happen but nowadays everybody all day long knows what is happening and so what is happening is not really interesting, one knows it by radios cinemas newspapers biographies autobiographies until what is happening does not really thrill any one, it excites them a little but it does not really thrill them.

…

It is awfully difficult, action is direct and effective but after all action is necessary and anything that is necessary has to do with human nature and not with the human mind. Therefore a master-piece has essentially not to be necessary, it has to be that is it has to exist but it does not have to be necessary it is not in response to necessity as action is because the minute it is necessary it has in it no possibility of going on.

…

And so always it is true that the master-piece has nothing to do with human nature or with identity, it has to do with the human mind and the entity that is with a thing in itself and not in relation. The moment it is in relation it is common knowledge and anybody can feel and know it and it is not a master-piece.
from "What Are Master-pieces and Why Are There So Few of Them"
by Gertrude Stein
"I just read in this morning's paper that [P.G.] Wodehouse says that they give him $104,000 for doing nothing at Hollywood they keep him there but they do not use what they ask him to do."

— Gertrude Stein, from a letter to playwright Thorthon Wilder (1936)
—
"It is a good rule in life never to apologize. The right sort of people do not want apologies, and the wrong sort take a mean advantage of them."

— P.G. Wodehouse
According to Firmuhment's list of websites described as food, we are: "Good pea soup that the cooks took turns spitting in, garnished with dead flies." I like. (Lots of other interesting erasures, destructors on here, including blackouts of Tara Reid, blurring of Gertrude Stein, so on.) (Thanks M. Rascher.)