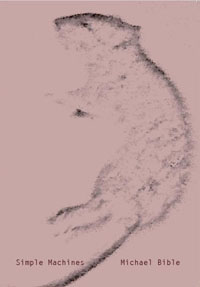 Simple Machines
by Michael Bible
Awesome Machine Press, 2011
64 pages /  $8   Buy from Awesome Machine
What is Michael Bible up to?
Michael Bible has fixed the toilet with a shotgun!
Michael Bible has hand-picked the sentence without kid gloves, without hubbub, without shilly-shallying!
Michael Bible has exploded the sentence by reforming the sentence into what it was once and dreams of being again.
Michael Bible is the new South, writing from Oxford, Mississippi.