September 2009
Blake Butler
—
Some of you recent commenters, I have no doubt, if handed a cheese sandwich your mother made you for your lunch, would take the sandwich and look at a second, and hand it back for where the bread had a bubble hole baked in the edge.
What if someone made a book by plagiarizing the newspaper; then six years later someone came along and made a book by plagiarizing that first plagiarism? Answer:
Day by Kenneth Goldsmith (The Figures, 2003)
From the "Author":
"I am spending my 39th year practicing uncreativity. On Friday, September 1, 2000, I began retyping the day's NEW YORK TIMES word for word, letter for letter, from the upper left hand corner to the lower right hand corner, page by page." With these words, Kenneth Goldsmith embarked upon a project which he termed "uncreative writing", that is: uncreativity as a constraint-based process; uncreativity as a creative practice. By typing page upon page, making no distinction between article, editorial and advertisement, disregarding all typographic and graphical treatments, Goldsmith levels the daily newspaper. DAY is a monument to the ephemeral, comprised of yesterday's news, a fleeting moment concretized, captured, then reframed into the discourse of literature. "When I reach 40, I hope to have cleansed myself of all creativity."
Day by Kent John­son (BlazeVox, 2009)
From the "Author":
What he said.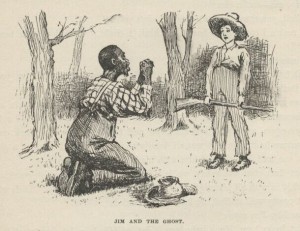 It's finally here, and I'm ashamed to say that, of the top ten most challenged books in 2008, I have only read one (some Scary Stories book I got off the Bookmobile when I was a child which, while it maybe should not be banned, did haunt my dreams for many years with its tales of chicks whose heads fell off when they undid their scarves). But we all know books are dangerous, and can warp fragile, gelatinous minds with their subversive ideas. The thing is, by forbidding access to something, you're only going to give it that much more power to smite the reactionary forces of good (evil). Like, I'd be upset if someone banned Going Rogue, because that thing is going to be awesome for everyone. However, if you did have the power to ban one book for all eternity though, which would you pick?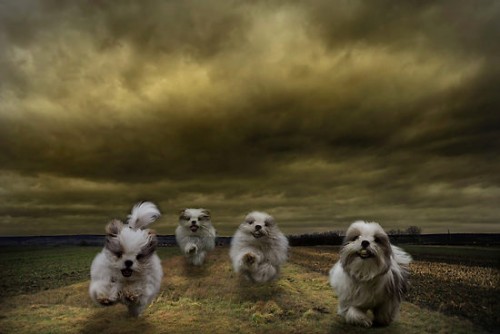 has anyone cataloged the different kinds of apocalyptic texts.  i can't remember ever reading a critical work that didn't use the idea of an apocalypse vaguely, as though if you just say the word everyone understands, "the ending of the world" but not in what sense "the world" is being interpreted. the greek interpretation of "apocalypse" means an "unveiling" or "revelation."  combining this with a more contemporary idea of apocalypse, wherein civilization ends by an unveiling of reliance on certain technology, it becomes easier to define.  so to me then, it seems important when writing about a book that idealizes the apocalypse, to give a type to this version of it, one based on how it operates in the book.  i like apocalyptic writing if it unveils my sense of order, a claim i return to later with SCORCH ATLAS.  if i am remembering an octavia butler book correctly, PARABLE OF THE SOWER i think, this apocalypse involves unveiling the government of human nature.  in the book, gated communities protect themselves internally from an unsteady outside world.  without even really getting into it, i can see that this suggests a natural inclination for humans to make groups, to use others as technology.  so in this version of the apocalypse, a technological unveiling, comes in the form of factions.  a faction suggests limited power among a greater grouping of power.  so what is unveiled is two interpretations of human nature in relation to power, two interpretations to be taken as one, as what happens when humans must face being alive.  in facing being alive, it is unveiled that you must band together.  to attack or defend.  throw in the added element of there being a girl who possesses "hyperempathy" or a greater humanity for humanity, within herself, and the unveiling of the total human emotional scale is the apocalypse, the decision to govern and how to do it.  the unavoidaility of it.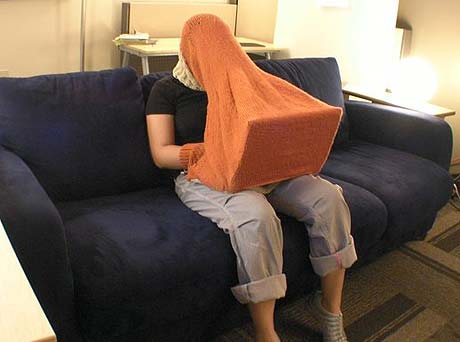 I've tried to collect from the internet as many 'blurbs' as possible over the course of this past year, and I'd like to share a few of them with you here to celebrate our having survived twelve months of being the internet literature magazine blog of the future. The blurbs are real, in that I copied and pasted them from comments and other websites, but I have dropped the names of the blurbers in order to protect the innocent. So, thanks for reading us, hating us, loving us, shittalking us, and supporting us.
"Exactly equivalent to writing on a bathroom wall, and shame on you. Talk about 'slime balls.' Slime ball indeed."
~ Richard Bausch

"I've come to realize that HTMLGIANT contributors are, in large part, idiots."
~ Jerzy Kosinski

"I think HTMLGIANT is still trying to find their voice. They seem to teeter between adolescent posturing and intelligent discussion."
~ Oprah Winfrey
Next month, the winner of the 2009 Nobel Prize in Literature will be announced, and literary types have already started speculating, and even betting, on who might be this year's winner. This is pointless, because the winner is going to be, in all likelihood, an anarcho-syndicalist playwright or pamphleteer from Moldova or something like that. It might be a duck, as long as it's a duck that likes Gramsci but not America or television. It probably will not be anyone you have ever heard of. But you might pretend you have after he or she wins, if you, like me, are kind of a dick. The winner will definitely be alive, per Nobel rules, at the time of the nomination, though. Sorry, Updike!
One thing is for sure: the announcement will catapult the winner to worldwide reality show-level fame, and magazines will speculate about his or her sexual orientation, and nobody will be able to stop talking about the latest Nobelist for years to come. Remember when that happened with Dario Fo? And Elfriede Jelinek? Huh? Huh? Anyway, we discuss the bookmakers' odds for what might, sadly, be the most exciting contest of the year…after the fucking jump!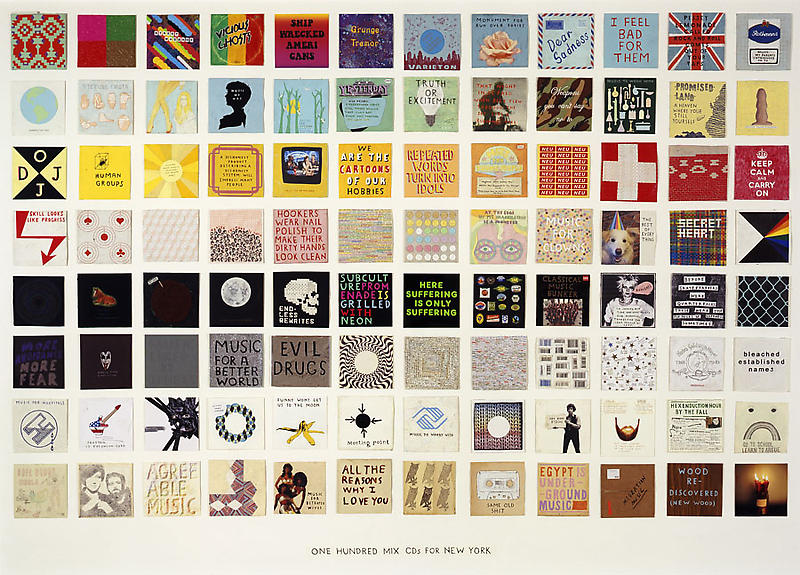 Simon Evans' One Hundred Mix CDs for New York (2008) [framed view] is one of my favorite works by one of my favorite artists. He's English and lives in Germany; spent some time in San Francisco where he was "discovered," and where I had the privilege of meeting him.  (He was working at Peasant Pies where I patronized daily — obsessed and worried over his first show in the back of a bookstore which basically stunned everyone by its brilliance.) His rise to success is an optimistic tale of nice guy with, rather than a foot, genius in the door. The following examples are taken from his more comprehensive blog portfolio (be sure to click and enlarge each pic to see the textured layers).