October 2011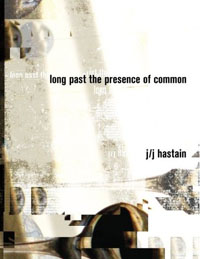 long past the presence of common
by  j/j hastain
Say It With Stones, 2011
87 pages / $12  Buy from Say It With Stones
&
Dear Failures
by Trey Sager
Ugly Duckling Presse, 2011
28 pages / $10  Buy from UDP
This week I went to an art museum showing contemporary work by two gay male artists. The two exhibits were chosen to put the pair in conversation with each other: Donald Moffett, who worked with Act-Up in the eighties, and Glen Fogel, who was born in 1977. I wandered through the exhibits looking at the projected paintings, arms emerging from holes, wedding rings and re-painted love/hate letters. Afterwars, I walked outside into the cool autumn air and sat down in the sculpture garden next to the museum. I'd been trying to make time to read j/j hastain's new book long past the presence of common, and I finally had made the perfect moment. The sun was setting through the trees, the air was warm enough.
i remember my father crying at the dinner table during thanksgiving in the year 2006. he was telling me the world was fucked, telling me i had to sell my soul to make money. it was the only way, he said.
***
Adam Robinson
—
Melville House site redo. What do you think? To me, their last site was a model of amazeballs. So much PHP. This one is cleaner? I dunno, but I'm about to explore it and find out.
Adam Robinson
—
Autographed by the author — who gives a shit? What is the best autographed book story you got then?
What a sweet week for mice who live in walls. Wait, I mean what a sweet week for this pink skull and crossbones wrist thing. Wait, I mean what a sweet week for all these old MTA bus passes I am uselessly collecting. Wait, I mean what a sweet week for new litmags. That's it. Adam already posted about LPZ, and since I just got in trouble the other day for accidentally double posting about Ryan Call's Whiting Award, I'm going to stick to a strictly newsworthy diet.
Dark Sky 14 is out! You should read Dark Sky 14 if you like mustached short Siamese women, a family crawling naked from the sea clutching plastic suitcases, counting bullet holes, Burt's cans of nuts and screws, broken floating, a horse in a Dumpster, seagulls collecting Styrofoam with their beaks, Mars sex, kicking ants, cashmere moons, warbling accountants, smoke that turns into bears and vice versa, and anonymous book reviews where the book itself is the anonymous.
NOÖ [13] is out! You should read NOÖ [13] if you like  dance-offs, Russian salads, laundromats outside of burnt down malls, people who give you their ADD medication for your birthday, Ivan Lendl nostalgia, Hawaiians with machine guns, fake boyfriends, people who marry houses, confused police, sisters who are boxes of snakes, sisters who threaten you with ginsu knives, pummelhorsing social compromise, meat screams, oysters collected by widows, letters to jailed Lil Wayne, hearts too full of apples and wind, slut bags, triangle booth sandwiches, fucktrys, lung balloons, the bicycle in the wrong part of the neighborhood, the fast snapping motion of a neck during the fickle stages of a swan-dive, whiskey & chocolate, roller hockey coaches, furniture apocalypses, people who swallow entire friends, and eerie floating underwear. Plus one review of one giant book, a book written by a person named Adam Jameson Rod Smith Jennifer L Knox Brad Liening Jennifer Denrow Christian Hawkey Ryan Ridge Dan Hoy. Can you imagine calling for that guy in the doctor's office? Luckily you don't need a doctor to read either of these two new issues, but you might need a doctor after them.
[Update: Some reader comments below prompted me to write a follow-up post.]
I was asked over the summer to contribute a critical article to the online UK journal Beat the Dust; they wanted me to write on the current state of US literature. I "narrowed that down" to indy lit (small press publishing, whatever you want to call it)—still an impossibly huge topic, of course. So I ended up proposing twelve dominants that I'd argue govern the current indy lit scene (at least as best as I can see things from where I'm sitting—Chicago, USA, 2011).
"Dominant" is a term I stole from the Russian Formalists; it essentially means a feature or aspect of a text that most people feel that the text, to be valid, should demonstrate or otherwise include. (e.g., rhyme was often a dominant in English poetry until the 20th century and the advent of free verse; now the situation is mostly the opposite.) (See also this.) Below, I'll list "my twelve" dominants, but please see the full article for a more thorough explanation…
Gorgeous video debut of my favorite band in Atlanta, Lyonnais, on the occasion of the release of their debut album "Want for Wish for Nowhere" from Hoss Records. This has become one of my favorite records to write to. Highly recommended.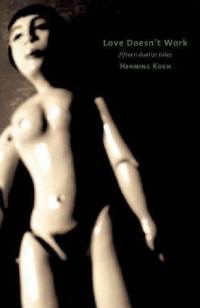 Love Doesn't Work
by Henning Koch
Dzanc Books, 2011
143 pages / $16.95 or $7.99 for eBook Buy from Dzanc Books
Rating: 9.0
Short story writing at its best must quickly introduce the outward facts of a given world and create some narrative interest. We see this in Raymond Carver or Alice Munro, who are both brilliant at making us believe by the end of the first sentence that we already understand the world of their stories. And then, of course, there are short story writers that flirt with genre, and this is where Henning Koch's collection, Love Doesn't Work seems to belong. While it hovers on the edge of fantasy, there are no swords or dragons in sight. Steven Gillis, the American novelist, once commented that there were parallels between Henning Koch and Raymond Bradbury and this seems quite close to the mark, even though there is really little science fiction in Love Doesn't Work – mainly a feeling of a strong sense of imagination.
Adam Robinson
—
"Guns, am / I right? Guns! I love them!" writes Jason Bredle in "Gun Range Talk" at the new La Petite Zine. LPZ gone weird this time, including this tercet from Stephanie Barber: "starve to death / starve to death / starve to death" and from Aaron Belz, "We channel horseradish / On the daily vacation tab" — all to the good of those who love it.