Search results for ten walks/two talks.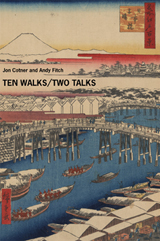 I thought I'd give yet another shout-out to Jon Cotner and Andy Fitch's Ten Talks/Two Walks from Ugly Duckling Presse. Written in the form of "sixty-minute, sixty-sentence walks around Manhattan and a pair of dialogues about walking," the book's observational humor often digresses into moments of tastefully awkward poignancy and makes clear, through tugging at the errant threads found in New York City's human scenery, that everything is truly connected in a glorious form of mental acupuncture: men fighting with lampposts spawn a recollection of a flexible phone conversation, the actions of strangers remind the narrators of their own behavior, and the outside city is shown to be a reflection of the internal time and time again.
As someone who is an outsider to New York (I've been there only twice to salivate at the foot of its cultural picture window), Ten Walks/Two Talks grants readers rare and tender access to all the parts of NYC that won't be shown on Will & Grace anytime soon—and even to some of the parts that may, although they won't be portrayed in such a koan-like, meditative manner as within this book. If one wished to expand the American Museum of Natural History to include the human specimens found on a collection of random street corners, there could be no better curators selected for the job than Cotner and Fitch. With brand new taxonomic categorizations like "dwarf carrying bag of bananas" and "gold spandex wearing friend to the geriatrics," this book makes an evocative catalogue of all the city and the imagination have to offer.
Last time I went to the NYC, I paid too much for leggings and ate things that have milk in them when ordered in New York City but do not have milk in them when ordered elsewhere. This was very fun, but next time I think I'll just walk around and stare.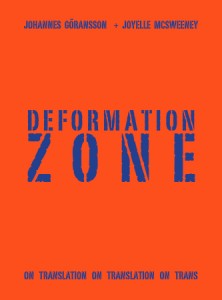 Deformation Zone: On Translation is the latest installment in Ugly Duckling Presse's Dossier Series, which is edited by Anna Moschovakis, and which has already distinguished itself as one of the more adventuresome and aesthetically exciting projects in American publishing. (Other titles in the series include Christian Hawkey's Ventrakl, Jon Cotner's and Andy Fitch's Ten Walks/Two Talks, and Laura Nash's Brownfields.)
Deformation Zone might also be considered the latest installment in the intertwined multi-platform and multi-genre project that the careers of Joyelle McSweeney and Johannes Goransson have become. Both writers seem to have long ago eschewed any of the preexisting boxes into which literary artists typically confine themselves. Their work routinely crosses the borders that perhaps artificially have separated the practice of poetry, fiction, the personal essay, the scholarly essay, the Internet post, the stage play, the translation READ MORE >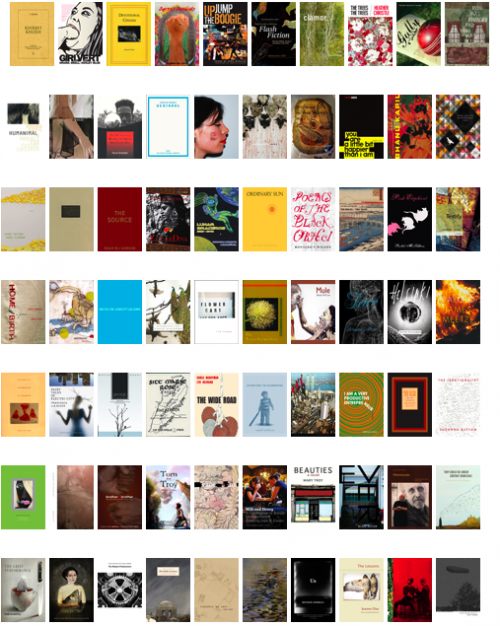 SPD had a sale I learned about the day it was ending so I never got around to buying anything (discounted). The list of their 100 top-selling books of 2011 is worth a look, however. Hovering the cursor over covers to see titles takes too long so I opened 10 tabs, copied and pasted the info, inserted a number, a period, and the word "by" between author and title, repeating this process 10 times. Except I ended up with a list of only 99 books, so I had to go back and find the omitted book and redo the numbering![!!] I was also going to insert links to everything but decided against it. Enjoy.
1. Khirbet Khizeh by S. Yizhar
Publisher: Ibis Editions
2. Girlvert: A Porno Memoir by Oriana Small
Publisher: A Barnacle Book
3. Devotional Cinema by Nathaniel Dorsky
Publisher: Tuumba Press
4. Barrio Bushido by Benjamin Bac Sierra
Publisher: El Leon Literary Arts
5. Up Jump the Boogie by John Murillo
Publisher: Cypher Books
6. The Rose Metal Press Field Guide to Writing Flash Fiction: Tips from Editors, Teachers, and Writers in the Field by Tara L Masih, Editor
Publisher: Rose Metal Press
7. Clamor by Elyse Fenton
Publisher: Cleveland State University Poetry Center
8. The Trees The Trees by Heather Christle
Publisher: Octopus Books
9. Gully by Roger Bonair-Agard
Publisher: Cypher Books
10. Who Was Changed and Who Was Dead by Barbara Comyns
Publisher: Dorothy, a publishing project
11. Humanimal: A Project for Future Children by Bhanu Kapil
Publisher: Kelsey Street Press
12. Divorcer by Gary Lutz
Publisher: Calamari Press
13. The Battlefield Where the Moon Says I Love You by Frank Stanford
Publisher: Lost Roads Publishers
READ MORE >
1. @ Montevidayo, Johannes Göransson posted an excellent consideration of Nathan Lee's consideration of a few books on David Lynch's work.
2. @ DC's, Dennis Cooper posted an excellent roundup of fun and interesting oddity, including re: Drawing on LSD, Kathy Acker's last work, an Urs Alleman interview, and lots of else.
3. @ Thought Catalog, Franklin Bruno wrote up a thoughtful consideration on Jon Cotner and Andy Fitch's fantastic Ten Walks/Two Talks.
4. Next Friday, September 24, if you are in Chicago there is a launch party for Danielle Dutton's brilliant new novel Sprawl, 7:30 PM at the Women and Children First Bookstore, also featuring Kate Zambreno.
5. In celebration of their about to be released second issue, Artifice Magazine is going on tour! A magazine on tour seems amazing.
Anybody got the skinny on Shelf Unbound?
A few months ago I started receiving press releases from them. They're a new electronic magazine that promise to "feature the best of small press, university press, and self-published books." Okay, cool, I was excited that a group I had never heard of was doing something that could be so monumental for indie lit, which is like my main deal. And they're thinking big, I noted from the first of the three points they said would interest me, which was that they're offering a free copy of the first issue to the first 10,000 people who request them.
To break that down, the two things that impressed me are READ MORE >
The winner of the Ten Walks/Two Talks who-has-walked-the-farthest contest is Michael the Girl's father. Other people might have walked farther than his 50 puking miles, and some people might have walked in hillier terrain, or in a sooty 9-11 city, but Michael the Girl's father is the only person who was nominated by someone else. And also, he still walks 10 miles a day. He's probably walking now, dang.
Michael the Girl's father wins a copy of Ten Walks/Two Talks, courtesy of Jon Cotner and Andy Fitch. Michael the Girl, contact me at adam at publishinggenius dot com and off we go!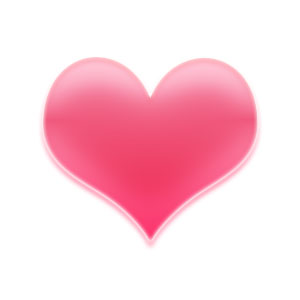 I got laid off! It's awesome (seriously, it's kind of good news). I have to work till the end of the year and then: the future!
Since I'm feeling so positive, I want to list some books I read recently and loved. My mom would call this "a lick and a promise," which, now that I think about it, is kind of gross. Can someone tell me what is a lick and a promise? Mom would say it when she only wanted me to do a fast job of cleaning up the living room with the intention of doing a better job later, as I intend to do with these book thoughts about Killing Kanoko, When You Say One Thing But Mean Your Mother, Ten Walks/Two Talks, Poetry! Poetry! Poetry!, The Irrationalist, and O Fallen Angel, below the fold. READ MORE >