Brian Foley
If there was one poet I wish I could write like it, it might be Emily Toder.  Her poems are empathetic, generous and open with an emotional intelligence that run laps around the world we are becoming in. She doesn't demand or consume, she considers.  Just look.
Today her first book, SCIENCE, has been released from the newly rebooted Coconut Books.
Read the first poem in the book that originally appeared in Sixth Finch. Then if you feel like I do, buy it here.
I think this may be my favorite book of the year. It could be yours too.
Deep in the throat of the internet, a movement is rising. This movement has a cruel ass need to lay down a laugh track over bloody human tragedy. They've already taken their fight to space. Now, on October 28th, they prepare to plague down on Sidewinder, CO via Twitter. Read their intentions!
A few months ago hundreds of funny, smart tweeters got together all over the USA to LIVE TWEET 2001: A Space Odyssey. It was LIFE AFFIRMING and fun and hilarious and it's time to do it again!

On Sunday, October 28th, at 7pm MST join Elisa Gabbert (@egabbert) and Sommer Browning (@vagtalk) in Live Tweeting THE SHINING!!

We'll start the film precisely at 7pm Mountain time (that's 9pm for you Easterners, 6pm for West Coast & 8pm for Middlekins…I don't know why I said Middlekins or why I'm teaching you about how time zones work.)

This is going to be the most fun you've had since you stopped going to church.

Hashtag: #redrum
Laugh at other peoples pain and join the movement of Sommer Browning and Elisa Gabbert here. And don't forget to look for the bullshit. The moon is a liar.
 The fifth edition of Portland, OR's 
POOR CLAUDIA
has come to.
"Clean-cut, slim, and summery, if No. 5 were a cigarette she'd be a Gauloises, if she were a drink she'd be a tart negroni. Saddle-stitched chapbook on laid and linen paper. Get your copy while supplies last. "
POOR CLAUDIA NO 5
Jae Choi
Julia Cohen
Jennifer Denrow
Brian Foley
Graham Foust
Noah Eli Gordon
Dorothea Lasky
Anthony McCann
Sawako Nakayasu
Christie Ann Reynolds
Mathias Svalina
Subscriptions for this years POOR CLAUDIA output are cheap too. $30 gets you everything they publish – chapbooks, nonbooks, broadsides and two issues of journal. Plus free shipping. Yes. So! For example, if you'd subscribed for this past year you would've received
Art is crime because it departs from municipal, state, national, and moral codes, introduces puncture, rupture, lawlessness, collapse. Sometimes Art-as-crime reveals the criminality in the current hygenic system or makes visible a kind of filth that is under threat of extermination. But is the reverse true– is crime Art? If I'm being honest, I 'd have to admit that some crimes are also Art. I think Fascism had/has a big art component– the brutal State was made like a brutal artwork. This is a sad and flummoxing fact and this is why people so often come back to Fascism when they're trying to grapple (or not grapple) with Art as maximalism.

Maybe it's just more accurate to say that Art and Crime are both limit experiences– sometimes they double with each other, sometimes they split from each other, sometimes they feed off of each other, sometimes they destroy each other, sometimes each causes the collapse of the other.
I irrationally don't like Kickstarter. Mostly because I have no money to contribute. I would like, however, to introduce to you the first project I've ever donated to.
I'll Drown My Book will be the first collection of conceptual writing by women.

Conceptual writing is emerging as a vital 21st century literary movement and Les Figues Press wants to represent the contributions of women in this defining moment. By supporting this project, you will ensure that women claim their literary space. Edited by Caroline Bergvall, Laynie Browne, Teresa Carmody and Vanessa Place, the book includes work by 64 women from 10 countries. Contributors respond to the question: What is conceptual writing? I'll Drown My Book offers feminist perspectives within this literary phenomenon.
I like NOO Weekly when Goodie Mike Young let's others take over curating for a week. This week it's Ben Kopel.
Ben says, "consider this the Duende Edition: "Extra! Extra! Bleed all about it!"
See this week shake in the shapes of  Graham Foust,  Gordon Massman, Chelsea Hogue, LaTasha N Nevada Diggs, Bianca Stone, & Matt Suss.
Do Yo Know Matt Suss?                         O shit.
You should.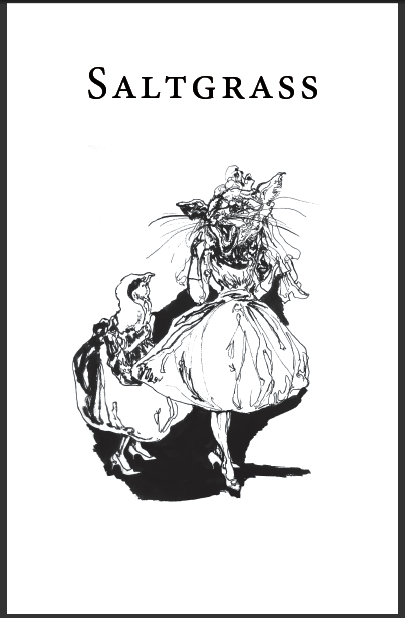 I'm pleased to announce that the new issue (#6) of Saltgrass is available, starring these lovely contributors:
Cynthia Arrieu-King, Anselm Berrigan, Justin Carrol, Tina Brown Celona, J'Lyn Chapman, Cathy Linh Che, Sandra Doller, Brian Foley, John Gallaher, Anne Cecelia Holmes, Lily Ladewig, Heather Monley, GC Waldrep
What!
So you can order a print copy on our website: www.saltgrassjournal.blogspot.com
Only $5!
Please help us support our contributors and spread the word.
We will have an open reading month this June. We hope you submit.
Thanks,
Julia Cohen & Brian Foley
Editors, Saltgrass
www.saltgrassjournal.blogspot.com
Tarapaulin Sky has come alive again with a fistful of new release including Issue #17 of their journal & Johannes Goransson's Entrance to a Colonial Pageant in which We All begin to intricate.
But I want to talk about FABLES, a new book by author & artist Sarah Goldstein. From TP website: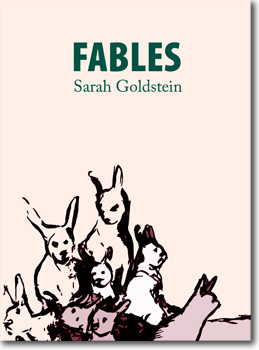 Sarah Goldstein
Fables