Josh Maday
Yeah, I know this won't make up for my being HTMLGIANT's least useful contributor (by far), but telling you about the ridiculously good Dalkey Archive holiday sale has to count for something. Right?
What if I drop a few names?
William H. Gass, Jean-Philippe Toussaint, Stanley Crawford, Rikki Ducornet, Rainer Maria Rilke, Gert Jonke, Donald Barthelme, David Markson, John Barth, Michel Butor, Robert Creeley, Robert Coover, Louis-Ferdinand Celine, Stanley Elkin, Witold Gombrowicz, Ben Marcus, John Hawkes, Pierre Klossowski, Robert Pinget, Raymond Queneau, Steven Millhauser, Carole Maso, Tsutomu Mizukami, Flann O'Brien, Gertrude Stein, Viktor Shklovsky, Christine Schutt
Well, here's the deal anyway.
To bring more world literature into everyone's holidays, we're offering—for a limited time—really big discounts through our website on all Dalkey Archive paperbacks (hardbacks and scholarly books excluded).

Choose one copy of several books, or multiple copies of a single book—while supplies last. And there's free shipping! (It's included in the price.) Offer is only good in the US, and expires December 10, 2008.

To take advantage of this offer:

Choose which books you would like (you can

search our online catalog

by title, author, country, series, or genre).
Click on the sale options below for 5, 10, or 20 books.
When you go to "Checkout" you will see, on the first screen offered, a "Notes" field. Please type into "Notes" the titles of the books you would like.

Choose:

5 books for $35 w/free shipping
10 books for $60 w/free shipping
20 books for $110 w/free shipping

Questions? Please contact Melissa Kennedy:
kennedy@dalkeyarchive.com
217.244.5700

And happy holidays from all of us at Dalkey Archive Press.
That works out to $5.50, $6, or $7 a book. Sale ends December 10. Get on it.

It's that time again, kids. New literary magazine reviews are filleting eyelids at NewPages. You'll find reviews of many fine lit mags. I am glad to see that the online venues are reviewed with the print mags, instead of at the bottom of the page. Also, leading off this batch is a review of Abyss & Apex, an online quarterly focusing on speculative fiction and poetry. (Is there such a thing as speculative non-fiction? Would that be science? Philosophy? I'd like to see some slipstream personal essays and such.) Anyway, these magazines are reviewed:
Abyss & Apex :: Arsenic Lobster :: The Colorado Review :: Cutbank :: The Deronda Review :: Dirty Goat :: Fulcrum :: Hanging Loose :: Juked :: The Louisville Review :: Monkey Bicycle :: Ninth Letter :: Paterson Literary Review :: Upstreet
And don't forget the latest book reviews, too, if you haven't gotten to them since Blake mentioned those. Good stuff all over the place.
One of my aims with this post was the shameless overuse of the word "review".
Is it technically Mean Week today? This is a pretty nice post.
Well, that's too bad. Fuck off.
Uncategorized /
15 Comments
October 12th, 2008 / 5:12 pm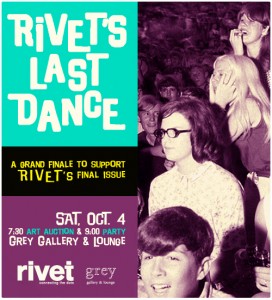 Yes, it's over. RIVET, one of the super slick Seattle indie magazines, is publishing its last issue. The good news is that they're not folding, but editor Leah Baltus and company feel that it's time to move on.
I'm sad to see RIVET's run ending, as it was the first real print magazine to publish my fiction, but I also know that it's for the best when it's time to move on with other projects. With the financial support of The Shunpike, the staff at RIVET was able to fully use their talent to produce a fine magazine. Here's what Leah had to say on RIVET's blog:
Yes, friends, it's true. After seven amazing years and 21 issues of RIVET, the RIVET gang is moving on to new adventures. We cannot begin to express the full magnitude of this experience nor the gratitude we feel toward the many hundreds people who have contributed work, time, energy and money to this project over the years. Together, we have defied the odds of publishing and connected thousands of readers with new work and new ideas from writers, artists and designers of all kinds.
It has been a tremendous privilege to make this magazine and we are proud of the work we're leaving behind on your bookshelves.
Thank you, Leah. Best wishes.
Uncategorized /
4 Comments
October 5th, 2008 / 1:39 pm

Last week, Lame House Press officially released Kate Greenstreet's chapbook This is Why I Hurt You. I got my copy last week and it's a good looking piece. The writing is killer. Lame House mastermind Gina Myers, a fellow Saginaw native who earned her MFA from The New School, consistently publishes interesting and intelligent chapbooks (each copy of which she handcrafts, of course). Lame House is grouped in my mind with other independent presses like Greying Ghost and Publishing Genius, each publishing high quality chapbooks at ridiculously reasonable prices.
Chapbooks have been around forever (apparently Neanderthal Man's hunched back is due to carrying around so many stone chapbooks ), but the chapbook has become a sort of art object in itself. Yes, the writing is excellent, of course, but the chaps themselves feel like something more than string, paper, and staples, thanks to the ambitious work of the many indie presses like Lame House, Greying Ghost, Publishing Genius, et al. Nice work, everyone.