August 22nd, 2012 / 10:13 pm
Music
A D Jameson
Did I call it or did I call it? Pitchfork's People's List
The People Hath Spokeneth: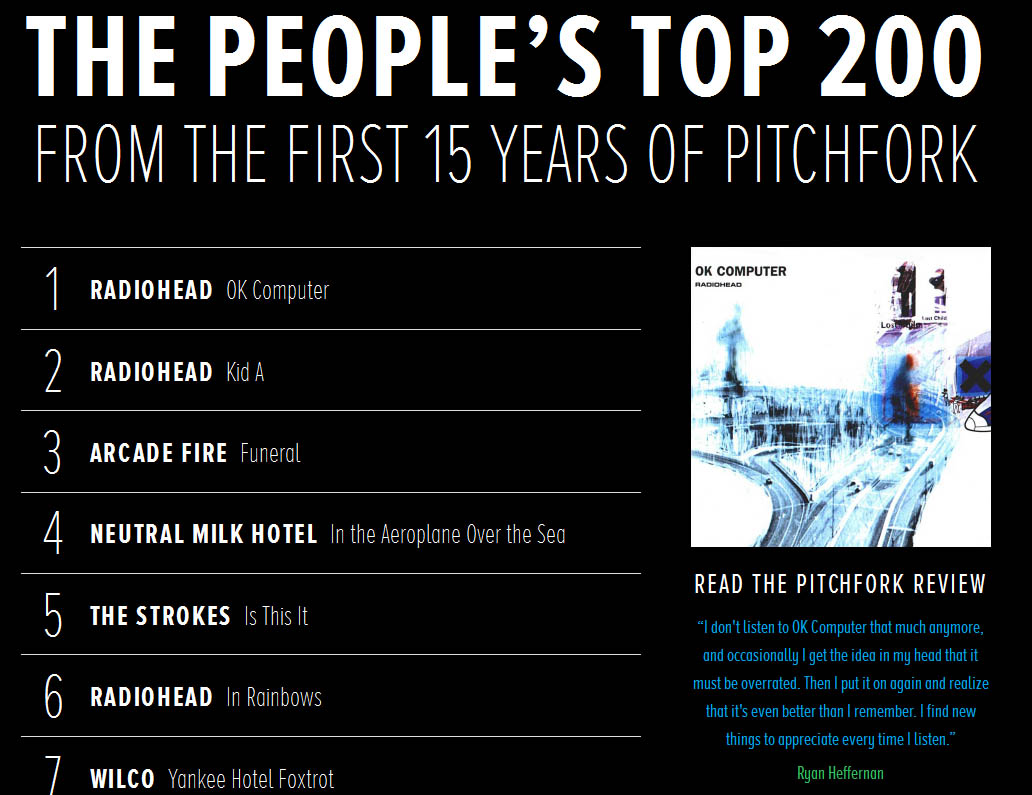 I predicted:
5. Dismemberment Plan: Emergency & I
4. Neutral Milk Hotel: In the Aeroplane Under the Sea
3. Radiohead: OK Computer
2. Arcade Fire: Funeral
1. Radiohead: Kid A
Turns out I was way off regarding Emergency & I, which ranked only 103rd. But otherwise—not too bad, eh? (Shoulda just gone with more Radiohead!)
Joan of Arc, unsurprisingly, did not crack the Top 200. Also unsurprising, Kanye West is the only black musician in the Top 20! (Outkast adds yet more "diversity" to the list at #35.) And wouldn't you just love to see a breakdown by color/sex? (Someone get on that!)
In total, 27,981 people voted. Why, that's almost the number of hipsters who live in Logan Square, Chicago!
Time to set this down in stone, folks! RYAN SCHREIBER'S TASTE IN MUSIC HAS BEEN FOREVER IMMORTALIZED!
Update 1: Can't believe I missed this nugget: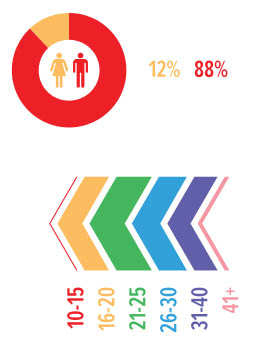 If anyone ever feels like getting me a present, I want that top graphic on a T-shirt. (DIY on organic cotton, natch, not sweatshop.)
Update 2: Here's some of that analysis I wanted: "Pitchfork's 'People's List' Is a Scandal" (Slate):
I'm referring to the list's gender breakdown. If I'm not mistaken, there are just 23 records by women artists in the top 200, and only two in the top 50. And that's a generous count, making room for co-ed acts like The xx, Beach House, and Portishead. Again, we can look to the self-selecting voting base. According to Pitchfork's own stats, 88% of the poll respondents were men. "The Dudes' List" might have been a more accurate title.
Update 3: Confidential to Anatolia: no, I didn't submit a ballot. The more I looked at the thing, it seemed to me mainly a demographic-identifying scheme. (Not that the whole internet hasn't become that, anyway.)
Update 4: Bitch Magazine's opinion on the list.
Tags: Arcade Fire, Joan of Arc, Neutral Milk Hotel, pitchfork, Radiohead, Ryan Schreiber
50 Comments