Contests
Matthew Simmons
—
"My rap name's Director's Commentary": A Mixed Ape by Giant friends NewVillager here. (Songs ranted over by some sort of maybe crazy person. First person to guess the ranter gets a couple of random galleys from my desk.)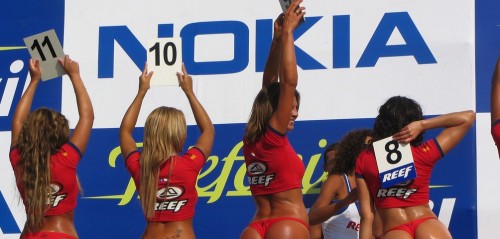 A while back, I posted a link to Les Figues Press's very first book contest. Whereas all I did was post the submission information, many commenters responded, asking questions and giving opinions about contests in general. To clear up any questions about motivation, profit margins, etc, I have assembled four small presses – Les Figues Press, Starcherone Books, Noemi Press, and Fiction Collective 2 – to discuss their contests. I hope you find this conversation as illuminating as I do.
Bios for the presses can be found after the conversation. The publishers representing the presses are as follows:
Les Figues Press (LFP) – Teresa Carmody
Starcherone Books – Ted Pelton
Noemi Press – Carmen Gimenez Smith
Fiction Collective 2 (FC2) – Lance Olsen
Note: You may notice an exclusion in the conversation here, that is, I didn't ask anyone to represent a press who doesn't have a contest. I had considered asking a few people, but ultimately, I wanted to focus on why presses have chosen to run a contest. Expect a post within the next few weeks with presses who have chosen not to run a contest, for whatever reason. Hey publishers: if you have a press that doesn't run a contest and want to participate in a conversation like this one, email me: Lily [dot] Hoang [dot] 326 [at] gmail [dot] com.
LH: How long has your press run a contest, and what was your rationale in starting it? Do you require a submission fee? With the submission fee, does the applicant get any other goodies?
Evelyn Hampton
—
To celebrate the release of Harold Abramowitz's book, Not Blessed, Les Figues is having a contest that involves remixing selections from the book. The deadline is April 30. Guidelines are on the Les Figues site. I read Not Blessed recently and it's good. It works by what feels like a literary equivalent of persistence of vision.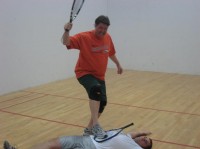 Here is a writing contest worth considering. I imagine the shapeless bodies of poets in a montage of activities training for this mighty event, a triumph soundtrack playing over their sweat faces, kind of like this
The Bathroom and Boo: A Journal of Terrific things present …
The First Annual Racquetball Chapbook Tournament

Tired of myriad chapbook contests whose winners are determined by their works' literary merit? Are your poems being rejected for publication because editors deem them unfit to print?

Would you prefer your chapbook published because you displayed a level of athletic prowess and competitive determination that in no way signifies your achievements as a writer?

Are you a writer who wants an excuse to learn to play racquetball? Or a racquetball player seeking incentive for sitting down to write your first short collection of poems?

Then consider entering the Racquetball Chapbook Tournament.
In order to get your chapbook published, you just have to be the champion of our racquetball tournament.
For more info and tournament details, follow the link
Contests
/
Comments Off

on For Winners
March 2nd, 2010 / 11:21 am
Glimmer Train used to be a decent, if not rather traditional literary magazine but in recent years, they've really pushed the limits of credibility running contests every single month. To my mind, a contest is only meaningful if it is the exception rather than the rule. Winning one of their ubiquitous contests is like winning $2 on a $2 scratch ticket or a free small soda during McDonald's Monopoly promotion. Their newest contest, for the Best Start to a story, quickly prompted an appropriate amount of ridicule and yet we all know people will continue to submit their stories and entry fees ($10-$20 per entry) to Glimmer Train in the fairly futile hope that it means something. At what point do we concede that Glimmer Train has become a vanity press?