David Fishkind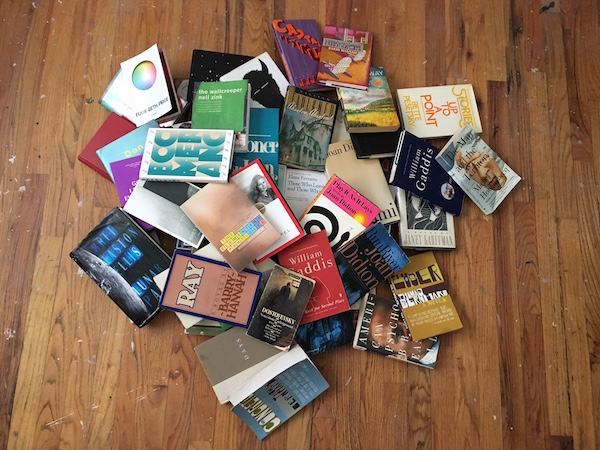 Absalom, Absalom! by William Faulkner. (Jan. 19-26)
A lot of things were happening, and I thought I was in love, maybe, ultimately, wrongly, but I was distracted. And I was devastated, and I decided to challenge myself with a difficult read. I hadn't been reading much by the end of 2015. Bad things were happening. The light in my room was affected by a red lampshade from a previous tenant, and I lived in Bushwick, and I often raced to get through my allotted daily seventy or so pages so I could go to sleep. I wasn't talking to anyone, and I had no one to talk to about the book. The book is about history and the removal of the experience from the event. I felt like I missed a decent amount, that there seriously lacked the emotion of Faulkner's other great works, but I enjoyed the places and the desperate, pre-suicidal voice of Quentin, who felt like an old friend, from a time when I had been more excited about literature and life. I was happy when the novel was over.
Lolita by Vladimir Nabokov (late Dec. 2015-Jan. 31)
I started this book sometime in December (but it was not the first book I read in 2016), and found it pedantic and boring. But after finishing Absalom!, driven (not in a car, but figuratively) to my parents' house, I felt I had no excuse but to push through it. I hate letting a so-called classic defeat me, or get past me, and I hope to one day lay that feeling to rest. If people like this book so much it must be for a reason; there are some nice sentences, but people probably just like it because it's like a movie, and I read it by the fire, while my parents watched TV. I read the majority in two sittings that way. Sometime earlier, however, a woman approached me, at my cashiering job at the food coop, and told me I was disgusting for reading Lolita in public. I told her I wasn't.
The Tennis Handsome by Barry Hannah (Feb. 1-2)
I had fallen into some weird freelance things after quitting my salaried, union-benefitted, university library position the previous summer. I had reason to join the public library and was ripping video of a fashion label to media cards, testing that they worked and mailing them out all over the world at a highly inflated rate. It was nice to make money off so little work, but the work soon went away, and I had to find more. Hannah's fourth novel is an amalgam and extension of several stories from his hit collection Airships, and is mostly about sex, like a lot of his early work. It was a pleasant read for the most part, even making me laugh, and then I was in Massachusetts. I didn't have a car and was out of touch with most of my old friends. I didn't have much reason to go back to Brooklyn.
An analytical approach to living, that is a problem. I said it to S, I said I didn't think that the examined life was the right one. I said it was, well, I could look it up it was on Gmail, but I'd rather try to remember. The point was, I was trying to tell him. I didn't try that hard. I knew he wouldn't like it if I put it that way, but the point was what I was feeling, which was that the too examined life lacked the types of brief, transcendent emotions that made it meaningful. If everything was studied very precisely, tried to be understood, attempted to be made into language, something was lost. More thoughts seemed to occur without language. Its usefulness to one's, like, being could be put in question.
He seemed to think I was an idiot, he might have said so. G said what could I expect, he made his whole life based on that kind of tenet. That way of looking at things—S is a PhD—and trying to put that into some comprehensive explanation. Also he's a poet. He never talked to me again. I can't remember if I tried to strike up conversation with him. It must have been in winter. Could it have been during the time I was still doing crosswords? that was obviously a conflict of interest for me. There was a thing where I would always see the same words coming up, which was distracting. They'd be too easy or too hard.
I can find very little middle ground in stuff like that. I don't know if I'd had the thought, but what if, what if, I had told him that I was more concerned with the exact reality as it appeared from an empirical, outside perspective, and that inner thoughts deflected it… Would it have been a lie? that actually bothers me a lot. How when you pose a question in writing (not a question in terms of "idea" but in terms of, like, a person thinking a question, I often think one vies to answer it), I always want to answer it immediately.
It was sort of a great relief, one less force to fear incurring—is it incurring?—my madness. My ideology appears, like it had sprung, only through disagreements with people. It's weak. I felt like I'd escaped from the possibility of living S's life. Something that required so much attention to the things beyond itself might cease to be substantive. Things are more often than not, I assert, concerned with what is directly, immediately happening.
Roundup
/
Comments Off

on Before and After
October 22nd, 2014 / 12:33 pm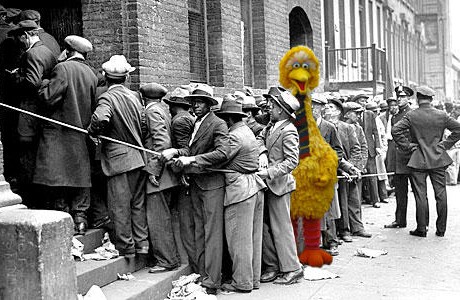 David Fishkind recently asked "Are You Afraid of Politics?", and a lot of people, myself included, chimed in. Since then I've realized I have much more to say on the subject.
I normally don't think of politics in Democrat/Republican/presidential election terms. I'm registered as an independent, and I prefer to live my politics on a daily basis—which is why I don't drive, buy organic food when I can, and support local businesses run by people I know, etc. But it would be damn foolish of me to not recognize that "the political is personal" (to invert a phrase), and that the gentle people elected to the state and federal levels regularly impact both my daily life and my career as a writer. Specifically: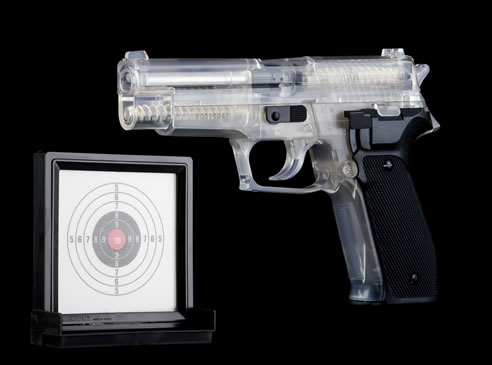 Every Wednesday at 11 a.m. I have a two hour and forty-five minute poetry workshop with thirteen other students.  We spend the first hour of every class discussing a book assigned to us weekly by the professor.  Then we workshop seven poems, each student turning in a piece to be discussed every other class.  Pretty simple.
This week something happened.  We were workshopping a student's poem.  It was about something (I'll just omit everything explicit about everyone and anything in this class) and followed a similar pattern to some other poems this particular student had turned in for critiquing.  People started talking about the poem in the customary manner, which is pretty much everyone suggesting different cuts, extensions, and changes that need to be made.
Then something happened.  I'll preface this by saying that, without great exception, pretty much every student turns in the same poem every week.  Subject matter and stuff alter a little bit, but approach and word choice and style all seem pretty constant.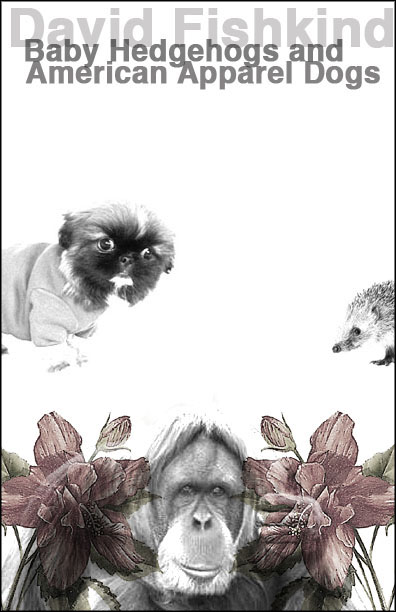 Baby Hedgehogs and American Apparel Dogs by David Fishkind is self-described as an "epic poetic narrative," which is what it is — if one considers one's life since conception ("I was nothing and then I was two and then I was one") to the present to be "epic," a word hopefully employed by the 19 year old with a little sarcasm. It's easily readable and generous in its candidness. There is a trend of hyper-aware self-conscious writing among younger (I use this word as a description of age, not qualifier) writers which is either the last course of irony, or its propagation. There is a difference between the self-consciousness behind, say, Notes from the Underground and Fishkind's, the former being a philosophical device, the latter more of a collection of tweets. I don't say this in derision, only to suggest that our recent technologies (iPhone, myspace, youtube, etc.) have altered our orientation with "the self." But that's okay. Fishkind describes autobiographical prosaic experiences (getting erections, going to museums, being in love) with refreshing stoicism met with thoughtfulness: