dzanc books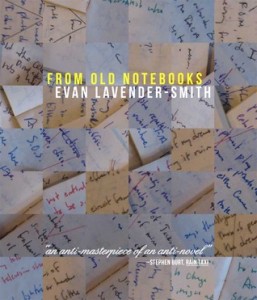 From Old Notebooks
by Evan Lavender-Smith
Dzanc Books, December 2012
182 pages / $15  Buy from Dzanc Books
Martin Heidegger posited the idea that all criticism is existential and there is no impartial analysis outside of the experience of the reader. A reviewer of Evan Lavender-Smith's From Old Notebooks asks: "Should the reader of F.O.N. expect the meaning or truth of the book to lie with its author? Does the truth/meaning of the book lie outside the book?" Furthermore: "There may be some question as to F.O.N.'s status as fiction, poetry, philosophy, nonfiction, etc. but hopefully there will be no question about its status as a book." Both comments are from Evan Lavender-Smith critiquing his own book within the pages of From Old Notebooks, even revealing: "Why am I so averse to the idea of classifying F.O.N. as poetry? – Because poetry doesn't sell." That's the way From Old Notebooks rolls, defying genre and classification, even defying the traditional boundaries of author and reader. On the exterior, it reads like a notebook filled with philosophical musings, hermeneutics, the germs of story ideas, dialectical exposition, hagiographies on dubious beliefs, aphorisms made ironic by their sincerity, and letters to death. But the flow of the notebooks is deceptively simple, appearing like a random collection of ideas when it's in fact a journey through the Penrose stairs of Smith's mind.
I came across From Old Notebooks several years ago when it was first published by BlazeVOX. F.O.N. was one of the first postmodern/experimental works I'd read. Since then, I've read a lot more experimental works, some of my recent favorites including Robert Kloss's The Alligators of Abraham; One by Blake Butler, Vanessa Place, and Chris Higgs; and Janice Lee's Daughter. With F.O.N. recently reissued by Dzanc Books, I was excited about diving back in. It's hard to analyze experimental works because the experience the reader has is so subjective and without making assumptions about the author's intent, a huge part of the critique, for me, comes down to how the work resonates on a personal level. Explorations of infinity and thought stripped away from form involve literary techniques that are invented along the path of creation, and as a result, often defy formulaic definition. That is what makes these works so bold and compelling. Part of the allure of From Old Notebooks, then, is its accessibility.
The subject matter and the themes vary, encompassing everything from film quirks to quandaries on death, musings on poetry, and pornographic abstinence. The notes incorporate personal whimsies, fears, and even worries about family. Rather than obfuscate, we have a movement toward revelation. But the investigation branches into even more questions and there's a playfulness in the tone that engenders the feeling of a contemporized Socratic enquiry, only with oneself. As a few examples:
"God endowed the universe with an infinite number of signs, but only one fact."
"Qualifying death as "unknowable" is, finally, an act of cowardice; death as "unknowable" preserves mystery, the possibility of mystery. The truth atheist knows death intimately; for him, there is nothing at all mysterious about death."
"Perhaps they would be more palatable if independent films had more explosions in them."
"Should I be concerned about exploiting my children by including them in F.O.N.?"
"Consciousness is my worst habit."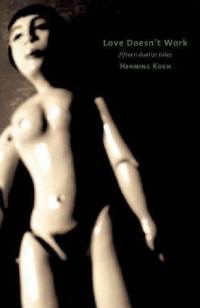 Love Doesn't Work
by Henning Koch
Dzanc Books, 2011
143 pages / $16.95 or $7.99 for eBook Buy from Dzanc Books
Rating: 9.0
Short story writing at its best must quickly introduce the outward facts of a given world and create some narrative interest. We see this in Raymond Carver or Alice Munro, who are both brilliant at making us believe by the end of the first sentence that we already understand the world of their stories. And then, of course, there are short story writers that flirt with genre, and this is where Henning Koch's collection, Love Doesn't Work seems to belong. While it hovers on the edge of fantasy, there are no swords or dragons in sight. Steven Gillis, the American novelist, once commented that there were parallels between Henning Koch and Raymond Bradbury and this seems quite close to the mark, even though there is really little science fiction in Love Doesn't Work – mainly a feeling of a strong sense of imagination.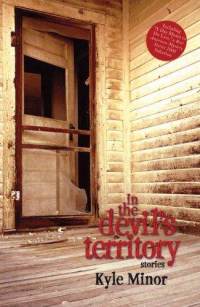 In the Devil's Territory
by Kyle Minor
Dzanc Books, 2008
220 pages / $16.95 Buy from Dzanc Books
Rating: 6.5
With In the Devil's Territory, Minor writes primary characters who are to a one religious, but none who testify to supernatural events and miracles in their own lives, in part (it seems) to depict certain of them as areas of as much suffering as anywhere else, and where the traditional Christian lifeline, perceivable congress with God, has been cut and redirected through churches and church schools. He favors a multi-part story that shifts between perspectives to attempt "real story" triangulation ("A Day Meant to Do Less" and the title story). Characters each see a small part of a larger story, and the coordinates to which their narratives point is where the reader gains understanding they lack. Minor has a mind for simple, effective arrangements, which occasionally require narrational contortions to suit.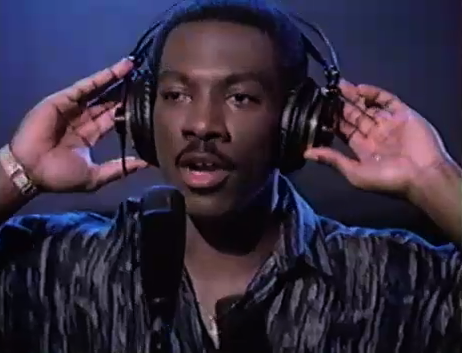 [1]
One of the things I love most when ordering a book from Amazon.com or a subscription from one of the well-established literary magazines is I know I can trust I will receive what I ordered in a reasonable amount of time. I know I am not just throwing my money into the wind and hoping for the best. Often times, however, when I order books and magazines from smaller outfits, it feels like a real crapshoot. Maybe I will receive what I ordered, maybe I won't. Maybe what I ordered will arrive during the timeframe promised, maybe it won't. More often than not, it feels like I have to track down small press books and magazines I've ordered and if I forget I've ordered something, I've essentially donated that money with nothing but, perhaps, good karma, to show for it. I've contributed to several Kickstarter projects and only received what was promised by two. I don't really care but still, if you say you're going to do something, you should do it otherwise you really undermine yourself and lose potential customers.
At times, I feel like we eschew professionalism. We don't use contracts. We don't stick to timelines. We don't send out review copies in advance. Sometimes, I think we don't bother trying to do what the bigger presses our doing because we think we can't. Word Riot has proven that wrong. Paula Bomer's book, for example, was reviewed in Publisher's Weekly and had a mention in O Magazine. We don't communicate effectively. We don't update our websites or we delete our archives without notifying our authors. I'm generalizing here, but these things happen all the time and it can be frustrating, as a consumer, as a writer, as an editor.
1. Gina Frangello is the new Writer in Residence at Necessary Fiction where this month, she will be featuring a series of stories, Body Parts. The first installment, Hole, is quite stunning.
2. How to make the Internet very very angry: 1) Steal the work of a writer, publish it in your magazine, and when said writer addresses the copyright infringement, say that writing on the Internet is public domain and tell the writer they should thank and compensate you for stealing and "editing" their work  2) Have word get out via popular writers like Maud Newton, John Scalzi, Neil Gaiman, and countless others. Even Gawker! NPR is talking about it too! A round up, here. 3) Sit back and relax. You have to feel a little bad for the hapless editor who unwittingly stepped into a very angry hornet's nest because the pile on taking place is a bit… shocking.
3. Dzanc Books has launched an e-book club where you will get 11 books for $50 .  If you're looking for some good e-reads, consider signing up.
1. Monday of next week (Oct 11) we'll be hosting a live web interview / reading with Grace Krilanovich, author of the truly fantastic The Orange Eats Creeps, here on the site at 9 PM Eastern (that's 6PM on the West Coast). Mark it! The novel was just selected for the National Book Foundation's 5 Under 35 Award.
2. Dzanc is running a 50% sale on many of their titles, too good a deal to pass up on if you've got some gaps in that collection you've been looking to fill.
3. This week The Faster Times is running a multipart epanel on intimacy and social networking involving myself, Stephen Elliott, & Christina Kingston, hosted by Jesus Angel Garcia. Part one is here, with part 2 following today, etc.
4. Those who were interested in the Wallace-inspired A Failed Entertainment exhibit I posted about at the beginning of this year should check out a new development in the series, with an open call for new exhibits for forthcoming exhibitions of the event.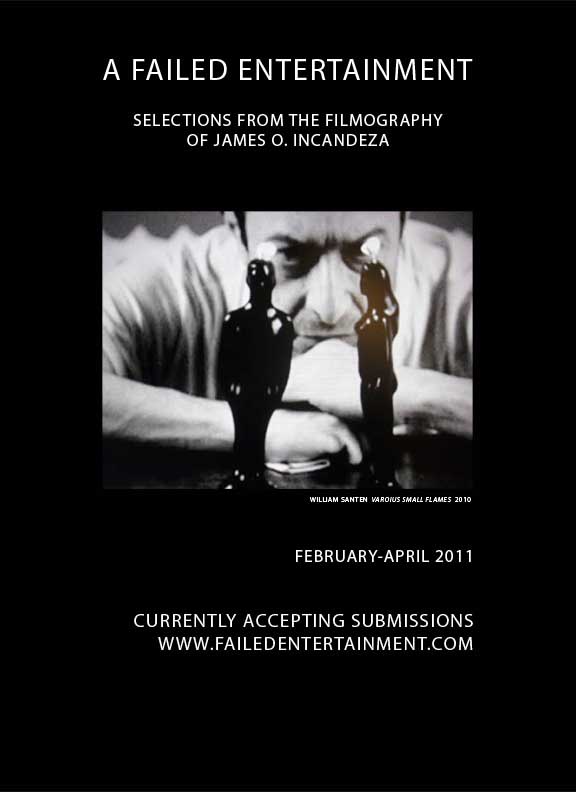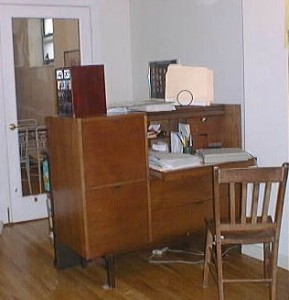 I bought the $25 desk at a museum sale in California. The rolltop doesn't function, one of the legs is coming off, and I have to pry the drawers open, but I like how the desk part slides a little forward. It makes me feel as if I always have secret extra space, the way our apartment includes a long frosted glass window with a light behind to suggest that there's another room. The French doors open to the living room/dining room/everywhere else room. A Murphy bed fronted with bookshelves folds down beside the desk for optimum concentration. My office is essentially the bedroom. I don't know what to say about that.