hobart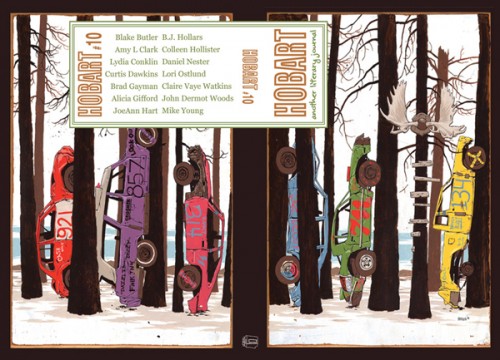 Aaron Burch has announced a back issue special over at the Hobart blog. Here's what he has to say:
We have way too many back issues in our "office" — piling up, getting in the way, making it hard to move much less find anything. That said, we aren't very good at knowing what incentives would make these back issues more enticing. So, until we figure something better out, here are two options:

1) Subscribe and we will send you any back issues you want.

2) Send us as much money as you think is fair and tell us which back issues you might want.

Available are issues:
3 (no link with more info!), 5 (travel), 6, 7 (art), and 8.
So yeah, that sounds like an excellent deal to me, one I would have taken advantage of if I hadn't already had sitting on my shelf issues 3-9.
(thanks to Matt Bell for the tip)
Uncategorized / Comments Off on Hobart back issue special
January 14th, 2009 / 1:29 am
Bozipede: a type of famous, old-guard internet literary magazine insect, commonly called a "pindle" or a "pindle bozz." The bozipede is also called a "pin del dee boz" by the brave, a "pee bozz" by people who spend too much time on their hair, and a "pin diddily boss" by the same people who think it's funny to mix Kool-Aid and hydroplaning. Bozipedes are well-regarded for being interesting and awesome and spinning out six stories of varying forms, styles, and effects every couple months or so.
That's right: a new PBoz is out.
Gawk the new fictive dreams from Digby Beaumont, Kristin Fouquet, Chelsey Flood, Tai Dong Huai, Patti Jazanoski, and Lydia Copeland.
What I've always liked about Pindeldyboz is how so many of the stories they publish seem small at first–scenes, Christmas muzak, malls, mice, lunch, a few teetering emotions–but always turn irrevocably weird. This isn't categorical: lots of stuff gets published there that has nothing to do with this feeling of mine. But I feel like Pindeldyboz has an eye for chewy realism in the way that Eyeshot does chicanery or Hobart does mathematician truck driver humor.
All of these magazines have RSS feeds to which you should subscribe, so you won't even need me–your hot yogurt man, your lumberjack-in-the-rain–to tell you these things. Yes: what I aim for is ultimate dispensibility, also known as "the opposite of sugar" or "not the new Pindeldyboz."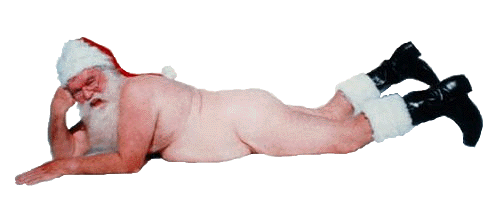 With Indie Press Secret Santas being assigned today (massive props to Ryan Call for going through and organizing all that and emailing everybody, holy shit), we've received a couple special offers from publishers with Santa-only deals lined up.
1st off, Hobart is offering half-price subscriptions. Usually they are $18, so for $9 you can get your gift recipient a year's worth of a really excellent lit mag. That even leaves room for two gifts. Can't beat that. In your paypal order, just mention that you are ni the SS program, and make sure to include your recipient's address (which will be coming with your assignments, half of which have already been sent. If you haven't gotten yours yet, it should be coming soon).
2nd, from Dzanc Books:
Dzanc Books is excited about the HTMLGIANT Secret Santa program and will happily gift wrap any books ordered through our website for the Secret Santa program. We will gift wrap the book(s), place the gift wrapped books inside a postal envelope (we typically ship things priority) or box, as well as a half sheet page designed by our Art Director, Steven Seighman, which will announce that the accompanying gift wrapped package is arriving as a result of the Secret Santa program, and that their Secret Santa ordered them something from Dzanc Books, and that they should hold off opening the package until Xmas.

http://www.dzancbooks.org/store/index.html

All a Secret Santa will need to do when they order directly from us, is add a note through the Paypal order that it's for the HTMLGiant program. We will also accept checks/orders via email as well. Those can be sent to dan@dzancbooks.org.
With these deals, you can get a pretty hefty present for $20, not to mention all the other sales going on now (such as the Word Riot bundles).
If publishers would like to extend other Santa promo deals for customers, the comments section is wide open.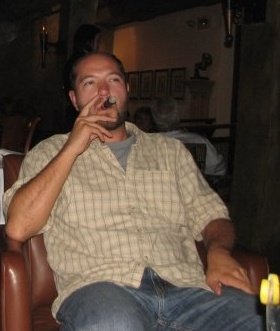 I first met Aaron Burch at AWP two years ago. I had read some issues of Hobart before and really liked the stuff he'd published, so it made sense to me that I should talk to him. I anxiously introduced myself to him at the Hobart table and babbled to him, asked him many questions about the journal, and felt very sweaty the whole time, especially after I ran out of things to say. I'm glad that he did not punch me in the mouth.
Not that he would have, for Aaron Burch is a kind and gentle human. He grows his beard and keeps it tidy. He smokes cigars and drinks whiskey. He publishes the fine literary periodical Hobart, and he administers the web version as well as the mini-books division.
Aaron Burch lives up north somewhere.
Aaron Burch also does some of his own writing. He is a fine fine writer. His work can be read both online and in print at various publications: Eyeshot, Pindeldyboz, Storyglossia, Phoebe, elimae, MonkeyBicycle, etc. He's currently reading/writing in the MFA program at the University of Illinois at Urbana-Champaign, where he also teaches composition.
I emailed him some questions when I was drunk. They seem 'aggressive' now that I'm looking at them again, so I have edited out some of the aggressiveness.
1. Lots of people shit on the MFA. You've decided to go for it at UIUC. Why? Tell us some pros and cons you've noticed about the program, if you can.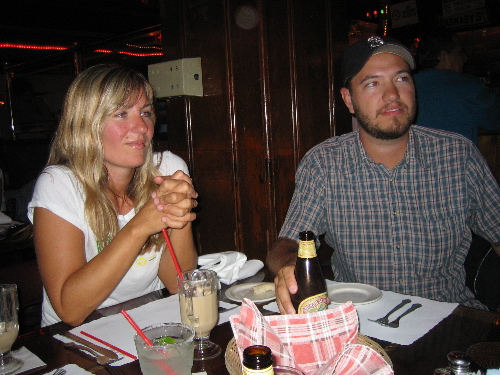 Those always massive kids over at Hobart have once again proven their ability to stay on target despite supposed 'slacker' status. In addition to the brand new Games issue, which just came out and made me renew my subscription (which also has a series of deleted scenes style stuff on the web for your perusal, if you haven't already, here), they continue in their monthly reams of goodness today for October with a new update featuring work by Tai Dong Huai, Ed Meek, Jill Widner, and Glen Pourciau, as well as an interview by the always ferocious Matt Simmons with Leni Zumas, which by the second paragraph had me wanting to buy her book.
Their other web feature, the always fun likes/dislikes section, well, I gotta disagree with this month's dislikes. What's wrong with BURN AFTER READING? And who doesn't like watching a couple break up in public?
I am excited, though, about the new Hobart minibook forthcoming, Mary Miller's BIG WORLD. Not mini at all.