joshua marie wilkinson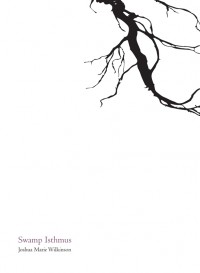 Swamp Isthmus
by Joshua Marie Wilkinson
Black Ocean, 2013
88 pages / $14.95 buy from Black Ocean
1. I've been working on this since this past spring. After reading Beyond The Like Factory & The Hatchet: Rethinking Poetry Reviewing by Joshua Marie Wilkinson, I knew I had to finish this review. This is actually a scary thing to write now.
2. Swamp Isthmus is Joshua Marie Wilkinson's first book with Black Ocean and the second book in his No Volta pentalogy (first is Selenography, Sidebrow 2010; third will be The Courier's Archive & Hymnal, Sidebrow 2014). I've not read Selenography so there is perhaps some things I've missed by not having done so.
3. A swamp is a living-dead landscape; the living feed off of the dead and dying, the most dead areas are filled with the most life and the least dead areas are those with the least life.
From the Hart Crane epigraph (The resigned factions of the dead preside) in the very beginning of Swamp Isthmus, Joshua Marie Wilkinson creates a zombie landscape, a zone that infects the living with symptoms of deadness. In a zombie film this deadness comes to the living with capitalist critiques of our alienating existence, but in Swamp Isthmus we see a zombie that carries critiques of the ecologic and nostalgic sort.
4. The lyrics of Swamp Isthmus are a living-dead endeavor: precise breaks eluding a narrative; linearity reduced to phrases contained in the line.
to disappear you must
tunnel discreet
descrying over nightfall
with unclogged wind
this coast is longer than a train track
needing coarse woolen cloth &
the clothes you're in
so needing a bad song
to whistle what's known
but may stick
to another's mouth
5. Similar to what Zach Savich says about Wilkonson's lyrics, to kill a zombie takes precision: remove the head, destroy the brain.
6. In The Dead Rustle, The Earth Shudders, Evan Calder Williams points to something that is obvious in Swamp Isthmus:
"…the undead have never really been dead in the first place—they never died.'
7. To cross a swamp takes precision and a mind for the contradiction of the living-dead: step here, not there; eat this, not that; drink plenty of water, but don't drink the water.
footpaths marked by
false stars
it gathers up in
this bladder of light
8. the trees palsy/ to our bad lines.
9. In some respects, there is an admission with these lines of the failure of poetry to enact this landscape; the lines aren't good. In some respects it's proof that poetry works: even the bad lines cause the landscape to shudder.
10. There may be an actual "Swamp Isthmus." The book's title might be a reference to Gastineau Channel in Alaska, which at low-tide creates an isthmus from mainland Alaska to Douglas Island. Fritz Cove Road, mentioned in the section, I Go By Edgar Huntly Now, is a road that "dwindles down/to a patch of currants" (note the clever word play on 'currents') but it also ends at the place where Gastineau Channel meets Fritz Cove. A place that may eventually be unnavigable by watercraft. A place severely affected by glacial melt/global warming. READ MORE >
Comments Off

on 25 Points: Swamp Isthmus
December 3rd, 2013 / 5:33 pm
Mike Young
—
"Perhaps if I avoid critical reviews (not merely negative ones), what I acknowledge is that I am afraid that I will actually be read carefully, deeply, and that the results will complicate my endeavor. But surely a complication of that sort could materialize (with any luck) in one's very next poems. It might improve them."
— Joshua Marie Wilkinson's thoughts on poetry criticism over at The Volta are I think legitimately splendid, of a shiny clarity, and they make me feel shitty about how often I've let opportunities/invitations to do more nuanced critical work slip by because they promised to take more time/work than manic imploring.

Hey Mike is there a one stop poetry megasite where I can 1) go to read cool poetics essays by everybody from C.D Wright to Laura Glenum, 2) catch up on reviews of books out from presses like City Lights, 3) watch videos of shit like Joshua Clover getting kicked out of a bank, 4) scan all the current poetry news that stays news and otherwise, 5) dive into a nicely manageable monthly poetry journal that features one poem by three people per issue, especially if those people are like Noelle Kocot or something, and 6) speaking of people also maybe find smart interviews with people like Tyrone Williams? Also it would help if this online poetry megasite were based out of the American desert. Like not the proverbial American desert but some actual sand and shit. Like also if the site were designed to be as clean and navigable as a desert highway.
Hi Mike, that's weird that's what you want because that's actually exactly something Sara Renee Marshall and Joshua Marie Wilkinson invented December 11, 2011 and launched on January 1st, 2012. And it's based out of Arizona.
Oh cool, I like them. What is this thing called?
Awesome. Also why is there a light on your water pitcher that flashes different colors depending on filter age?
I have no idea, but it's terrifying and soothing in equal measures.
Yeah, yeah, 'equal measures,' boring, whatever Mike, if you're so fucking smart why don't you go talk to yourself using some bloated smart person prepositional phrases like 'that which' while I actually do something with my life like checking out The Volta.
=(
Sorry just kidding Mike I know how you need relentlessly undiluted adoration all the time so don't worry I still love you.
=)!!!
Wow I didn't think you could put exclamation marks after emoticons, that's really kind of a new low, please don't ever talk to me again.
Blake Butler
—
Don't forget to tune in right here tonight at 9 PM Eastern (that's 6 on the west coast) to see Joshua Marie Wilkinson read live from his forthcoming Selenography, with special guests, q/a, etc. In the meantime, if you haven't checked out the latest edition of Josh's Rabbit Light Movies, you've got some watching to do.
Two new I'm super excited about, coming soon from Sidebrow Books, do a get! … …
On Wonderland & Waste
Sandy Florian
Collages by Alexis Anne Mackenzie
April 2010
ISBN: 0-9814975-1-9
104 pages, 6×8 full color, perfectbound, $20
"A bellow that is not a bucket. A bucket that is not a bone. There is wisdom in slipping into oceans. Into those wider organs horning. The way churches slip into twilight. Stone after stone. See the plaything on the mantel. I lean toward the paintings. See the baby fastened on the mast. I lean toward the window. See the sea, see the ship, see the ship's low hull. See the winding of vowels by the function of the fist."
For a preview of On Wonderland & Waste, go to http://www.sidebrow.net/books/wonderland-amp-waste
---
Selenography
Joshua Marie Wilkinson
Polaroids by Tim Rutili
April 2010
ISBN: 0-9814975-2-7
103 pages, 6×8 full color, perfectbound, $20
"an owl breaks the
fold a cut tree spills
a soft crutch
hits
this dust
a freezer stocked
with I
happened
to myself in these very woods."
For a preview of Selenography, go to http://www.sidebrow.net/books/selenography
Both books are available until March 31 at a special discounted rate of $30 for the pair, 25 percent off the cover price.
On Wonderland & Waste, featuring full-color collages by Alexis Anne Mackenzie, and Selenography, featuring full-color Polaroids from Califone's Tim Rutili, are also available separately for $18, a 10 percent preorder discount.