mcsweeney's
In my (and probably your) inbox yesterday was this from McSweeney's, bless their hearts:
M c S W E E N E Y ' S   C R A Z Y   

E X C E S S I V E   

S A L E 

Apparently something's going wrong with the economy. An econopocalypse, we heard. Thus, we have put together an emergency bailout package for the book-buying public. Once again, almost everything on our site is half-off, or even cheaper, for just a few more days — soon it'll be too late to guarantee Christmas delivery, so now is the time.

And once again, we've got everyone on your list covered. We've restocked the immediately beloved "What Happens in La Brea Tar Pits, Stays in La Brea Tar Pits" t-shirt, and we've piled high the stacks of Comedy by the Numbers for your insufficiently funny friends. For all the hungry nondenominational holiday-enthusiasts in your life, there's Lemony Snicket's Christmas story The Latke Who Couldn't Stop Screaming, and for the impatient McSwys newcomer we've got the Instant Gratification Subscription. There's lots more on the site, and everything's cheap, so click here.

And still the bonus: if you order more than $60 from our site, you'll get your choice of either Michael Chabon's Maps and Legends or Nick Hornby'sShakespeare Wrote for Money, as a free reward. All you have to do is spend $60 (not including shipping); then, at checkout, find the promo code field and enter: 
– MC01 if you want MAPS AND LEGENDS 
– NH05 if you want SHAKESPEARE WROTE FOR MONEY

Maybe you missed your chance before, or maybe you just want to stuff even more stockings. Either way, do not deny yourself these simple pleasures, the joy of giving and/or hoarding. Please go now: http://store.mcsweeneys.net.

The Second Crazy Excessive Sale ends this Friday.
Remember, here's some more stuff to buy if you're a Secret Santa.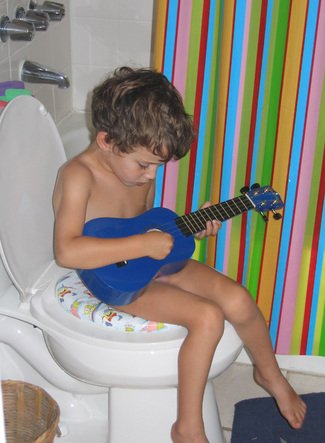 I'm sure a lot of people are getting this in their mailbox. I received it twice, so I figured I'd add to the chaos of the universe and post it here. McSweeney's is having a sale to promote being poor. It's cute, just like potty training, and it'll probably work. I'm seriously thinking about buying some books or something from them.
Here's the email:
M c S W E E N E Y ' S   C R A Z Y   E X C E S S I V E   S A L E

Crazy Excessive Sale through this Friday, November 21.
Cheap, fast, painless, mutually beneficial. Also, good books. Do not deprive your loved ones! Please go now: store.mcsweeneys.net

Want more? How about this: if you spend over $60, you get a FREE copy of either Nick Hornby's new collection Shakespeare Wrote for Money or Michael Chabon's Maps and Legends. All you have to do is spend $60 (not including shipping) at our online store; then, at the bottom left of the first page of checkout, find the field for Promo Code. In this field, type in the code for the book you'd like:
– MAPS AND LEGENDS promo code: MC01
– SHAKESPEARE WROTE FOR MONEY promo code: NH05
You feel poor. We feel poor. Let's feel poor together. This week only, almost everything is half-price at store.mcsweeneys.net. Escape the holiday rush and cross every name off your list in one cheap swoop.Angsty cousin? All Known Metal Bands. New fan? The Better of McSweeney's. Paleontologist in the family? "What Happens in La Brea Tar Pits Stays in La Brea Tar Pits" t-shirt. Newlyweds spending their first winter together? The Secret Language of Sleep. Michael Cera fan? Wholphin No. 6. And so on — we've got all your bases covered, and it's all excessively discounted, all right here.
Do it. And good luck. The economy can only get better.
In effort to increase unique daily visitors (and I'm not talking about in-call escort services), HTML GIANT will be employing tactics used by the following masters of marketing. It is our hope to usurp these kings of literature/publishing.

***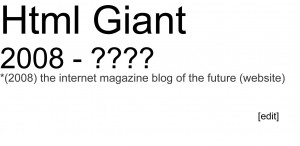 [To do list]: Become vegan, get 'severely depressed,' attract 'emotionally traumatized' 'females' to make t-shirts and short 'films,' strive towards a 'detached yet ultimately life-affirming' philosophy, decrease pain and suffering, change font to 'helvetica.'
***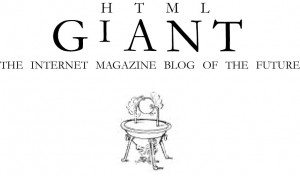 [To do list]: Use exclamation points to convey enthusiasm! Sometimes three!!! And fragmented sentences. Like this. Use quirky/informal language to describe institutional matters: "we really like the internet, we even use our server as a lunch table, and we spilled fanta on it."
***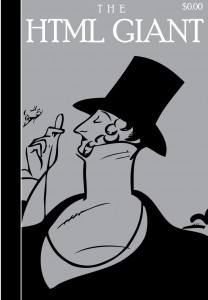 [To do list]: Help shape Malcolm Gladwell's fro, send writers to France or the Middle East, advertise Prada and Chevron on the back cover, incinerate slush-pile daily, publish anal instead of annal, insert subscription postcards every other page.
***
[To do list]: Google ourselves every day hoping to be mentioned on some blog.