The Flame Alphabet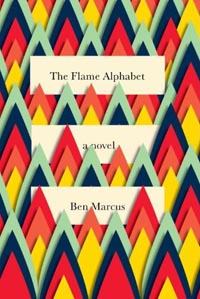 The Flame Alphabet
by Ben Marcus
Knopf, Jan 2012
304 pages / $26  Buy from Amazon
Ben Marcus wrote this book, which is to say he either typed it into a computer or used a stylus, pen or pencil to scratch pigment into a page or roll of paper—the tools available to us humans at our particular anchor in time.* He did this in roughly a year, after developing the concept: a man—through his own somewhat distorted lens on reality—relates his recent experiences in a world wherein language, spoken and written, is discovered to harm its producers and recipients. I will try not to ruin it for you, but the inhabitants of this world eventually determine that the formation of meaning itself—the moment of insight, in which the gestalt of the lexeme coalesces in the mind of the listener/reader—is the problem; i.e. when you understand a word, you become sick: and more words, more understanding makes you sicker.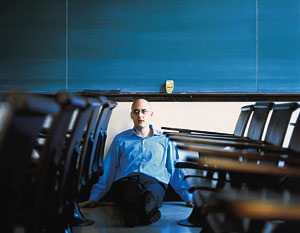 The following conversation between Colin Winnette (colinwinnette.com) and Ben Marcus (benmarcus.com) took place during the brutally mediocre winter of 2011.  Both men carved a desk along with extra elbowroom into the walls of their unnecessary ice huts and began a steady email exchange.  This was a final attempt to stay warmish.  Listed below are the contents of that attempt. Special Thanks to Cassandra Troyan   -The Eds.
Ben Marcus is the author of three books of fiction: Notable American Women, The Father Costume, and The Age of Wire and String. His new novel, The Flame Alphabet, will be published by Knopf in January of 2012. His stories, essays, and reviews have appeared in Harper's, The Paris Review, The Believer, The New York Times, Salon, McSweeney's, Time, Conjunctions, Nerve, Black Clock, Grand Street, Cabinet, Parkett, The Village Voice, Poetry, and BOMB. He is the editor of The Anchor Book of New American Short Stories, and for several years he was the fiction editor of Fence. He has recently served as the guest fiction editor for Guernica Magazine. He is a 2009 recipient of a grant for Innovative Literature from the Creative Capital Foundation. In 2008 he received the Morton Dauwen Zabel Award from the American Academy of Arts and Letters, and he has also received a Whiting Writers Award, a National Endowment for the Arts Fellowship in fiction, three Pushcart Prizes, and a fiction fellowship from the Howard Foundation of Brown University, where he taught for several years before joining the faculty at Columbia University's School of the Arts.
*Portions of this interview first appeared in the Winter 2011 issue of the Tex Gallery Review
CW:Could you talk a little about your upcoming book, The Flame Alphabet?  Its genesis and where things went from there?
BM: I'd been thinking for years about language as a toxic substance.  Language itself making people sick.  Speech and text, all of it poisonous.  If you read a road sign you get nauseous.  That was the original idea, but after Notable American Women I really didn't want to write another heavily-conceptual, modular book.  With that book, every new chapter felt like I was starting over.  I wanted to write something continuous, a straight shot powered by one voice.  I tried a lot of voices, forms, and approaches, and threw all of it away.  But then I was doing some reading on underground Jewish cults and I found a pretty natural way to connect a language toxicity to a really personal narrative, even if that meant liberal falsifications and misreadings, and a story sort of bloomed fast out of that: a husband and wife who are sickened by the speech of their daughter.  Literally.  So sickened that they have to leave her.  A situation so bad you'd have to abandon your child.  This really frightened me, and I couldn't even imagine it, which meant I had to chase it down.  That was the opening premise, and once I had that I wrote the book in just over a year.