May 2012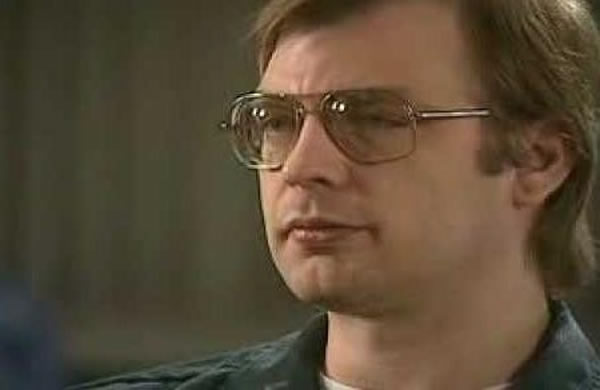 "I really screwed up this time."
"I should have gone to college and gone into real estate and got myself an aquarium. That's what I should have done."
"I think in some way I wanted it to end, even if it meant my own destruction."
Of his first victim: "I, uh, didn't know how else to keep him there other than to get the barbell and hit him, over the head, which I did, and then strangled him with the same barbell."
Robert Ressler: "So you were aroused at just the physique?"
Dahmer: "The internal organs."
"That's why I started drilling. 'Cause drugging was not working."
"I made my fantasy life more powerful than my real one."
"The maintaining of the skulls was a way to feel that I had saved at least something of their essence, that I wasn't a total waste in killing them."
"I would cook it, and look at the pictures and masturbate."
"My consuming lust was to experience their bodies. I viewed them as objects, as strangers. It is hard for me to believe a human being could have done what I've done."
"I was completely swept along with my own compulsion. I don't know how else to put it. It didn't satisfy me completely, so maybe I was thinking, 'Maybe another one will. Maybe this one will.' And the numbers started growing and growing and just got out of control, as you can see."
"I carried it too far, that's for sure."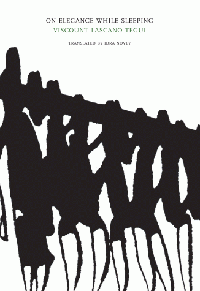 On Elegance While Sleeping
by Viscount Lascano Tegui
Dalkey Archive, 2010
174 pages / $13.95  Buy from Dalkey Archive or Amazon
"There are intellects notable for their prodigious memory and then others simply inspired by the great chaos of the imagination. My own superiority stems from nothing so much as my own powers of observation. I'm a product of myself. I've seen the world through the poor little prism of my eyes. No, I never made use of borrowed eyes. And that's why it was—through observation, a reflexive way of looking—that I always kept myself at a distance from my friends, kept aloof from my teachers." – Viscount Lascano Tegui,
On Elegance While Sleeping
On Elegance While Sleeping is a decadent and deranged Argentinean novel, first published in 1922 and spanning four years in the life of an aesthete whose fluid diary entries function as a recollection of dreams, memories, visions, sexual fantasies, mundane observations, musings on death and the animal kingdom. These vignettes have the cumulative effect of a fractured psyche indulging in its own incompleteness. Sinister and surreal, each locution is touched by the flavor of elegance. It is a fantastic and dark marvel of a libertine's fractured psyche, a damaged consciousness. Tegui's novel feels like a spiritual cousin to Pessoa's The Book of Disquiet and Rilke's The Notebooks of Malte Laurids Brigge, these short and intensely interior novels deal in the anguish and ecstasy of poetry and isolation. Tegui writes, "Novelists overplay their hands when they put an end to their characters with some catastrophe—a terrible fire, a murder, what have you. They don't trust in the asphyxiating monotony of everyday life." But this novel has a darkness and subversive element that extends beyond sheer idleness, making it feel like the Argentinean counterpart to such subversive decadent classics as Maldoror, Aurélia, and A Rebours.

In the first post in this series, I outlined Viktor Shklovsky's fundamental concepts of device (priem) and defamiliarization (ostranenie) as presented in the first chapter of Theory of Prose, "Art as Device." This time around, I'd like to look at the start of Chapter 2 and try applying it to contemporary writing (specifically to the New Sincerity). As before, I'm proposing that one can actually use the principles of Russian Formalism to become a better writer and a better critic.
After coming across Josh Jackson's recent list over at Paste Magazine, I thought: it's a fine list, but my version would be considerably different. So, since I really really like compiling things, I decided to give it a go.
A few constraints/parameters:
(i) Despite the title, my list doesn't pretend to be a "best of" list. It's just a list of my favorites.
(ii) I didn't repeat any of Jackson's selections, even though he chose a few I might've included, like Jean-Pierre Jeunet's Delicatessen and Spike Jonze's Being John Malkovich.
(iii) I only used one film per director, even in instances when I could've easily done multiple (Catherine Breillat, Wong Kar-wai, Buster Keaton, and Jean-Luc Godard come to mind).
(iv) Omissions abound, obviously. No room for Olivier Assayas's Boarding Gate, Michael Haneke's Funny Games, or Stephan Elliott's Eye of the Beholder, to name but three of the missing I'd have liked to include. Then again, I enjoy the incompleteness of lists like these, that they can never truly be comprehensive is part of the fun I derive from composing them. Always, there will be a mistake. Always, they will be lacking. What a truly wonderful revelation!
(v) I started off intending to emulating Jackson's numbering system, counting down from #50 to #1, but then I decided against it because it only reinforces the "best of" model by saying #1 is the best of the best and #50 is the least best of the best, and so on. Instead, you can just think about the fifty films listed below as one big assemblage of moving, striking, compelling, and provocative artworks I consider kick-ass and well worth your time.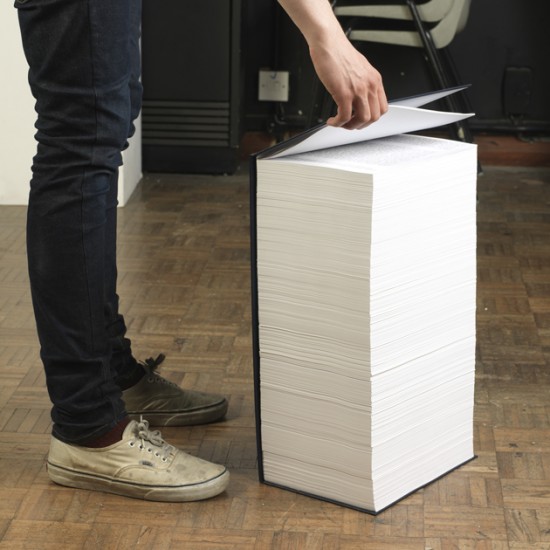 [matchup #54 in Tournament of Bookshit]
Last night I had a dream that I was talking to a really attractive girl at a bar in an airport.  We were having a great conversation, and I felt really good.  Somehow I had already seen the movie version of whatever J.S. Foer's novel is called, and somehow this came up as a topic of conversation.  I laughed to myself and said, "You know what?  I liked that movie.  I really enjoyed watching it."
The girl stared at me and said "why are you laughing?"
I said, "You know… because it's that novel… by that guy." READ MORE >
[matchup #53 in Tournament of Bookshit]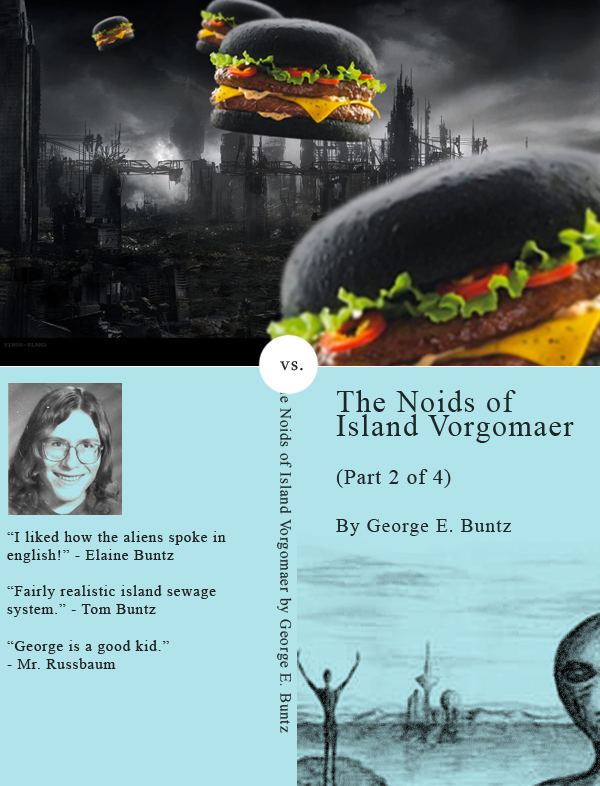 READ MORE >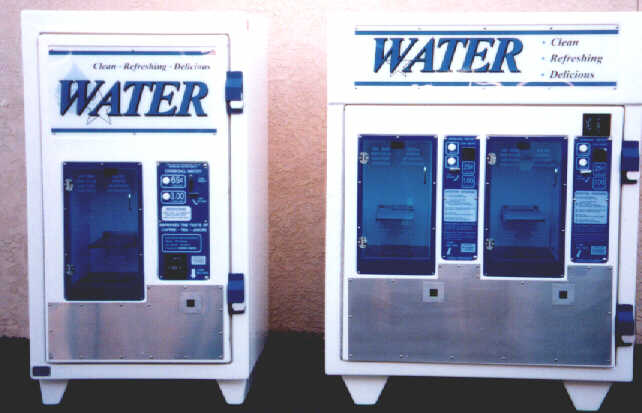 [matchup #52 in Tournament of Bookshit]
The main thing about celebrity fiction is that it seems unfair. Writers are writing to get famous. If we had some other way of getting famous, we would probably being doing that, right? But most of us don't have any other real choices, in the getting-famous-category. Most of us are bad at sports and can't sing well and don't have, you know, like personalities and shit. Most of us enjoy sitting in rooms by ourselves and making stuff up about people who don't exist. If that's what you spend your time doing, writing is pretty much your only shot, in terms of famous.
But already-famous people who write, what are they doing? Trying to get respect? The fuck is respect going to get you that being famous doesn't? Maybe you feel a little better about yourself, being respected? Can you buy a sandwich, with that feeling-a-little-better-about-yourself? Can you pay rent with that? READ MORE >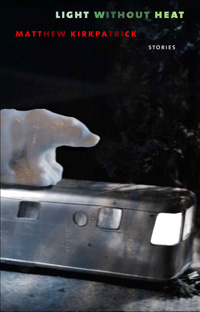 Light Without Heat
by Matt Kirkpatrick
FC2, 2012
192 pages / $14.95  Buy from University of Alabama Press or Amazon
The thrill of reading Matt Kirkpatrick's debut collection, Light Without Heat (FC2, 2012), is like the thrill of stepping into a carefully curated vintage store: each exquisite story has a talismanic magic unto itself, and a unique literary lineage. For example, the executives of a telecommunication company in "The AuralSec Story, a Corporate History, Chapter 7: Our Dependable Grampy," who assure themselves, "Well, at least nobody young is going to die from what we do" have the fatalistic humor of a George Saunders character who's mired in an insufferably corporate universe. Or consider the narrator in "The Board Game Monopoly," whose thoughts gyrate around his destitute neighbors (lesbian heroin addicts, a little girl who steals his cigarettes, a mythomaniac neighbor who lies about "arm cancer"), whose threatening humor belies a deeper melancholy, not dissimilarly to Denis Johnson's character, "Fuckhead." Or consider "Glossary," Kirkpatrick's impossible encyclopedia whose absurdist linguistic humor is reminiscent of Ben Marcus's Notable American Women:
Akron, OH: On June 12, 1978, the "City of Angels" burned to the reduction of artificial application of water to the soil.
Akron, OH: Forty miles east of Akron, OH, in a forest on a hill.
Akureyri: Show me cold water flowing and
Alan Alda: Badly burned on June 1, 1980, while freebasing cocaine.
Alan Alda: A sinkhole opens in a valley to one black cavern glistening. Cold black water glistens.
1.
The end result, depending on where you stand in the ongoing debate about appropriation and erasure, is either inspired or provocative-to-the-point-of-insulting to the original (which, in this instance, is one of the most revered photography books of the 20th century).
14. Grab your Orlistat and breast tape, folks. xTx wants you to join the Super Model summer!  Submit, Beotch.
5. Talk about overdue for serious consideration. Anyone checked out the new Brautigan biography? Is this finally a real one?
7. John Lennon's most famous book is up for sale.
Lithographs of Lennon and Yoko, on Honeymoon, done and signed by Lennon, as you can see below: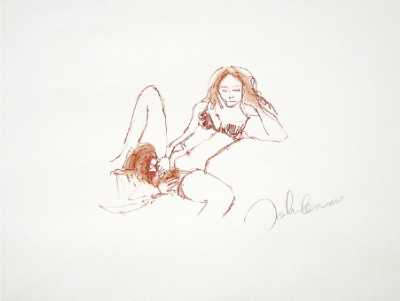 11. Yo, yo, any of you Midwest motherfuckers (or just visiting for the flatness and the mayonnaise?). Check this out. Need to find freedom in poetic restraint? Join Kathleen Rooney at the Midwest Writers Workshop.
12. At page 355 I just gave myself permission to stop reading Homicide by David Simon. Why do I keep buying books with a ton of positive Amazon reviews? Because I'm an idiot. What? Because I am an idiot. What? Oh, never mind.
13. You into food and poetry? Poetry about food? Go right ahead and submit:
13. Flashback Tom Bissell: Grand Theft Auto and cocaine. Sort of makes one want to play. Play.
4. Another link in "leaving Facebook" trend. I've thought of it many times myself. Who here hasn't?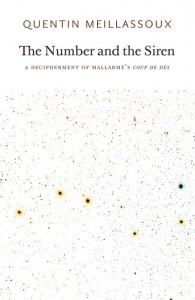 The Number and the Siren
by Quentin Meillassoux
Urbanomic/Sequence Press, May 2012
306pp. / £16.99/$25.95
Buy from Urbanomic or Sequence
Meillassoux made a major splash in the world of contemporary philosophy with the publication (and more specifically, the English language translation) of his pivotal work, After Finitude: An Essay on the Necessity of Contingency. Ostensibly launching a new realm of thought organized between the titles of "speculative realism" and beyond, the book posited the idea that, despite what the last few centuries of philosophy has decided, there is a world that can and indeed has existed outside of any phenomenological experience of it; to assume that the world is dependent upon the humans who inhabit it ignores the idea that the world turns whether or not we, as humans, exist on it. And to do so it meticulously examines how this is possible with what have been traditionally described as the hard sciences; math, physical science, geology, etc.
The Number and the Siren, on the other hand, turns away from the world and instead focuses on a singular work of poetry that already has a hold over the 20th and 21st centuries—that of Mallarmé's game changing Un Coup de Dés jamais n'abolira le Hasard. Mallarmé's poem has been an insistent staple in the development of poetry since its publication, but Meillassoux's approach to the work is both unique and, truly, astounding. When considering the diegesis of a work of literature, we look at a book as its own internal world, in some modes of thought as a self-contained entity oblivious to the outside. This is both an often short-sighted AND revelatory method of reading a text.
READ MORE >