October 2012
(LIVE, UPDATED RADAR IMAGE)
We've been moved to total standstill. New York City is on its knees. There is a potential for days more of this. If the power goes out, things could be really slow, really quiet.
I am with friends. We watch hours of Law and Order SVU. We listen to Apple TV radio stations called "Smooth Cruise" and "Breeze FM"
The approach of Hurricane Sandy has already altered the entire course of me and my friend's lives. On Sunday, I was supposed to shop for vintage sweaters and attend a poetry brothel. These would've probably been some wonderful moments. But Hurricane Sandy put a stop to all my hypothetically marvelous adventures.
Instead my friends and I were bunkered in our apartment in Alphabet City.
What were we to do?
If we were VIDA, then we could count the number of times a masculine pronoun appeared in this week's NYT Book Review and then compare it to the number of times that a feminine pronoun appeared in this week's NYT Book Review and then get really angry about it and channel all of our anger into a neat and tidy chart.
If we were overly anxious New York Jews then we could close down the subway system at 7 PM, hold press conferences using folksy idioms like "up and about," and dress like men who spend a great deal of time in well-off subdivisions of Connecticut.
Also, if we were male homosexuals, we could have sex nonstop sans condoms.
But my friends and I aren't any of those things. So, in lieu of that, we chose to hold an academic conference that had an awful lot of relevance to our current predicament. Our conference, which was held last night  (28 Oct. 2012),  was called The Unstable and [de] Mutable Boundaries Between Meteorological Atrocities and Human Political Economies with Bodies-as-Subjects Coming Into Being As They Are. This conference has already been compared to some of the most vivid and vivacious academic conferences ever held.
Here's a summary:
Craft Notes
&
Events
&
Technology
/
Comments Off

on A Summary of Our Academic Conference, The Unstable and [de] Mutable Boundaries Between Meteorological Atrocities and Human Political Economies with Bodies-as-Subjects Coming Into Being As They Are
October 29th, 2012 / 12:27 pm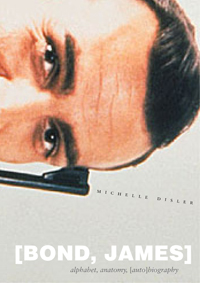 [BOND, JAMES]: alphabet, anatomy, [auto]biography
by Michelle Disler
Counterpath Press, 2011
120 pages / $14.95  Buy from Counterpath, Amazon or SPD
Superficially [Bond, James] is an exploration of the Bond character as he appears in Ian Fleming's novels: rescuing girls, thwarting villains, escaping from dangerous situations, and smoking a ton of cigarettes. What's fascinating and brilliant and great about the book, though, is that we get this exploration and some rumination on the masculinity it represents not in standard linear nonfiction prose but as a series of lists and games and experiments. This makes the book worth your entertainment dollar in a variety of ways: as an investigation of a popular icon/fictional character, as a look at what represented the summit of masculinity 1953-1965 and how the ideal is shored up through the use of women (and villains) as disposable props, and as a really stunning example of how brilliant innovative nonfiction can be when it's not afraid to take a lot of risks.
And the book does take risks. Divided into the three sections of the subtitle, the text never offers a moment of scholarly distance but instead offers you a spread of cross-sections of Bond as character and as archetype. In the first section, alphabet, you get just that: an alphabet comprised mostly of lists of common people, objects and events in Bond's world. For example D is for "Dislikes" and you get a two-page inventory of things like the following:
hates, displays an aversion to             double-agent girlfriend     ALSO    dirty jobs, women drivers, women spies, poisonous fish, poisonous insects, poisonous plants, egomaniacs     ALSO     villains who touch his gun, sodden guns, hired guns     ALSO     peace, panic, henchmen, genital mutilation, losing at cards, restraint, flowers
"A writer takes earnest measures to secure his solitude and then finds endless ways to squander it."
– Don DeLillo, The Art of Fiction, The Paris Review No. 135
The following is a discussion of the world and effects of the works of Don DeLillo. The books focused on are chosen more by my emotional state than by pragmatism, however all of his works will make an appearance at some point. The assertion here is both personal and universal, stating that Don DeLillo changed my life, and gave new breath and scope to the world of literature.
Don DeLillo began writing later than many the American prodigy to change the movement of our country's letters. His first novel, Americana (published when he was roughly 35 years old)—a winding tale of one man's devolving lunacy reflecting a life of advertising, television, and travel—to hear him tell it, came from a quick sight of a man standing on a road staring off at nothing, that brief vision was enough to carry him through the beginnings of his first novel and, in light of that, the early stages of what has been one of the more tumultuous careers in history.
When the idea came to me to write about Don DeLillo for HTMLGiant, it was first slated to be an exploration of his novels Great Jones Street and, ideally, White Noise—comparing something less-discussed to something hailed as one of the masterpieces of the latter half of the 20th century; what fueled this? What brought about this response? Etc. etc. etc. ad infinitum. However, I found myself unable to hold back certain instincts as I began to reflect over his impact on me and this world as a whole, and in spite of myself began falling deeper and deeper into a DeLilloan stupor with every interview, novel, and anecdote explored. I found the intricacies of his books that I'd call my favorite proved far less ambiguous than I'd thought and that–say, with the discussion of contemporary (in 1985-ish) universities in White Noise–his work was sewn deeper into me than I'd realized.
There was, I think, initially an aversion to his writing due to the fact that the only copy of DeLillo's work we had in my house growing up was a very daunting paperback of Underworld (interestingly, I was only completely drawn back to it when attempting an essay on the Spaldeen, a little Hi-Bounce Ball made by Spalding that I've become quite obsessed with that DeLillo notes in the novel, as they were the primary ball used in stick ball games in New York City in the heyday). I remember picking it up one day after reading Bret Easton Ellis considered him a great influence and finding myself lost beyond salvation. The words didn't exactly register and when they did they seemed strange, infused with a level of what I'd now call reified Americanism that wasn't apparent in anything I'd been reading at the time (Ellis, Fante, Kesey, et al, authors of fiction that seemed to be right there, which I found in DeLillo only after reaching the necessary level of paranoia to understand the first book of his I read and loved, Mao II) and in spite of a burning curiosity, I tucked the paperback where I'd picked it up on the shelf to remain for several years until I found those radiant little pink Spaldeens in a hardware store in Eau Claire, Wisconsin.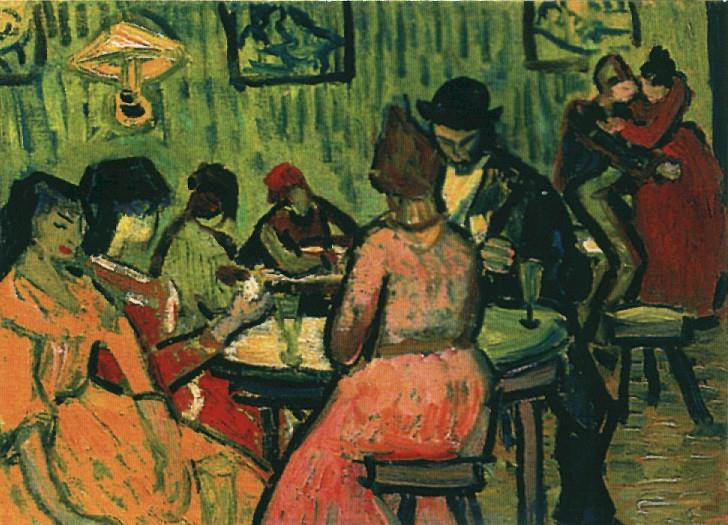 On Sunday there will be a Poetry Brothel.
It will be held in The Back Room at 102 Norfolk Street, which is in the Lower East Side.
The Brothel will start at 8 and end at 1.
There will be masks, music, tarot readings (which I don't believe in, but still), burlesque, magic, and lots of poetry.
All guests may purchase private readings with the poets, which include the splendidly shrill Dorothea Lasky and the plucky Harlem princess Jennier Tamayo. Also available for a private reading is Carina Finn (the East Village princess behind The Bratty Poets), Ariana Reines (if you haven't read Mercury then you don't have proper priorities), myself (Ann Romney 2012!), and lots more.
Throughout the evening, each poet will also give a public reading.
Please come and support poetry that is theatrical and fabulous.
Stephanie Berger is the madame of The Brothel. This is what she looks like: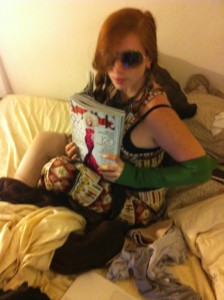 For further information or to purchase tickets in advance please click here.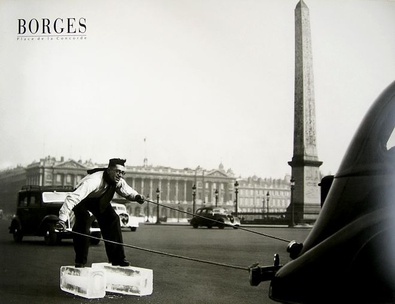 My pal Elf came across this picture, in poster form, at the school where he works. (Here is is for sale online.)
Anyone know the story behind it? Did JLB have something to do with it, or does it refer to some other Borges?
(I found this thread debating it, but it's hardly conclusive.)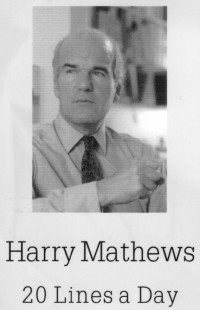 20 Lines a Day
by Harry Mathews
Dalkey Archive Press, 1988
134 pages / $10.95 buy from Dalkey
1. In the fifth floor of the library, I picked the book up, read what the premise was, and thought resentfully, "What a bunch of bullshit, this looks boring, look how anything gets published." I didn't know who Harry Mathews was yet. Years ago.
2. "You never have earned the right to sit at the table and let someone else clear away the dishes. No accumulation of knowledge can guarantee that you aren't a fool. The roast is over-cooked. You slice bread for the seven-hundredth time and cut off the tip of your left forefinger. You touch her as coarsely as any boor, being now the boor. You meet an old friend, you have forgotten his name, you cannot look him in the face: not looking him in the face, you wound him and you start lying to him and to yourself. Go off and sulk and complain and explain why it happened. It won't help. Instead, be an actor, or an athlete, on stage, on the field, giving–as you once eagerly proposed to yourself–everything to the perishable act."
3. "I have nothing to write in particular, I'm writing these lines because of my rule that I must write them."
4. Some writers set quotas, others set routines, some set both, and some (the scriptomanic ones for whom procrastination is not a threat) set neither. A page a day (Paul Theroux); 50,000 words in a month (NaNoWriMo); two hours every morning (W.S. Maugham); 20 minute blocks (Cory Doctorow); at least a sentence a day (W.G. Sebald); pre-dawn (Paul Valéry, Jacques Roubaud); etc.
5. "Whatever I write tells my story without my knowing it."
6. "Let no thought pass incognito, and keep your notebook as strictly as the authorities keep their register of aliens." (Walter Benjamin, "One Way Street," Reflections)
7. "Sometimes the ultimate message is in fact received. It reads, more or less: 'Your ligament issues from a spa that is given various narcissisms at various time-tables: lozenge, credulity, goggles. And not only your ligament (and that of others): the prodigy that generates mayday has the same orthography. You and the upkeep are one. Give up sugarbowls.' At such moments you realize, and you remember, that such messages have never been lacking, and that they are all the same, and that the problem (if that is the word) doesn't involve receiving but deciphering what is received again and again, day after day, minute after minute."
8. There's an implicit link between 20 Lines a Day and the next novel Mathews would publish, The Journalist (1994). One sees how the method Mathews followed for 20 Lines is adopted as a fictional premise and device for The Journalist.
9. "Anxiety about writing feels like: I am poor in words, ideas, and feelings, and when I sit down to write, this poverty will be revealed."
10. "The table is a beautiful thing. The writing board is supported on a base consisting of two tubular legs shaped like narrow inverted U's, with a tubular foot running across the mouth of each U, projecting about thirty centimeters beyond it on either side. The legs are connected to the board by an adjustable parallelogram made of bone-shaped pieces of flat metal. The knobs of the bones are pierced with pivotal studs that hold the sides of the parallelogram together. Two strong springs, to hold the angles in place, maintain pressure against two other springs fixed just below the board. A single lever controls this disposition and locks the board in place. Changing the angles of the parallelogram permits one to alter both the height and angle of the board in one movement. Board, parallelogram, legs and feet are white; springs, studs, and lever handle are black." READ MORE >