October 2012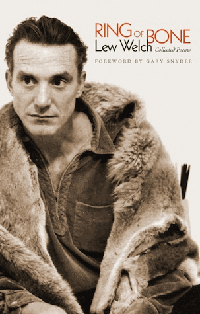 Ring of Bone: Collected Poems
by Lew Welch
City Lights Publishers, 2012
252 pages / $17.95 buy from City Lights
1. I've been reading Lew Welch for some 20 odd years. First I read Edgar Allen Poe, Allen Ginsberg, Walt Whitman, Hawthorne, Thoreau et al and then I found out about Kenneth Rexroth, Gary Snyder, and Lew Welch. (I heard of Philip Whalen too but he took a while longer for me to dig)
2. Welch met Whalen and Snyder when all were students together @ Reed College in Portland, OR on lawns where I once threw a Frisbee (was it?) several years ago with my pal Jeffrey Butler and his son Austin. And then a couple years later went back to see the JESS show. Lately I've been avoiding phone calls. I only talk to my mom. I owe Jeffrey Butler up in PDX a good long chat one of these days.
3. When I read Lew Welch I often think about Robinson Jeffers (and vice versa)
"I'm the ghost Roan Stallion" – Lew Welch
4. Both Leos, we're born August 16th
LEO MENAGERIE
Sunnylyn Thibodeaux, Lew Welch, and me.
5. "You know Lew always CRIES when he reads and it will ruin the evening."
–Joanne Kyger. http://jacketmagazine.com/27/w-kyge.html
6. David Highsmith gave me a broadside, "Raid Kills Bugs Dead" for my birthday one year. It's up in our bathroom. This tag-line, ad copy throwaway, now emblazoned in millions of modern day minds, is attributed to Welch from his 9-5 Chicago workadays.
7. Huey Lewis of Huey Lewis and the News is Welch's step-son. He sang Welch's "Graffiti" with his mother in the audience @ SF Public Library. Dig it: http://youtu.be/N5diFN_Gpx4
8. Welch walked off with his gun never to be seen again.
9. Tall and lanky with a bursting head of red describes Lew Welch as if he was a good looking woman.
10. Before any poet bothers to write a poem concerning problems of rat infestation they should be familiar with Welch's "Buddhist Bard Turns Rat Slayer" especially if they consider themselves to be Buddhist and are a "professor" in the Bay Area. READ MORE >
If there was one poet I wish I could write like it, it might be Emily Toder.  Her poems are empathetic, generous and open with an emotional intelligence that run laps around the world we are becoming in. She doesn't demand or consume, she considers.  Just look.
Today her first book, SCIENCE, has been released from the newly rebooted Coconut Books.
Read the first poem in the book that originally appeared in Sixth Finch. Then if you feel like I do, buy it here.
I think this may be my favorite book of the year. It could be yours too.
If you haven't been reading the ongoing Chronicles of Mitt at Daily Kos, you've really been missing out:
I no longer feel confident that I want to be president. Why was I running again? There was the tax cut, but surely it would have cost less money for my fellow wealth units and I to simply purchase sufficient lobbyists to obtain it. Now in order to satisfy critics I have had to claim that my singular goal, a very large tax cut, would not actually cut taxes. That is, in all of this, the one policy alteration that I cannot abide. I do not care about the other things—the nonsense about "ObamaCare," the being angry with China, and the other things are all merely strategic calculations, but the very large tax cut for myself was the one policy out of all of them that I had designed myself, and that I felt strongly about. I spent many an evening explaining to Ann how I would carefully reapportion the money from our very large tax cut into each of our various accounts. To disown it feels like I have disowned a child. A particularly good and uproarious child, like Tagg, not one of the others.
The archive's here.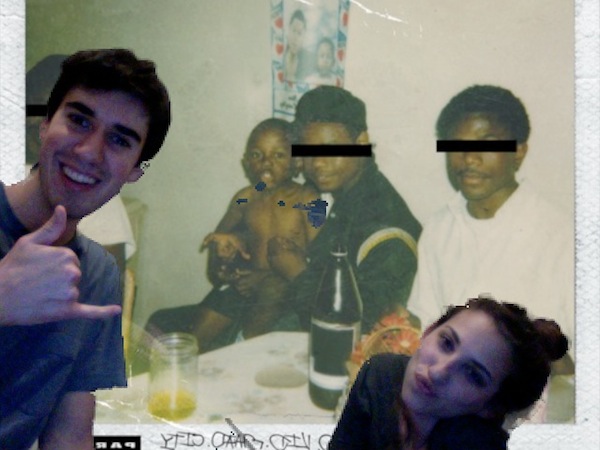 Music by Kendrick Lamar. Commentary by David Fishkind, Adam Humphreys. Beer by Coors Brewing Company.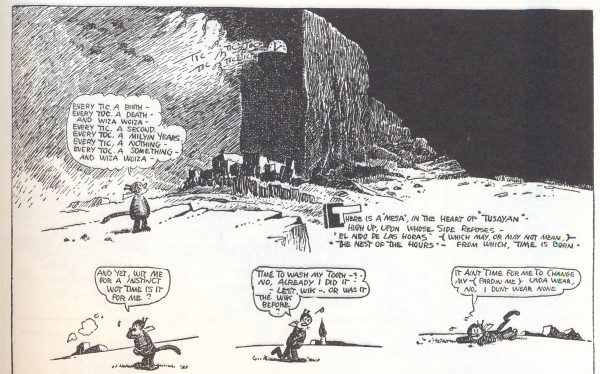 from Krazy Kat, 1913-1944 by George Herriman
So drop the bomb!
The sun on her carpet was swirling up into a fire of magnesium blues and sulfurous browns, a mushroom cloud of flame and smoke, with little Ignatz and his metal necktie rising serenely on top. Top o' the World, Ma! Once more she was watching a fire storm that she had somehow caused, and it was shaking her apart! She felt like she had a snake coiling inside her, yet the snake was her, and she was inside it. The snake was made of blackness and stars. And every star in the snake was another smaller snake that was made of blackness and stars, and those stars were snakes made of blackness and stars. The snake was the beginning and end of things: death biting the tail of love, every yes that became no that became love become hate become yes again. The snake would kill her but it would give birth to her, too, over and over, if only she could keep the snake together. And the only way to do that was to get the tail of it into her own mouth, to bite the beginning and end of things and be the circle.
from Krazy Kat: a novel in five panels, 1988, by Jay Cantor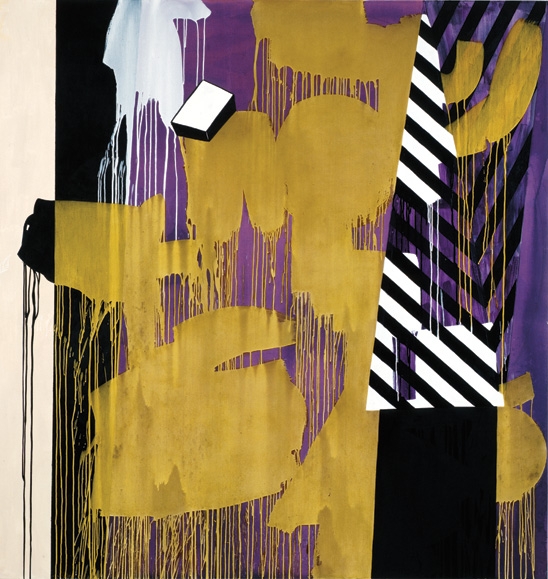 It's Vot's Behind Me That I Am (Krazy Kat), 2010, acrylic and oil on linen and canvas, by Charline von Heyl
I have this short story collection called May We Shed These Human Bodies that just came out from Curbside Splendor, and I think probably the thing people ask most often about it is "how do you put together a short story collection?" And honestly, I have no fucking clue. But I can tell you that this version of the collection, the version that Curbside Splendor picked up, is probably the tenth version of this collection. It has had other names, other stories, other orders and versions, has been longer or shorter, and at one point in its long history of rejection sat in my laptop's trash for four months. It has been rejected or ignored by nine publishers in its various forms. So what I can tell you, judging by my own experience only, is how NOT to put together a short story collection – at least, if you want it to be published.
DO NOT say to yourself, Well, I've got a lot of stories now, so I guess it's time to shove them all into a manuscript and send it around. This is not a good reason to compile a short story collection. Are your stories good? Do they complement each other in some way? Do they reflect the very best of your writing? Then by all means, go to it. But be aware: selling a short story collection is very difficult. Editors like novels. Some presses only publish novels. This doesn't meant that you won't be able to sell your collection but do not think that this will be an easy task. As a short story writer, you already have an uphill battle to fight. If you're working on a novel, or have a fantastic idea for a novel, it might be better to just do that instead. If, like me, you are deep-in-your-soul a short story writer, then I am sorry for you and glad for you. Just be prepared for a long slog.
DO NOT treat your story collection like a mix tape. Please dear god no stop do not do this. I followed this advice, or tried to follow it, because I heard it over and over again. I think writers repeat it because they want their book to be as cool as an album. Look. Stories are not songs. Trying to figure out how to make your book like a mix tape will drive you crazy (long short long? Two depressing stories and an upbeat one?) and will be, in the end, completely useless to you. If you really, really like the idea of a mix tape, go and make one for your friend or lover or sibling and get it off your chest. Then go back to compiling your book.
DO NOT include every single piece of shit you've ever written in your collection. If your story collection is too short without it, then guess what? You don't have enough material for a collection yet. No filler. Be selective. I even had to cut some of my favorite stories out of my book because they just didn't fit anywhere, so they eventually had to come out. I'm sure my stubbornness about that cost me a few publishers at least.
DO NOT send a book full of only short shorts to a publisher. Unless that is all you write, of course, and then I cannot help you. I've written a lot more flash fiction than I have longer stories, but have you noticed? People who aren't writers hate flash. Which is most of the people who you want to buy your book. So if you want to fill your collection up with a lot of flash fiction (and mine has a lot) you have to a) balance that shit out with some longer pieces and b) be prepared for readers to ignore all your flash and only love your longer pieces. Sorry, but that's just the way it is.  Don't believe me? Talk to your non-writer friends and family and ask them what they think of page-long, two-page-long stories. Go ahead. I'll wait.
DO NOT misspell the first word of your first sentence of your first story in your collection, and force the poor publisher rejecting you to inform you of this problem. Did this happen to me? Yes, yes it did. And by "happen to me," I mean, "I was a fucking dumbass who thought I could catch all my own mistakes while writing." Don't let this be you. Use Spellcheck for the love of all things holy and good.
DO NOT save the best for last. Save the best for first. Put every single "best" story in the beginning. Frontload that motherfucker and then frontload it some more. Great story, great story, great story, great story – keep them hooked and don't let them read anything less than your best until at least halfway through. In fact, let all of the stories be your best. Keep pushing the reader in, not letting up, and end on a high note, too. This is another good reason to include only the best stories in your collection. People are distracted and fidgety. Haven't you heard? We are all A.D.D. now. We are all caught up in the speed of the tubes. Don't give people a reason to stop reading. Don't sell that collection until everything in it is the best goddamn thing you've even written. And even then, cut the weakest best. Cut more. Write better. Cut more. Write best. Then send it out. Then cross your fingers and toes. Then hope for the best and prepare for the long, slow wreck of the worst.
What about you guys? What have you all learned not to do when compiling a collection of short fiction? How about the poets out there? Non-fiction writers? What rules of the road do you guys try to follow?
A paper cutout-style animated video by Dan Lichtenberg adapted from Diana Salier's poem WHAT I SAY WHEN YOU ASK WHAT I'M UP TO, from her new book LETTERS FROM ROBOTS.
What the title says. This is the first time Fear and Desire has been available on DVD.
The film was written by Howard Sackler, who later won the Tony and Pulitzer (in 1969) for his play The Great White Hope. And it stars Paul Mazursky, whom of course we all know from inventing hipster culture.
I saw it once on VHS (a terrible bootlegged copy) back in the late 1990s. I'll be curious to revisit it. What I remember most of all is the strength of Kubrick's cinematography (unsurprising, given his background as a photographer).
(It should be noted that Kubrick disowned the film, going so far as to block its release during his lifetime.)