HTMLGIANT / Search results for skateboarding.
Erik Stinson
New York City, NY (resident 2010-present)
Ontario Bar
This is a classic dive with a suspicious Canadian theme. It sits across from a very fine Indian restaurant (fare of the northwestern subcontinent) on a long stretch of Grand Street in East Williamsburg, with many other bars–dives and otherwise. My normal procedure here is to drink a lot of whiskey sodas and say some friendly things to whomever is around. When I first moved to New York my colleague Bobo encouraged me to go to Ontario Bar, I think because it had more of a cozy neighborhood vibe (at the time) than places nearer to Bedford Avenue. He could sense that I missed smaller-city dives? In addition to serving other bartenders, staff are known to be friendly to dull-eyed, lonely men who work in production and creative services. It's not a bad business model in Williamsburg. I once heard a bartender complain that she only makes money between the hours of three and four. Close later and change the whole experience of the night. READ MORE >
Contributor Things
&
Craft Notes
/
2 Comments
December 8th, 2016 / 1:41 pm
Matthew Simmons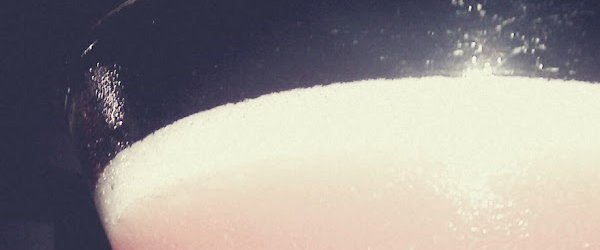 Griffith Edwards, Oxford-educated MD and addiction specialist, invented alcoholism. In 1976.
That is to say, he and a cowriter named Milton Gross first published a description of Alcohol Dependence Syndrome in the British Medical Journal in 1976, making the whole darn thing official.
Edwards spent his life considering, studying, talking about, writing about, and helping others with addictions.
*
ALCOHOL in HISTORY: Edited Highlights READ MORE >
Author Spotlight
/
7 Comments
October 2nd, 2012 / 5:25 pm
Guest Posts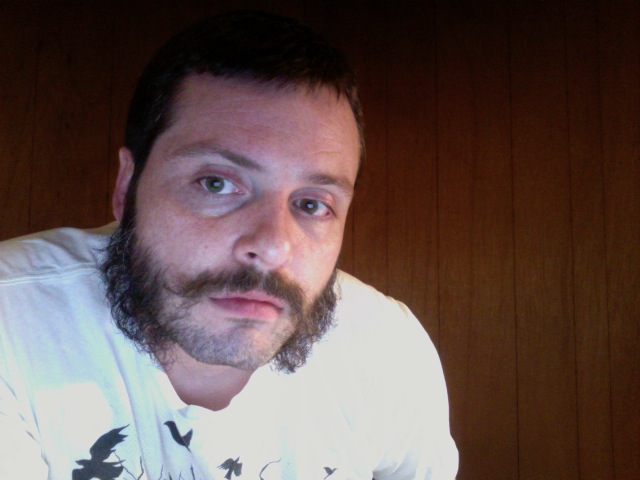 With just two books of poetry, and a third on the way, Peter Davis has already established himself as an innovator with a great deal of intelligence and skill. Modest but assured, he explores ideas most poets would not think to broach and pushes the accepted limits of form in ways that expand what a poem can be.  Whether pondering the heinous mustache of the previous century's most infamous tyrant, or inventing satirical monologues for real and imagined audiences, Davis knows that in order to break ground a writer must be bold and open to uncertainties: "An artist has to pursue something he or she is unsure of, but then pursue it recklessly." While these pursuits make great comic shtick, they are only half the story, for Davis's sense of play services a unique moral vision. The text below is a collation of one face-to-face interview in April 2011 and several email exchanges from April to June 2011. – Tony Leuzzi
What was the genesis for the idea of writing an entire book of poems about Hitler's mustache? 
Author Spotlight
/
4 Comments
February 6th, 2012 / 5:21 pm
David Fishkind
I am still in college. I think maybe you know that. Monday through Thursday I wake up sometime between 9am and 12pm and drag my sallow little ass from Ave C to Washington Square, where I study, predominantly, English and American literature. Today one of my classes was cancelled, so after sitting through a 75 minute lecture on Chaucer's "The Miller's Prologue and Tale" (what a laugh that one is, let me just say), I decided to stop by the university library to take out some books that I could enjoy in the park. Here is a picture of the books:
Below are some thoughts on those books.
A Craving for Swan by Andrei Codrescu
I went looking for a book of selected poems between 1970 and 1980 by this guy. The library said they had it, but the library says a lot of things. I flipped through all the Codrescu they had. As far as I can tell he's a Romanian with quite a history and a track record of being funny and influential. He works for NPR and has for a long time. Nothing looked appealing. I was about to walk away when I noticed A Craving for Swan. I think maybe it was misplaced or something, or otherwise I didn't care to look at it when I was flipping through the other books. Anyway, I opened it up. It's a book of short essays, most  less than two full pages, that Codrescu had read on NPR's "All Things Considered" between 1983 and 1985. I opened to a random page and read one of the essays. I don't remember what it was about or what it was like. Then I went to the first page. The essay started with something like "One day I found myself with a strong craving for swan" or something. I stopped reading and took the book with me.
Random
/
11 Comments
February 1st, 2012 / 7:48 pm
Sean Lovelace
Three disc golf discs, a fillet knife, a bill for salt, and an eggshell book arrived at my door. On the cover a blue goat. I was skeptical/green-eyed, but also glimmed a glow—the book obviously cared for/handmade and who here doesn't respect a literary artifact? The book is titled The Feeling is Mutual. Written by The Washtenaw County Women's Poetry Collective & Casserole Society (Amy Berkowitz, Beth Divis, Emma Gorenberg, Elisa McCool & Jessica Young).  What in the blar is the WCWPCCS? And where is my casserole?
A true sense of collaboration. A gathering and letting go. None of the poems or recipes has bylines. Possibly penned by any of the WCWPCCS or by all or by their mysterious "appearances by" friends or by the goat tied to the persimmon tree down by the bass pond. (The authors say themselves: "We no longer recognize our own words.")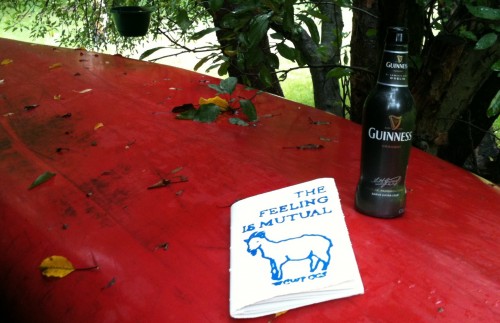 The ingredients of this poetic porringer?
(ALMOST) SONNETS, SPOOKLES, QUESTIONS & ANSWERS, RETELLINGS, CASSEROLES
There is a patented capsule of nitrogen inside my bottle of Guinness. It looks like a toy submarine (the type you could once find in cereal boxes and fill with baking soda). The capsule clatters around inside the bottle, but also releases nitrogen that agitates the previously dissolved CO2 and this makes for a clean, creamy, immortal pour and a head like the caps of waves washing upon the shore of Innisfree. That's a lot of wonk-science (like $13 million worth) for a fucking beer, but then again this is Guinness.
This is a fine book. I mean the real deal. Let's begin with the (almost) sonnets.
Uncategorized /
11 Comments
July 9th, 2010 / 10:44 am
Drew Toal
—
Has there ever been a good book about skateboarding? I was just watching Thrashin' for the millionth time the other day, and thought, "Man, this story of Corey Webster and his one-man skate crusade against nemesis Hook (and his band of loyal Daggers) as they battle first at the joust and then at the big downhill," would make for a riveting read. I had hopes for that When Skateboards Will Be Free book, but it turns out that it wasn't really about siiiick Acid Drops at all. Disappointing.