fashion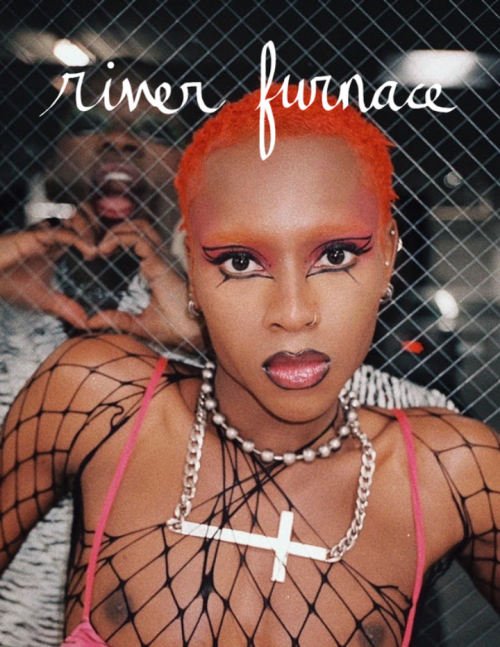 Fashion has always been a point of contingency for me. Fashion is made to a standard size or specification than it is to order. It's like an ancient text that seems to offer an inventiveness for Black people and Black folk's pleasure where the rest of the world vehemently rejects it. However, the marketing, fashion and entertainment industry aims to exploit these inventive Black spaces. It obfuscates just as much as it brings to light.
~ Juju
Fashion is more than expression. Fashion is denial, refusal and incoherence where they are not allowed — and through this defiance, self fulfillment. Fashion, like art, is the product of imagination, of energy and soul put to purpose for a goal that is under no obligation to be explained. That vacates still life to give birth to more. This, too, is fashion.
~ Warpath Slave
Fashion occurs at the intersection of body and world, an opportunity to (non)conform. Online, it is an invitation for commentary, which you can ignore. But if you're ditching the lesbian sport shorts to go out in a dress, prepare to absorb their stares, or have a hand on your mace for when the men follow. Remember, t/girls, our accessories are also part of our fashion.
~ Neptune
Random
/
Comments Off

on River Furnace's Fashion Issue is absolutely everything.
September 9th, 2020 / 1:30 pm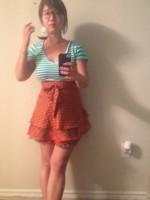 I remember it very clearly. It was Chinese New Year, this year: to celebrate, I wore red pants and a black and white polka dotted shirt and a red and brown cardigan. I looked down at myself and thought: Who let me out of the house like this? Luckily, I had not left my house. I was pacing in my backyard, smoking a cigarette, making circles and circles. I looked down at myself and had an epiphany: I'm fucking weird.
This is funny because for most of my life, I've tried to be weird, and then one day, I just became weird.
Christmastime is the best time. There are sparkly lights and cute reindeer and cute snowmen and cute songs, and so on. There's also a lot of gifts to be given, which is great, especially if you like books and things, as I do. Alas, almost all Western culture subjects won't get any gifts from Santa at all, as they only care about their Twitter feed, their sexuality, and leading a "grievable life" so that this doesn't happen to them. But for those thoughtful boys and girls who don't go around kissing dead Nelson Mandela's tushy, they should expect estimable presents. These are the ones I want:
Gossip by Samantha Cohen: Gossip can be malicious and harmful, so everyone should do it.
Cunt Norton by Dodie Bellamy: While the cannon is actually quite commendable, so is cutting, which is what Dodie does to one of the Norton anthologies.
Salamandrine: 8 Gothics by Joyelle McSweeney: According to Diane Sawyer, those divinely deathy Columbine boys "may have been a part of a dark, underground national phenomenon known as the Gothic movement and that some of those Goths may have killed before." So…
Begging For It by Alex Dimitrov: This boy was the subject of some criticism for his appropriation of some kind of AIDS-related art. But AIDS is silly, and Alex is sort of cute.
Butcher's Tree by Feng Chen: Her Spork book, "Blud," was really cute and sassy, so these poems probably will be as well.
Our Lady of the Flowers, Echoic by Chris Tysh: Jean Genet was a violent, cutthroat boy, and I want to see Divine and Dainty Feet in verse.
Haute Surveillance by Johannes Goransson: Johannes read an excerpt from this at the first and only ever Boyesque Reading (also featuring Peter Davis, Tyler Gobble, and me). It was violent, stylish, and totalitarian.
The Memoirs of JonBenet by Kathy Acker by Michael du Plessis: JonBenet Ramsey was cute and tragic. This year, she published a collection of rhymes for my cute and thoughtful Tumblr, Bambi Muse. I want to see how Michael portrays the pageant princess.
The Mysteries of Laura by Andrea Quinlan: It's a collection of poems that are Victorian and gothic, which is to say it's Charlotte, Emily, and Anne Bronte and Dylan Klebold and Eric Harris.
Mother Ghost by Casey Hannan: I like ghosts.
Thank You for the Window Office by Maged Zaher: He once composed a very pleasing poem about Paris Hilton.
Since the outside is important too, you should be decking a delightful outfit while you wait for Santa to come. For girls, picking out what to wear isn't arduous at all, as all girls should wear what they should wear all the time, a babydoll dress, a big but elegant hairbow, and ballet flats. For boys, choosing the correct clothes is much more vexing. Most boys hold the opinion that tight jeans and an ironic top are stylish. But this isn't so. Style should have meaning. Boy in the vintage Supersonics Shawn Kemp jersey, can you inform everyone who Shawn Kemp is? Are you aware that he once showed up to the Cavaliers training camp as an unacceptable fatty? No, you're not. Style, like literature, must have meaning. So, while anticipating Santa's arrival, all boys should wear a meaningful outfit, like the one that I am: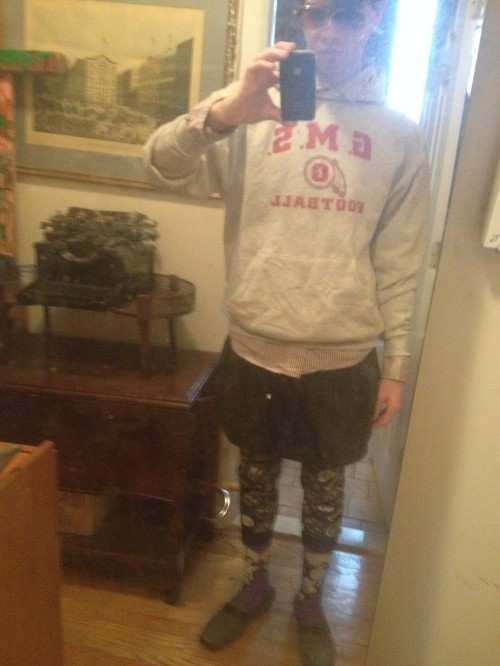 Sunnies because eyes should be kept secret.
Basketball hoodie that I stole from a friend, because basketball players are like monsters.
Purple-striped dress shirt because it's proper.
A skirt because boys should wear skirts.
Skull-and-crossbone pants because they're deathy.
Werewolf purple socks to match the purple dress shirt.
Buckled shoes because they're proper too.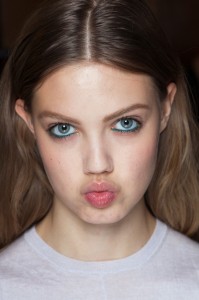 Lindsey Wixson is primarily known in the fashion industry for her unique look: her dramatic lips, playful pout and her trademark gap between her two front teeth. The public narrative Wixson and her representatives have crafted for her is a rather detailed one, even providing information about the dreams and aspirations of the young woman had she followed a different path. During her childhood Wixson wanted to follow a culinary or legal career.
Her professional goals became exclusively fashion-oriented in the brief outpour of success that occurred after Steven Meisel chose her for the cover of Italian Vogue. After the cover, Wixson was booked for two luxury brands, Prada and Miu-Miu, both as exclusives. Ever since, she is a widely recognized face and prominent model.
In an interview with WWD, Wixson discussed how she understands her path and her ascend to success. She single-handedly cites reading a Reader's Digest (RIP!) in a bathroom when she was 12 as the catalyst for her pursuit to become a model: "It was about how Bill Gates — the millionaires — got big. It was talking about how they took the chance and they took their opportunities and they took it to a whole other level."
*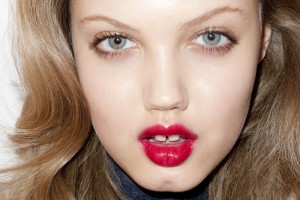 Do you ever look around at the world, noticing the people surrounding you? Wondering how they understand their existence, how their brain functions and to what degree their understanding of things is similar to yours?
I do. That is why this video-mosaic of the famous model Lindsey Wixson is possibly the most fascinating thing I have seen in the recent past. It bewilders me to see her and her responses to reporters asking her questions about her experience and opinions as she is preparing for fashion shows. Within about a minute, Wixson manages to fit these gems:
The colors today are gonna wake up. They're going to be, like, 'WAKE UP, GUYS!'
BEAAAAUUUTIFULLLL! Oh my god, look at this dress! It's Roberto Cavalli, it's crazy!
It's over the top, glamour, period-retro
I would like to become a pilot.
I feel like a woman from Mars… Obviously, I am, like, taking over the world. Pedal to the medal!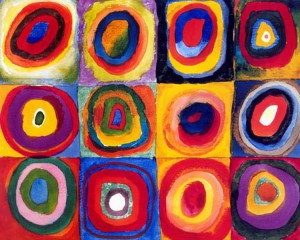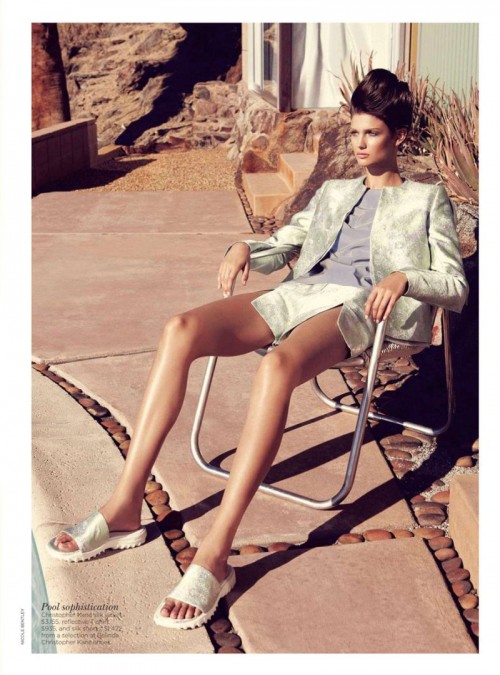 Much like Mary Tudor and Anne Boleyn, summer and I are the antithesis of amicable. I hate heat. I heat sweat. I hate seeing human skin. I hate swimming. I hate sunlight.  All of these tasteless traits are allotted a starring role in June, July, and August. Already, I want winter to come. The cold, the frost, snow, booties, mittens! Winter is sort of more elaborate than summer. While I never want to be a part of this world, (and by this world, I mean you-know-whos with you-know-what values), I really don't want to be a part of this world in the summer. Since Mary refused to recognize Anne as England's queen, I'll refuse to recognize summer. Instead, I'll read books (one, obviously, should always read books, since it's one of the utmost Christian activities), including:
FunSize&BiteSize by Ji Yoon Lee: She resembles a cute tiny kitty who everyone wants to pet, only no one actually does, since nearly everyone is aware that if you attempt to do such a thing then she'll bite you, and while that bite may not hurt much at first, eventually it'll turn into a disease much more fatal than the kind gay people get.  A preview: "Fetishize my misery / Not white American male's."
I Will Never Be Beautiful Enough to Make Us Beautiful Together by Mira Gonzalez:  She seems sad, depressed, moody, discontent, and all the other things that most anyone with any perceptiveness would be right now. She also has a rather captivating name. "Mira" is light and delicate, like a fine piece of fabric. "Gonzalez" is also the last name of the former Texas Ranger baseball player Juan Gonzalez. This All Star constantly hit home runs, which are quite dramatic. Preview: "i feel like 400 dead jellyfish in the middle of a freeway."
Lemonworld & Other Poems by Carina Finn: She's basically a modern princess (one of the poems in this book is titled "modern princess") who has come home for winter break to visit her mommy and sigh flippantly and eloquently at the whole entire universe. Carina likes yummy food (browniemix), fashion accessories, like ribbons, violence ("peace is a field of graves"), and the types of things Gertrude Stein would like — "16-year-old girl looking to buy a moustache." To spotlight her forceful mercuriality, Carina includes plentiful exclamation points, one of the most comely types of punctuation marks ever. A couplet: "don't trump the mode / there's a rabbit in the marshmallow!"
Pageant Rhymes by JonBenét Ramsey: Last summer, the cute Tumblr literary corporation Bambi Muse published Baby Adolf's Nursery Rhymes to much acclaim. Even presumed adversities (presumed, due to a certain trait) were laudatory. "Nothing to complain 'bout here," was Saul Bellow's hearty response. This summer, Bambi Muse will publish a collection of couplets by the sensational JonBenét. The verse touches on yummy victuals, fashion, and other things. A couplet: "Cheddar broccoli soup is most profound. / I was killed in my pink Barbie nightgown."
Taipei by Tao Lin: This  boy, though a straight boy, seems like a manipulative psychopath, so I'm invariably curious about his compositions.
TwERk by Latasha N. Nevada Diggs: A little bit ago, Joyelle McSweeney posted about these poems. From what I've read, they contain the qualities of a circus as well as a loud, unmitigated drag ball. Even the author's name teems with theatrics. Nevada is home to quite a few cinematic creations, like Casino (a mafia movie) and Liberace (a boy first and now a movie starring Michael Douglas and Matt Damon).
The Diary of Anne Frank by Anne Frank: I've read this book bountifully, obviously, and I will continue to do so during the summer months (and I'm not talking about the Sex and the City version either!) Caitlin Flanagan says Anne is an "imp, a brat, a narcissist, a sulker, a manipulator, a manic talker, a flirt, and a person who insisted on the rapt attention of everyone around her at one moment, and on the pure privacy that all misunderstood people demand at the next. "
Petocha/Chiflada by Monica McClure: The sharply chic Mona is publishing a bratty chapbook with wtfislongsdrugspress, a new press founded by Carina and Stephanie Berger, the princess of The Poetry Festival. It's invariably estimable when tiny, pretty girls work together on a particular project, it's kind of like an episode of The Babysitters Club.
The Bible: A ton of people are on a path to hell, but by perusing this text (not just for summer, either) they just may be able to take the trail to heaven, where Edie Sedgwick and Edith Sitwell convene tea parties.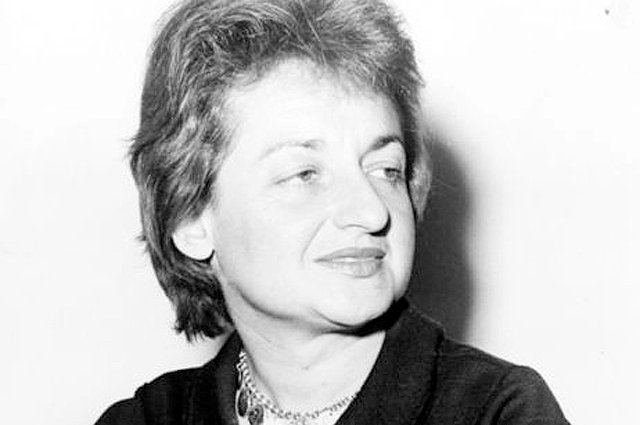 Hurricane Sandy was utterly unpleasant. She caused a lot of deaths, a ton of destruction, and a cancellation of a highly anticipated shopping excursion. There has been speculation that Sandy was once the pet rooster of second-wave feminist Betty Friedan. While these rumors have not been verified, there is no denying that Sandy was an angry animal. What Bertha did to Lord Rochester's estate, Sandy did to the tri-state area. But you don't have to descend to Sandy's savage, dimwitted level. You can take the high road (though not to Brooklyn) by dressing yourself up in dignified outfits that are also appropriate for the ever-changing circumstances that Hurricane Sandy will throw your way.
Events
&
Massive People
&
Mean
/
Comments Off

on Dressing Appropriately for Hurricane Sandy
November 6th, 2012 / 12:52 pm
Neither Mitt Romney nor Barack Obama is fit to be the president of the United States of America.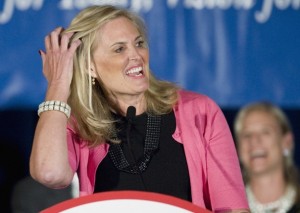 At first, my Tumblr literary corporation championed Mitt. We believed that he would cut taxes for the most moneyed Americans, thereby making it a breeze for a boy to snag a handsome millionaire so that the handsome millionaire would provide the boy with a weekly allowance that would cover straight-to-DVD Disney sequels, Snickers ice cream, and other such terrific trinkets and trucks. But, suddenly, Mitt started saying that he wouldn't cut taxes for millionaires. Indeed, Mitt has become a centrist. Even if Mitt's migration to the middle is merely a lie, it's still revolting enough for my literary corporation to withdraw its support because compromise is so awfully common (not to mention unexciting).
Now, obviously, Barack Obama could never ever earn the endorsement of my Tumblr literary corporation. Obama's trademark word is "hope." Any thoughtful boy (or girl) knows that while there is "hope," that "hope" cannot be realized on earth because "hope" has to do with heaven, which isn't on earth. Baudelaire concurs. In the first Fleurs de mal poem, Baudelaire sings fondly about being an angel in heaven. Then, in the final "Spleen" poem in Fleurs de mal (which takes place on earth) hope is conquered by anguish. Yes, being amongst postlapsarian people is tediously tiring. Yet these fallen fartsniffers are the very ones that Obama plans to assist. Obama is the antithesis of Baudelaire. Obama is calm, nice, and pragmatic. Baudelaire is catty, hyperbolic, and pretty (he spent no fewer than two hours preparing his outfit for the day). Baudelaire is a performance. Obama is a person, which is the worst thing that anyone can ever be.