Mike Young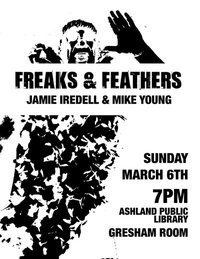 Mike Young and Jamie Iredell are flying out to the west coast today (on an airplane, I think). They want to read to people on the west coast. They are nice people. They are calling their reading tour "Freaks and Feathers." If you're on the west coast and interested, check out their reading schedule.
Pilot Books, Seattle WA (TODAY 7pm)
Ampersand, Portland OR (3/5/11 7:30pm)
Ashland Public Library, Ashland OR (3/6/11 7pm)
Rancho Parnassus, San Francisco CA (3/7/11 7pm)
John Natsoulas Gallery, Davis CA (3/8/11 8pm)
KKUP 91.5 FM, Cupertino (3/9/11 8pm)
Cal Poly, San Luis Obispo CA (3/10/11 tba)
Skylight Books, Los Angeles CA (3/12/11 5pm)
If you can, say hi! They'd like to see you too.
11. Paula Bomer book. Mike Young book. Word Riot. Pre-order special ends Dec 1. I reckon you better.
14. From Paper Cuts.
Audience Q: How do you know when you're getting better?

Lorrie Moore: Maybe you don't.

Audience Q: How do you know when you've found the right ending?

One of the Brooklyn guys named Jonathan: Maybe you don't.
5. internet stunts versus blurbs: is there a difference? (Or how do I get Tao Lin's name into this post?)
77. My computer crashed two days ago. Do you back up your writing? How and how many times? Any horror stories like when Hadley lost all of Hem's stories on the train, etc?
Dennis Cooper said (our own) Mike Young's collection of poetry, We Are All Good if They Try Hard Enough, is an absolute stunner, and that even though they're just great poems, he "can't think of a paragraph anywhere that can match them for style or cover their emotional distance."
One element of the emotionality of Mike's poems, which is evident from the funny but sincere video I've posted below the fold, is his interest in the way humans communicate and miscommunicate. The book's epigraph is from Martin Buber, after all, and says, "When they sang of what they had thus named, they still meant You."
I'll be giving away three copies of Mike's book. To win one, leave a comment below describing a miscommunication that was funny or ended up with a positive outcome, or just anything about a miscommunication. Mike and I will select three winners based on a complicated set of guidelines this Friday, so please make sure to leave a way I can get in touch with you.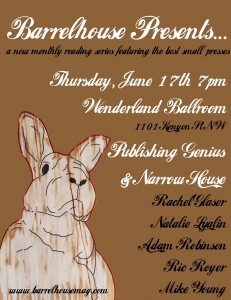 East of the Mississippi? You won't want to miss the Glaser/Lyalin/Young tour that's ravaging the right side of the map.
6/16 – Philly
6/17 – DC
6/18 – Richmond
6/21 – Atlanta
6/22 – Durham
6/24 – Baltimore

Get all the dates and links and stuff from Mike's blog.
That DC reading is an exciting one – it will be the first in the new series from Barrelhouse. The concept is to feature presses/journals, not just individual writers. That is a sensible way to create a good reading; if the publisher has a good aesthetic, the reading will showcase their authors and the event will make good flow. Future presses with Barrelhouse readings coming up include Dzanc, Rose Metal, and Artifice. This one on June 17 (this Thursday) features Publishing Genius and, now in their 7th year, Narrow House (click for a SICK 7th year special offer — 7 things for the price of 1).
–  Jackie Corley's Word Riot Press, which published Midnight Picnic by me, just announced that they're going to be publishing collections of short stories by the excellent Paula Bomer, former HTMLGIANT contributor and good friend of mine (here's a short story by Paula called "A Galloping Infection") and the excellent Mike Young, editor of NOO Journal and also a good friend of mine (here's a short story by Mike called "Ten Gallon Bucket of Fries").
–  New story by I. Fontana at Spork.
–  I was walking through the grass today and saw a black snake as long as my arm but as thin as a pencil go slithering right in front of me.
–  A huge pink-eyed white cat was yowling under my window at dawn.
–  Did you read Outliers by Malcolm Gladwell?  I read it on a plane.  It made me think I can never be successful.
–  I can't wait to read The Pregnant Widow by Martin Amis.  (Great title.)  I get the feeling most of my literary peers don't like Amis much.