philip roth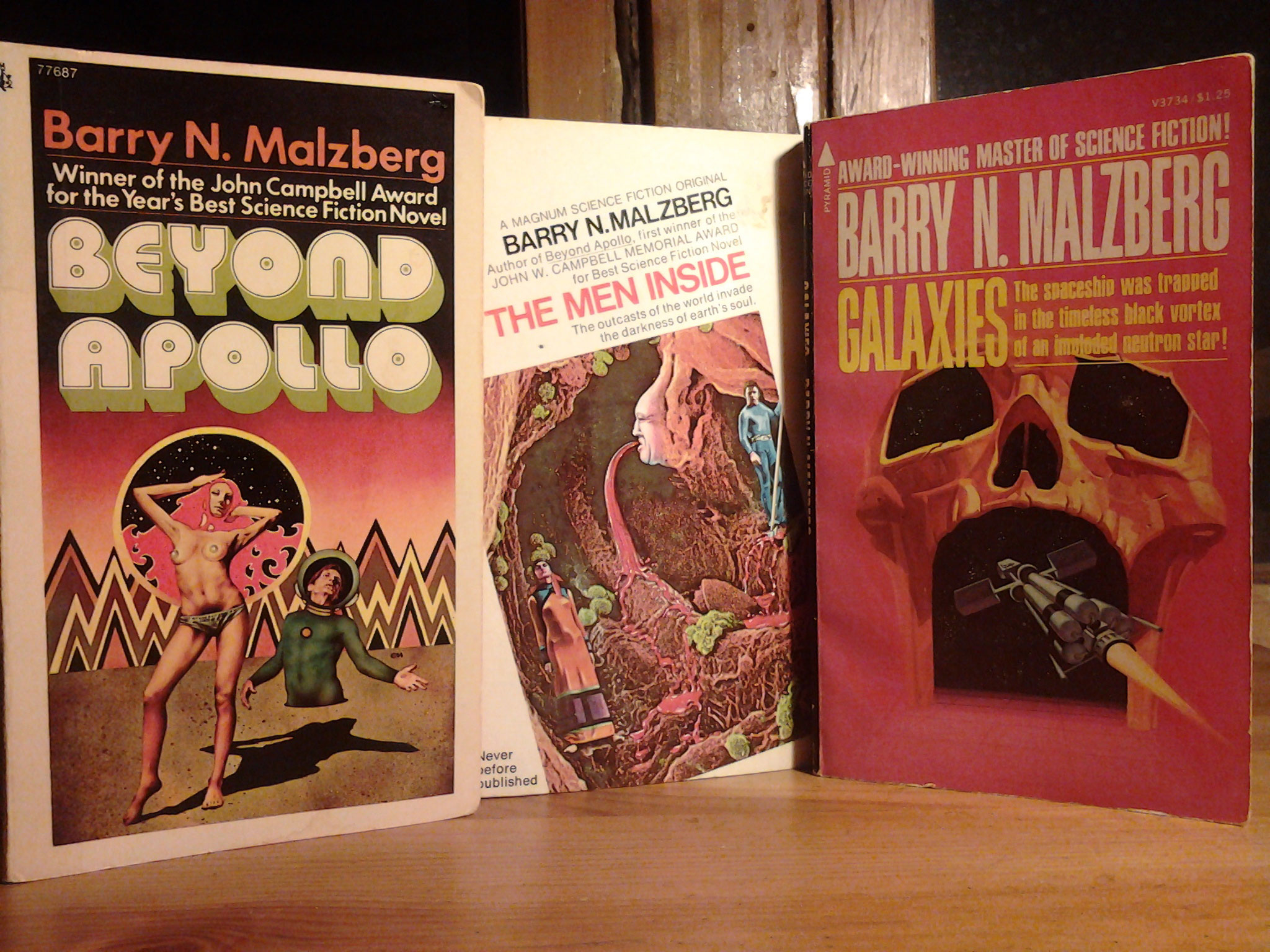 Beyond Apollo | 1972, Random House | 156 pages
The Men Inside | 1973, Prestige Books | 175 pages
Galaxies | 1975, Pyramid Books | 128 pages
(Note: all three of these books are out of print, but cheap used copies can be found. In Chicago, I bought Beyond Apollo for $2.95 at Myopic Books (in Wicker Park) and The Men Inside for $3 at Bucket O' Blood Books and Records (Logan Square). Galaxies I purchased used through Amazon for $1.25 + s/h.)
1. On 15 August 2011, my pal Jeremy M. Davies emailed me and said that I should look for a book called Galaxies by Barry N. Malzberg because it was "seriously beyond belief."
I'm ashamed to say it took me until earlier this year to pick up a copy and read it. However, once I got started, I finished it under 24 hours.
2. Barry N. Malzberg was born in 1939. Since 1968, he's written at least 66 books, if not more. (He's worked under ten different names that I know of, which complicates compiling a full list.) Dozens of them are science-fiction novels—at least in theory. He's also written story collections, essay collections, movie novelizations, crime novels, and pornography.
3. Galaxies (1975) at first glance tells the story of a young astronaut, Lena Thomas, the sole crew member of the spaceship Skipstone. Her cargo is an immense tank of goo filled with 515 human corpses. It's the year 3902 and a person can pay to have his/her body ferried into space after death in the hopes that cosmic radiation will revive them.
Midway through the voyage, the Skipstone falls into a black hole, and the majority of the novel's plot deals with Lena's attempt to escape the ensuing hallucinatory free fall. During that timeless time she repeatedly dies and is reborn, recalls her lover John, consults with cyborg engineers, and communes with the dead, who have psychically reawakened.
But that's not really what Galaxies is about.
4. Rather, Galaxies is a work of metafiction, concerned with its own creation, and presented as Malzberg's notes on how he would write the novel Galaxies, if only he could. (He maintains that the novel is impossible to complete with present knowledge.) As such, most scenes are outlined rather than dramatically depicted. For instance, Chapter 29 begins:
And here could run yet another moody flashback concerning Lena's relationship with John, dropped in to provide color and poignance, augmenting the mood of despair. Long sexual passages here could alternate with painful streams of consciousness in the present. Sex and space, orgasm and isolation could run counterpoint, and the author's gifts for irony, which are not modest, would be exhibited to their fullest range. Also, in the traditions of modern science fiction, the sex scenes could be quite titillating, render the novel some extraliterary interest. A construct like this could use all the extraliterary interest it could get.
But even that's not really what Galaxies is about.
6. Rather, Galaxies is about what science-fiction should look like in the year 1975. Malzberg is surveying contemporary literature and asking: How should science-fiction respond to the then-recent literary experiments of John Cheever, John Barth, Donald Barthelme, Joyce Carol Oates, Philip Roth, and others?
7. I'm not making this up. On page 48 Malzberg writes:
For instance, as the ship falls, there could be some elaboration on the suggestion that neutron stars might be pulsars which would be most intriguing, if the reader has not been intrigued sufficiently by the notion that all of "life" as we understand it when we glimpse the heavens may be merely an incidental by-product of the cycle of neutron stars.

So there, Cheever, Barth, Barthelme, Oates. What in the collected works would touch that for angst?
8. Malzberg calls those authors out again on page 85:
"Madness," Lena says, shaking her head, "that's utter madness," but the author, busily pulling the handles of this little dumb show, sweating behind the canvas, casting a nearsighted, astigmatic eye every now and then through the cardboard of the set to see whether the audience is paying attention, how the audience is taking all of this, is thinking take that Barth, Barthelme, Roth, or Oates! Pace Bellow and Malamud, and may your Guggenheims multiply, but what have any of you or those unnamed created to compare with this?
9. If I haven't convinced you yet to spend $2–3 on a used copy of Galaxies, you might as well quit reading now.
[series note: This post is the third of five, in a week-long series examining  first sentences or paragraphs. It's not my intention to be prescriptive about what kinds of first sentences writers ought to be writing. Instead, I hope to simply take a look at five sets of first sentences for the purpose of thinking about how they introduce the reader to the story or novel to which they belong. I plan to post them without commentary, as one might post a photograph or painting, and open up the comment threads to your observations as readers. Some questions that interest me and might interest you include: 1. How is the first sentence (or paragraph -- I'll include some of those, too, since some first sentences require the next few sentences to even be available for this kind of analysis) interesting or not interesting on grounds of language? 2. Does the first sentence introduce any particular (or general feeling of) trouble or conflict or dissonance or tension into the story that makes the reader want to keep reading? 3. Does the first sentence do anything to immerse the reader in the donnee, the ground rules, the world of the story, those orienting questions such as who speaks, when and where are we in space and time, etc.? 4. Since the first sentence, in the wild, doesn't exist in the contextless manner in which I've presented these, in what kinds of ways does examining them like this create false ideas about the uses and functions of first sentences? What kinds of things ought first sentences be doing? What kinds of things do first sentences not do often enough? (It seems likely to me that you will have competing ideas about first sentences. Please offer them here. Every idea or observation gets our good attention.) The sentence/paragraph sets we've been or will be observing: 1. first sentences from Mary Miller's Big World; 2. first sentences from physically large novels; 3. the first sentences from every book written by Philip Roth; 4. first sentences from the Norton Anthology of Short Fiction; 5. first sentences from Best European Fiction 2010.]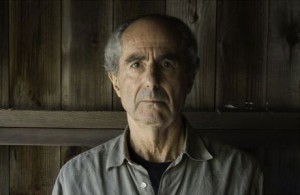 The first time I saw Brenda she asked me to hold her glasses.
- Goodbye, Columbus
Dear Gabe, The drugs help me bend my fingers around a pen. READ MORE >
Coetzee, J.M. Disgrace. New York: Viking, 1999.
Acts: 3.
Chapters: 24.
Chapters per Act: 8.
Pages per Chapter: 8-10. READ MORE >
I had- and still have, but that's another post- a huge crush on Philip Roth. Look how hot he was. In an earlier brief post (click here), I touched on a certain artist's need to embarrass herself. I often feel the same. I think Roth did, too. Perhaps it's a youthful impulse. Regardless, I believe Roth has three masterpieces (One which is actually four books): Zuckerman Bound (which consists of The Ghost Writer, Zuckerman Unbound, The Anatomy Lesson and The Prague Orgy ), Sabbath's Theater and American Pastoral. (Oh, And possibly The Counterlife goes in there too.) READ MORE >