samuel beckett
This weekend (October 8th & 9th), Chicago's Music Box Theatre is screening Monte Hellman and Rudy Wurlitzer's 1971 masterpiece Two-Lane Blacktop. Long overlooked, Two-Lane has for the past five years or so been enjoying a critical renaissance, and is increasingly regarded as one of the greatest films of the '70s. (Click here to read some of my own thoughts on it.) And right now is an especially opportune time to see it, what with its grandchild Drive currently killing things in theaters.
There are two screenings, one Saturday, one Sunday, each at 11:30 AM. I'll be attending the Saturday 11:30 AM show. Anyone care to join me? The movie is 102 minutes long and I was thinking we could grab a coffee afterward, before peeling out onto our nation's highways.
(Yes, Two-Lane Blacktop really does star James Taylor and Dennis Wilson—in their only film roles! No, they don't sing, nor is any of their music used in the movie. Yes, they're both incredible—though it's Oates who really steals the show.)
… And here's Chicago Reader contributor Ben Sachs's Cine-File write-up: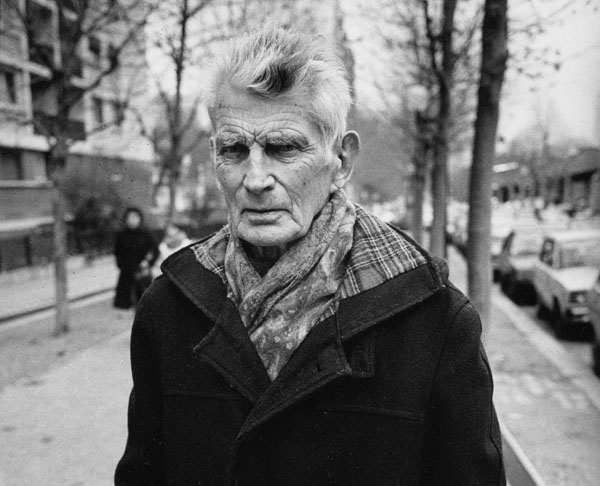 Opening my notebook the morning after a night of woozy ambien scribbling is like opening a present: you never know what's inside. Today there was a note that said, "Beckett—101-2. Shit genre."
Here is the passage I noted. It's from Samuel Beckett's first play Eleuthéria, which was disowned by the Beckett Estate.
Dr. Piouk: What does he do?
Mme. Meck: (With pride) He is a man of letters.
Dr. Piouk: You don't say! (Enter M. Krap. He reaches his armchair and cautiously sits down)
M. Krap: You were saying nice things about me, I feel it.
Mme. Meck: There isn't anything the matter with her?
M. Krap: She is unharmed.
Mme. Meck: She is coming?
M. Krap: She's getting ready for that.
Mme. Piouk: There was a time when you were unaffected.
M. Krap: At the cost of what artifice!
Dr. Piouk: You are a writer, Monsieur?
M. Krap: What gives you leave to–
Dr. Piouk: It can be felt in the way you express yourself.
Mme. Piouk: Where has she been?
Mme. Meck: She is going to tell us.
M. Krap: I will be frank with you. I was a writer.
Mme. Meck: He is a member of the Institute!
M. Krap: What did I tell you.
Dr. Piouk: What genre?
M. Krap: I don't follow you.
Dr. Piouk: I speak of your writings. Your preferences were for what genre?
M. Krap: For the shit genre.
Mme. Piouk: Really.
Dr. Piouk: Poetry or prose?
M. Krap: One day the former, another day the latter.
Dr. Piouk: And you now deem your body of work to be complete?
M. Krap: The lord has flushed me out.
Dr. Piouk: A small book of memoirs does not tempt you?
M. Krap: That would spoil the death throes.
Mme. Meck: Admit that this is a bizarre way to treat guests.
Mlle. Skunk: Extremely odd.
The shit genre. I love that. I'm stealing that. Whenever someone asks me what genre I prefer I will tell them, "The shit genre, of course." You've never heard of it? You must not know much about literature. (Like Beckett's characters, I sometimes fantasize about getting sassy with "legitimate" types….)
Seems like someone said something somewhere about 3D books happening in about 3 years…well, it looks like these "Between Page & Screen" folks have got it going on right now!!
Have you ever checked out textsound: an online publication of sound? Their mission: "Our mission is to bring together a range of experimental soundworks from the U.S. and abroad."
According to some dubious organization called Online PhD Programs, here are The Top Literary Studies Blogs of 2010
You gotta check out the Philoctetes Center: The Multidisciplinary Study of Imagination, which has nearly 200 videos spanning all kinds of interesting things…
Here's one example:
"I'll Go On: An Afternoon of Samuel Beckett"
Roundtable discussion with
Edward Albee, Tom Bishop, Alvin Epstein, Lois Oppenheim, and John Turturro
httpv://www.youtube.com/watch?v=u5UF2-2kqaw&feature=channel
[For the full performance, plus an intro by Whitelaw, as well as the text transcribed, see Ubu]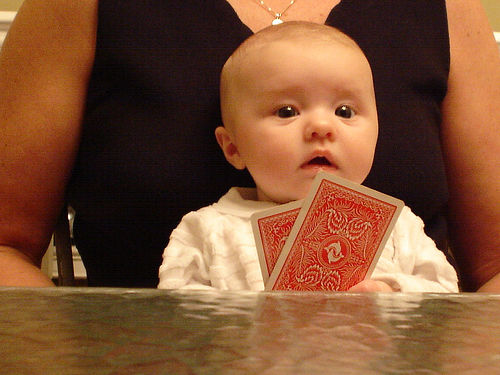 Many poker players will tell you that every hand is a story. In hold em, the four rounds of betting, the exposed community cards (given to the table in a set of three, then one more, then one more), and your two hole cards, are simply a skeletonic structure around which your action (the bet, the posture, the air around the table, speech, eyes) often are the body of what occurs. Many hands of poker fail to develop into powerful hands (i.e. both players have something but often not the nuts), thus the money frequently tends toward the player that can best present himself in a light that makes him seem provocative, working, putting fear in the other player. It becomes a question of who can tell the most believable story: if I believe that you have me crushed, and I acquiesce, it does not matter what you actually have.
The best poker players in the world, then, aren't those who catch the most cards (as over time fate levels all), but those who are the most effective in masking their weakness, and exposing the weakness of the other. One of the biggest mistakes a neophyte makes when bluffing is failing to make their bluff make sense: they simply push hard, thinking that it is sheer aggression, and not calculated stories, images, that win pots. A common basic tactic of bluffing against a hand that had been strong early in the story is to bet "scare cards," such as cards that complete a flush or straight draw, or betting an ace on the river when the high card had been a queen before. Betting as if the scare card completed your drawing hand, whether it does or not, can be enough to make weaker player fold. When scare cards don't come, late bluffing is more easily picked off, as it is harder to give a player credit for a hand.
At higher levels, though, players are more aware of the tactics of storytelling. They are also aware that you are aware of them being aware, so the levels of who is representing what when and what do they think you think are constantly in flux, making high level poker play sometimes as exciting on a visceral level as writing that takes risks (both making it, and consuming it). There is a mash up of gut instinct, rational odds, emotional texture, board texture, physical surroundings (what do the opponent's shoulders tell you about his or her hand? what do his or her eyes? how the chips are moved? the breathing. etc., not to mention the retro-image of what each player did three hours ago, three months ago, three years, up to right now), together create a continuity of immediate and retroactive value which in sum creates an environment to be processed, reacted to, explored, and yet is as cut and dry on the base level as a sentence printed on a page. Great players can seem as if they know exactly what you are holding in the midst of a hand. The greatest players go even beyond that, as if they not only see your hand, but now will draw you down another leg of the story, cause affect to you, do you some kind of rupture. Certain kinds of play, beyond money, can affect your spirit, your persona. A great session of poker, like an exceptionally great text, can make or break your month or year.
I like Beckett, and I like good design, but I don't like these Beckett book covers: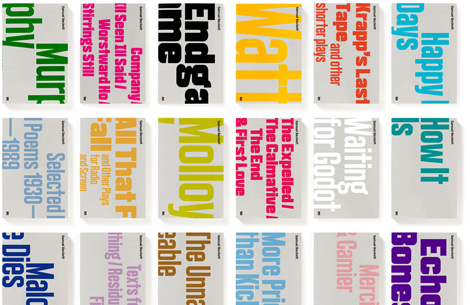 (Click here and scroll to see them bigger at the site of their designer, A2/SW/HK.) These futuristic blocks don't seem to bear out that modern chestnut at all. Am I right or am I right?