June 2013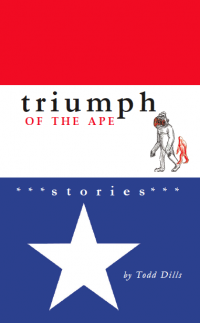 Triumph of the Ape
by Todd Dills
THE2NDHAND, 2013
150 pages / $12 Buy from Amazon or Kickstarter
Rating: 7.5
The Kickstarter campaign for Todd Dills's new book asks participants to "fund the printing of this book of 14 collected short stories, from literary New South yarn to end-of-days dirge." This got me thinking about the New South.
My hometown is frequently called "the Gateway to the New South," but what does that mean? Is it an effort to banish stereotypes of the decidedly racist and agrarian past? The term "New South" brings to my mind a group of self-indulgent, cultured men and women—the type that have subscribed to Oxford American for 15+ years, who have serious opinions about barbecue and shrimp and grits, and who have read every William Gay and Cormac McCarthy novel twice through, but have never given Joy Williams more than a lingering glance. Could this stereotype form the criterion for Southern citizenship as well? If so, even I, a second generation Tennesseean, fail the test. READ MORE >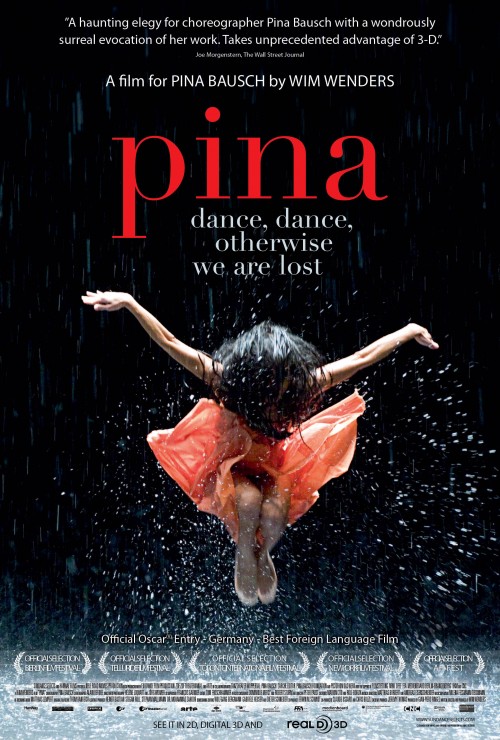 *******
Pina, the movie, Wim Wenders' movie, about Pina Bausch, the German dancer and choreographer, is a beautiful and strange thing about which much has been said– and I'm going, here, to put my 2 cents into the conversation regarding the inhumanity of the "characters" in the performances; the heavily-emphasized "cult" aspect of Pina and her dancer/followers; and, lastly, the fact that the movie, for all its strangeness, all its ability to jar, alienate and electrify seems to be a tamer and lesser version of what it could have been.
(It's worth noting, also, that Pina died, unexpectedly, two days before production was set to have begun). READ MORE >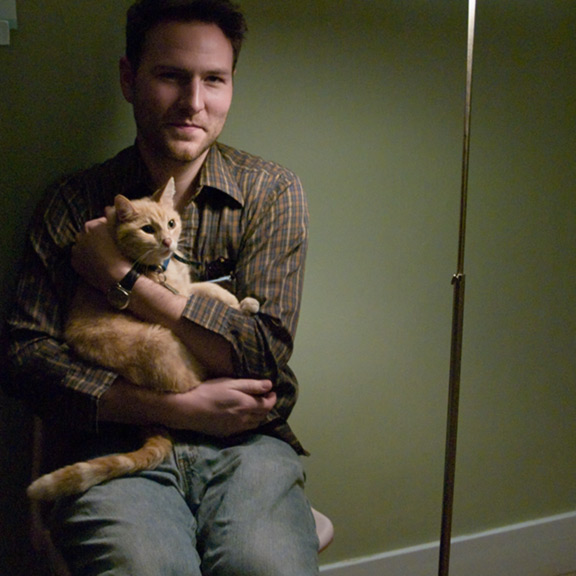 We get a ton of books for review consideration on my desk for The Volta. Even though we tried to run weekly reviews for a year, that still didn't seem to touch anything but the best stuff off the top. So, I've pulled out a dozen or so that I'm really excited to read this summer: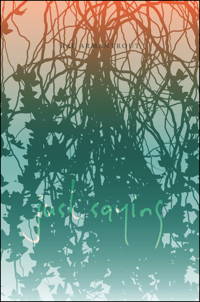 Rae Armantrout's Just Saying is the follow-up to the follow-up to Armantrout's Pulitzer Prize winner, so I won't be surprised if it gets less attention than Versed or Money Shot—though it shouldn't. I'm halfway through it, and it's just as good:
A woman writes to ask
how far along I am
with my apocalypse
What will you give me
if I tell?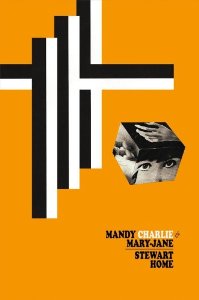 A Ring of Sunshine Around the Moon
by the Students of the Academic Leadership Community
Foreword by Paul Feig
826LA, June 2012
175 pages / $15  Buy from 826LA
&
Mandy, Charlie & Mary-Jane
by Stewart Home
Penny-Ante Editions, 2013
252 pages / $18.95  Buy from Penny-Ante Editions or Amazon
One of the most comic aspects of today's debate surrounding education and its so-called "reform" is the minimal to nonexistent degree to which the research literature plays in shaping public policy. We have a particularly weird situation in the United States where it was not that long ago when Republican presidential candidates promised, if elected, to obliterate the Department of Education and abolish bilingual support for English Language Learners (ELLs). Is the Tea Party aware of the up to 150 empirical studies during the past 30 years that have detailed a positive link between bilingualism and students' academic growth? And on the opposite side of the aisle, we have no less weirdly President Obama increasingly citing Race to the Top and South Korea, a nation of test prep factories, as the exemplar model for the United States.  How many of our current political leaders are aware of the fact that there simply are no strong indicators for standardized testings' efficacy? If anything, recent research shows that high-stakes testing actually hinders student growth.
It is precisely against this educational deadlock that I've been inspired to use Stewart Home's many texts and pamphlets to promote students' language acquisition. Though certain of my colleagues have perceived Home's work as too obscure and difficult for "at risk" ESL students and English learners of low socioeconomic status, I have found that books like 69 Things to Do With a Dead Princess and Tainted Love are the ideal means of heightening student motivation and introducing academic language into a stale curriculum. After all, what teenager, "at risk" or otherwise, isn't interested in sex and music? I've recently learned, to my surprise, that I am not the first to use the South London born enfant terrible for second language purposes; Tosh Berman's Japan-born wife used Home's The Assault On Culture to learn English. As a fond student of USC's language acquisition expert Stephen Krashen, this comes as no surprise. According to Krashen the one and only task for the language instructor, other than making the lessons comprehensible, is to make the language content interesting. Recently he has even gone as far as to assert that it is not enough to simply make the lessons interesting, the language content must be startlingly compelling, in a word – profound.
Enter Mandy, Charlie, and Mary-Jane.  Not unlike Mark Norris' novel Art School, Home's newest anti-novel captures the giddy wanderlust of campus life and the heady brew of incompatible concepts and referential chains in those schools where theory has some kind of impact. Though critics and fans alike have been drawn to the nihilistic and morally depraved acts of the main character Charlie, a psychotic cultural studies lecturer who frames a student for arson and detonates a bomb in the immediate aftermath of the 7/7 terrorist attack in London, Mandy, Charlie & Mary-Jane serves a critical function for my college-bound "ESL/English learner" students who are rebuked daily by educational stakeholders on the importance of college as a panacea for all of their economic ills and social difficulties. As Home himself acknowledged in a recent interview with Michael Roth, "[O]bviously universities are basically there to turn people into zombies – so that they can become trusted functionaries of the capitalist system. That said, we all reproduce our own alienation under capitalism, so I'm not saying that people shouldn't attend or work in universities, just that we should be aware that they are about conformism and anyone who claims that higher education has very much to do with intellectual growth and development is either an idiot or an apologist for capitalism."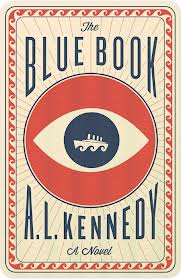 The Blue Book
by A.L. Kennedy
Little A  / New Harvest, March 2013
352 pages / $25  Buy from Amazon
In a New Yorker essay titled, "Everything Is Fiction," Irish author Keith Ridgway persuasively argues that, well, everything is fiction:
I love getting lectures about the triviality of fiction, the triviality of making things up. As if that wasn't what all of us do, all day long, all life long. Fiction gives us everything. It gives us our memories, our understanding, our insight, our lives. We use it to invent ourselves and others. We use it to feel change and sadness and hope and love and to tell each other about ourselves. And we all, it turns out, know how to do it.
Transparency is ironically pivotal to A.L. Kennedy's latest novel, The Blue Book, a work riddled with deception. Its two main characters, Beth and Arthur, are scam artists guilty of conning people into believing they can contact the dead. As if to counterbalance the lies, codes, games, and fraud laced throughout the novel, Kennedy tells readers from the outset—in a direct address—that, here, this is a book, "your book." She goes on to write, "It moves for you, this book, and it will always show you all it can." The wild, wonderful sense follows that nothing is held back—not by the characters or by Kennedy. Kennedy is like a magician revealing the how of her tricks, but also insisting on the why and the nonetheless magic:
All fucking stories: what makes us nice, what makes us talk, what lets us recognize ourselves, touch others, be touched ourselves, trust loves—the fucking stories.
And they're what works the magic: the hard-core, bone-deep, fingers in your pages and wearing your skin and fucking you magic—that magic. Inside and out.
Comments Off

on A.L. Kennedy's The Blue Book: Fucks Body & Mind
June 24th, 2013 / 11:00 am
What caused this great decline? We can point to the disappearances of older class and power structures. The decline of the church, the aristocracy, the bourgeoisie—those great foils of Modernist energies—have dissolved. Like Kant's dove in free flight cutting through the air, the writer needs to feel a kind of resistance on the part of Literature, needs to work against something even as it struggles for something. And what is there to work against when there's no one left to antagonise? We could speak of globalisation, of the incorporation of the whole planet into the world market, which has the effect of weakening of past cultural forms and national literatures. We notice the ascension of the individual to a place where idiosyncrasy itself becomes commonplace, where the self, the soul, the heart, and the mind are demographic jargon. There is little sense of a tradition to wrestle with—no agon of authorship that we associate with the writers of the past. We could point to the populism of contemporary culture, to the dissolution of older boundaries between high and low art, and to a weakening of our suspicions about the market. Writers now work in concert with capitalism, rather than setting themselves against it. You're nothing unless you sell, unless your name is known, unless scores of admirers turn up at your book signings. We could also point to the banality of liberal democracies: by tolerating everything, by incorporating everything, our political system licenses nothing. Art was once oppositional, but now it is consumed by the cultural apparatus, and seriousness itself reduces itself into a kind of kitsch for generations X, Y and Z. We have not run out of things to be serious about—our atmosphere boils, our reservoirs of water go dry, our political dynamic dares our ingenuity to permit catastrophe—but the literary means to register tragedy have exhausted themselves. Globalisation has flattened Literature into a million niche markets, and prose has become another product: pleasurable, notable, exquisite, laborious, respected, but always small. No poem will ferment revolution, no novel challenges reality, not anymore.
—Lars Iyer, NUDE IN YOUR HOT TUB, FACING THE ABYSS (A LITERARY MANIFESTO AFTER THE END OF LITERATURE AND MANIFESTOS)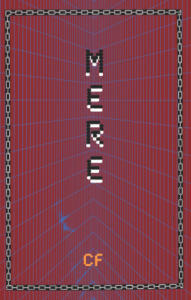 MERE by CF
PictureBox Inc., 2013
180 Pages / $19.95 Buy From PictureBox
The latest CF volume from PictureBox, MERE offers a collection of 9 zines & a handful of Twitter comics that CF drew & produced throughout 2012. While it's not as masterful as either CF's story in Kramer's Ergot 8, nor is it as complex and beautiful as the on-going POWR MASTRS series, it's a welcome diversion and a nice stepping stone on the path of CF's career.
There's a distinct symbiosis in CF's zines of both genre aesthetics found in euro-comix of the 70s & 80s along with a messiness that's present in art brut & a casual culture of creation without perfection–this combination amounts to something very interesting. While there are, ostensibly, 'narratives' hidden throughout the volume, they refuse to develop in an articulated, followable fashion. Rather, CF insists upon simply presenting elements of a narrative, frames that seem like they're out of order or missing important transitions, in order to present a structured chaos. Each zine seems to grow out of the former without any connecting thread.
The volume is organized not chronological, but rather in a fashion that gives a flow to the disjunctive zines. Printed monochromatically on beautiful pale paper, the volume has a great object-hood to it, a book art object even. A design object to be admired. But, luckily, for those who actually like to read books instead of just admiring their design, the content is at times hilarious, at times confusing, and always fascinating.
Nicole Rudick's introduction to the volume paints a picture that leads to Benjamin's ideas of the technological reproducability of art. It's true, in a sense, that the zines the volume holds can and (arguably) should be reproduced over and over again, the machinic-entropy pushing further and further into the Rorschach like blur of toner onto a page, but ultimately there's a heart to CF's work that absolves any instability due to an often considered 'out-moded' form of technology, the photocopier.
While there's not as much of an objective coherency in the volume as there was in the stand-alone zine, CITY-HUNTER, much of what I noted of CITY-HUNTER can be applied to the zines found within. The character of Main Dice, introduced in CITY-HUNTER, pops up again and again in various genre permutations, often pitted against a figured named Ven, sometimes to be killed, other times to be changed, but always to be dynamic. In addition to the brief (a-)narrative comic fragments, the volume is also filled with drawings, studies, sketches, all offered in CF's simultaneously shaky & controlled hand.
A true joy to read and experience, to dip in and out of at will, CF's MERE offers insight into the working praxis of one of the most interesting comic artists making work today.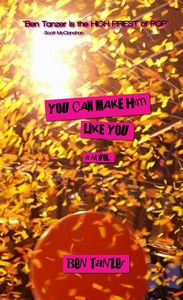 You Can Make Him Like You 
by Ben Tanzer
Artistically Declined Press, 2011
222 pages / $12  Buy from Amazon or Artistically Declined
Ben Tanzer's You Can Make Him Like You bursts off the opening page with an intense stream of prose swathed in Hold Steady songs. The thirty-something narrator, Keith, is frenetic with lust and desires, and he also wants to have sex with his wife more often. Terse sentences spit out observations that meander between pithy and neurotically self-conscious. When confronted with an attractive intern who seems to be flirting with him, he wonders: "Why did I mention my wife. Why wouldn't I mention her? The intern twirls her hair a little. Fuck, twirling hair is not good. Not good."
Self-delusion isn't a foible Keith suffers from. Self-analysis is as it paralyzes his actions. His candor is inimitable and torturously funny. Uncertainty mars every decision, particularly fidelity. Even as he fantasizes about other women, when given the chance to actually stray, he remains faithful to his wife, Liz. It doesn't mean he isn't impervious to temptation, as with the love of his life in high school who throws herself at him, or a neighbor who is aspiring to be a singer at Disneyland and invites him in. "It's like bad porn, or worse, some masturbatory fantasy of mine where hot, barely dressed Opera singing neighbor comes to the door and says she has something for me before inviting me in." After following her in, she offers him a gift. "'They're Mickey Mouse coffee mugs, one for you and one for your wife. They're really cute and when I saw them I knew they were perfect.'" To which he mentally responds: "She definitely does not want to fuck. I am mostly relieved, though more than anything I realize that I am done, really done, getting myself into these situations. It's not cool anymore. It never really was."
Keith finds parallels to his life in popular TV shows like Mad Men and the Shield. The pop references become his lens through which he makes sense of his striving to be both a "human" and an "adult." Even if you might not know a specific reference, the meaning is clear, as when he's talking about a boy crush on Don Draper and how "doughy everyone is at those conventions on Real Sex." Unlike the suave Don Draper or the savage Vic Mackey though, Keith isn't as direct in his relationships and often tries to avoid confrontation. There's a funny arc involving different neighbors because their apartment walls are so thin and they can hear everything next door. His wife wants him to talk to the loud neighbors, and because a stream of them moves in and out, they tease, titillate, annoy, irritate, frighten, and finally empathize. Empathy is a big part of why You Can Make Him Like You sucks you into the story. As Keith struggles with his work, his wandering eye, and Liz's desire for a baby, Tanzer recreates the chaotic mumblings of the mind with its narcissism, longings, self-conscious doubts, joys, and moments of self-realization that also end in self-disgust: "It's funny what envy looks like when you're caught in the middle of it. It's ugly and distorted, like the way your reflection gets warped on the side of a sweaty drink. It's not you, but it is a part of you, the worst part, the weakest, least thoughtful, most irrational you, that for the most part you get to keep hidden until the moment it overwhelms your usual ability to filter out your more negative thoughts."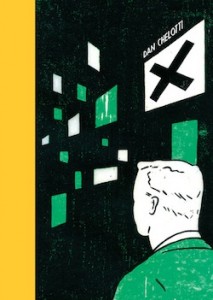 X
by Dan Chelotti
McSweeney's, 2013
82 pages / $20  Buy from McSweeney's or Amazon

Equidistance is a matter of perspective. The Say It with Writing salon where I found Dan Chelotti's debut poetry collection X is located midway between the rising North Avenue Arts District and Baltimore's shabbily-mortared potter's cemetery. Chelotti's row house poetry is right at home between art and death. Short, but with a long back; and bald, but with a yarmulke of hair on his crown, the round-faced Chelotti is also a greedy one for transition words: I was thinking this, but then that happened. Welcome to the X. It's what horse people call a cross, and what Italian horse people call a cavaletti. It's the Bowie Knife mark you cut to suck the venom from a snake bite. It's the way you remember where you buried those doubloons. It's the man who preached about getting active against a context that won't budge.
Like an associative poet, Chelotti uses more images than statements, but two thirds into most of his poems he places a hinged joint, a transition, and he uses very different associations to get out of the poem. "Thoughts over Foreign Sandwich" begins with a Swedish uncle cooing over the speaker. The speaker identifies with the "elderly contortionist" and wonders if he could have a new name, a Swedish name, "I would be Per. / And being Per, I would / adore calculus." At the point where the poem is almost becoming too precious, Chelotti bangs us with his transition: "But dammit, / I don't love calculus, / I don't even know / what calculus is." The poem argues against mere concepts, "My desk is a trap / into which I fall— / hands first" in favor of something more sensual.
Chelotti's hinges are subtle. Most of his transitions would be lost in poems with stanza breaks, which may explain why he doesn't have any. X contains sixty-two poems on seventy-nine pages without a single instance of "meanwhile, back at the ranch" or "let me come at this again" which a new stanza offers. Chelotti doesn't even put his poems into sections so that the reader has a place to rest and absorb the arcs. Why? Because there are no arcs. These poems are one endless link of boxcars on a train that doesn't have a whistle or a peg of rust. Chelotti's writing is clean and tidy enough to pull this off. Consider the opening third of "Augury":
The birds have always
been there to point out
the axles of my carousels,
to let the dead know
what I'm up to.
Take the day
I stuffed my car with boxes.
I was very sad. I thought,
if only someone could
remind me how to feel.
I got in, started to drive
and a swallow flew
off the back of my head.
Here, Chelotti wrestles with old adversaries—intellect and emotion—before finding his way to an irrational, but believable conclusion. The pace is slowed down; he doesn't like to get out of second gear in any of these poems so that in spite of each poem feeling like a tiny apartment the reader isn't constantly fiddling with his oxygen tank to get more air.