gary lutz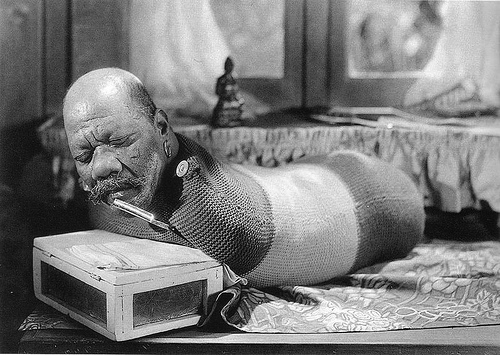 1. Excellent profile by Michael H. Miller on the excellent Meeks, by Julia Holmes, at the Observer.
2. This dude owns 700 copies of a book called Two Years Before the Mast by Richard Henry Dana. What book do you own the most copies of? [via Electric Lit via Ron Silliman]
3. Brief but pleasant list of quality of Gary Lutz's writing, blogged by Ryan Kamstra. "For all the self-referential wizardry and playfulness with the expectation of the sentence overpowering his work, his fiction is tempered by deep human concern. It is also very sad."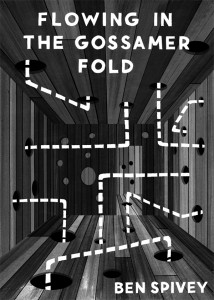 Introducing Blue Square Press, who will release their first title, Ben Spivey's Flowing In The Gossamer Fold, in August.
Here's what Gary Lutz said about it: "Ben Spivey's alluringly melodial debut novel of a marriage gone asunder unreels itself with the indisputable logic of dreams and delivers, along its phantasmagoric and dazing way, emotional clarities that feel entirely new."
I hate this quote from Janet Burroway: "Novelists and short-story writers are not under the same obligation as poets to reinforce sense with sound." I don't think she understands what Andy Devine does: "Words have acoustical qualities that resonate with being human."
Fiction begins with language, which is an acoustical occasion. The fiction writer who writes with acoustics uses a kind of close attention. It's looking hard at the sentence until it opens up. It's feeling around between words until you find spaces that require new words, new beats. It's beyond semantics (though it still depends on sense). It's recognizing the recurring sounds and using them to rewrite a sentence. Maybe the first word in the sentence has a long-o sound in it and the sentence will feel finished if it ends with another word with another long-o sound in it, say, smoke. Maybe the fact that that sentence ends with a hard-k leads to the next sentence beginning with another hard-k sound, so the consonants run together and there isn't any space between the sentences, not even really a pause, and then all of a sudden the narrative speeds up in a way that feels thrilling and there's a fire and that story never would have happened if the fiction writer weren't working with the acoustics. Working with acoustics, it's a different way to find the right word, or the right place for the right word. It's a different way to write or revise a sentence or a group of sentences. I like the compositional nature of it.
The fiction can sound however you want it to sound, but it's figuring out what those things are for you, or for the piece you're working on, and then using those sounds to make something happen in the fiction, even if it's something that the reader only feels and doesn't quite know why. I know writers who are partial to glottal stops and other percussive consonants. I know writers who like the liquid consonants and sibilance. And I know one very particular writer who tries to remove all of these acoustical relations, so that no single sentence is repeating any particular sound. I used to focus on assonantial relations within sentences, but now I'm more often looking for them from one sentence to another sentence, a way to get from one sentence to another sentence.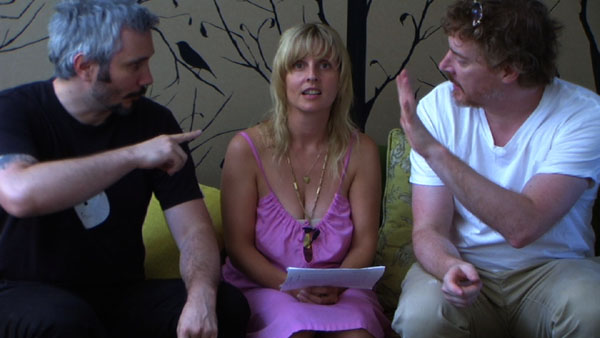 So let's say we have a great opening and maybe even a good idea or an interesting voice to go with it. Now what? How does the writer keep going? One of the things that has helped me keep going while I'm working on a novel is not thinking about it. That is, I try to not think about what I'm writing when I'm getting it down (the thinking, so to speak, comes later). For me, it's just a voice speaking, a way of talking, and I'm trying to be receptive to it, open. I'm just trying to get from one sentence to the next sentence. Often, I do this by looking at the previous sentence—its syntax, the words in play, the acoustics of it—I'm thinking in these small ways, but not so much in bigger ways (say, story or plot or idea). I'm just trying to get material down, which is the hardest part for me. After that, after I have something to work with, then I feel like I can do something with whatever I have on the page. It's the blankness that is difficult for me, filling in the blankness.
Here are some quotes from Sam Lipsyte, Gary Lutz, Joseph Young, and Blake Butler that discuss a similar process in somewhat different ways.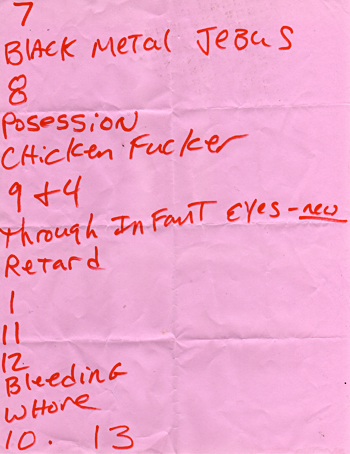 1.) Lists fascinate.
5.) A new review of Umberto Eco's The Infinity of Lists.
Inside is a Chinese encyclopedia created by Borges. Inside the encyclopedia:
There the world's animals are divided into "(a) those that belong to the emperor; (b) embalmed ones; (c) those that are trained; (d) suckling pigs; (e) mermaids; (f) fabulous ones; (g) stray dogs; (h) those that are included in this classification; (i) those that tremble as if they were mad; (j) innumerable ones; (k) those drawn with a very fine camel's-hair brush; (l) etcetera; (m) those that have just broken the flower vase; (n) those that at a distance resemble flies."
3.) Somewhere sinks a cruise ship named Fun with Puns.
10.) Lists shimmer in their making. Like the distance run, or Yeat's dancer (also the dance) the list is its own doing/undoing. The runner and the run the same, a cloud, a tributary, an experience and an artifact. The making doesn't wait for a list to appear; the list is the making and the thing. The list is the listing is the list.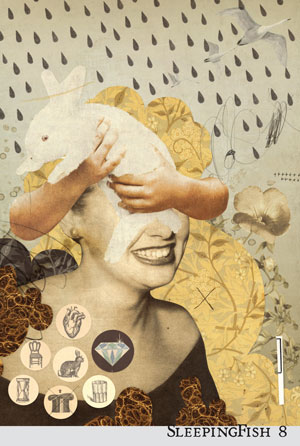 Sleepingfish 8 is out now, edited by Gary Lutz and Derek White, featuring literary text objects by: Ryan Call, Anna DeForest, Sasha Fletcher, Nina Shope, Rachel May, David McLendon, Eugene Lim, The Brothers Goat, Lito Elio Porto, Adam Weinstein, Diane Williams, Dennis Cooper, Elliott Stevens, Tim Jones-Yelvington, Alec Niedenthal, Amelia Gray, Matt Bell, Eduardo Recife, David Ohle, Evelyn Hampton, Émilie Notéris, Ottessa Moshfegh, Cooper Renner, Christine Schutt, M. T. Fallon, Daniel Grandbois, Julie Doxsee, Terese Svoboda, Blake Butler, Stephen Gropp-Hess & Ali Aktan Aşkın.
$12, with excerpts online, including music and textual collage.
Uncategorized /
32 Comments
January 3rd, 2010 / 1:41 pm
Blake Butler
—
The Tyrant has posted an uncollected Gary Lutz story 'In Kind' from their NYT issue 3 today at Vice. "I had no friends, just timid emergency contacts. I married the second woman to come along." Also worth checking out, an excellent interview with the stoner-Manson-looking Alan Moore.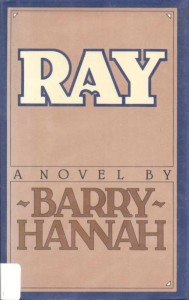 If Gary Lutz does it–and he says he does–I don't know how he does. In an interview with Michael Kimball, Lutz says, "Maybe part of the explanation of why I write the way I write has to do with the way I sometimes read. I sometimes read a book from back to front, sentence by sentence-a practice that, as one might imagine, can give a completely different disposition to a book." I've been trying to read Barry Hannah's slim marvel, "Ray," back to front. Sentence by sentence. It won't work. A book like "Ray" has a certain velocity, speed, force. You'd think that because most sentences here are jewels, are the sharpest of diamonds, that one could isolate them and pick them apart from the bone outward. But it's become clear to me that Hannah's sentences sing precisely because they are deeply embedded in a system of voice which, however fragmented the narrative structure of "Ray," is a system, and therefore, to my mind, necessary.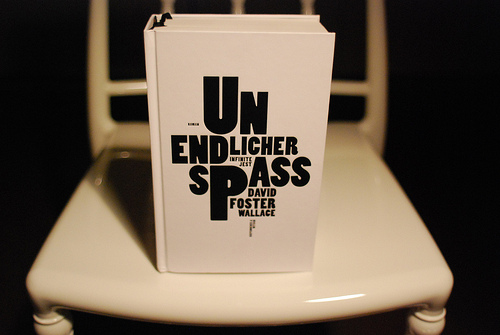 A post re:– neither repost nor riposte–Blake's wichtige Liste and (only at first) about Infinite Jest in German. Maybe a chair is a good metaphor for who gets translated. Have you been translated? Have the Important Writers on Blake's list? And not 25 because Saramago, Ouredník, and Zizek are already others, Ben Lerner's a poet, Aase Berg's both, and I'll write about poets in translation and translation in poets at an other time.
Not sure if anyone went there during all the well DFW grammar talk (thanks, Amy), but imagine translating, say, Oblivion. Good that one of Wallace's German translators, Ulrich Blumenbach, did just that, presumably (it first appeared in 2006), while whittling away at Infinite Jest, which took him six years and has had, as Unendlicher Spass (literally, the less Shakespearean Unending Fun), endless success: ten times the expected five grand copies have been sold since it appeared at the end of August, on the heels of Infinite Summer, which the publisher, KiWi, has translated too, as 100 Days of Infinite Jest (in German–it ended on 12-1).
In an interview with Der Spiegel, Blumenbach (pictured–in German) regrets that the author never answered his many questions, "a list always growing longer": it seems Wallace had grown weary of taking translator's queries, and, according to The Complete Review's useful paraphrase of a slippery summary (still looking for the original source), considered the Spanish La broma infinita (tr. Calvo and Covian | Mondadori, 2002) and the Italian Infinite Jest (Nesi w/ Villoresi and Giua | Einaudi, 2006) and apparently other attempts (anyone know more?) to have "all failed, more or less."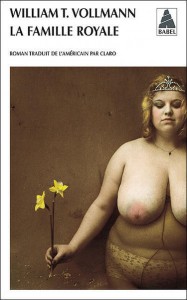 In a warm war, France is responding with (900 pp. of) Vollmann's Rising (not translated by the great Claro, see below, who did six previous tomes, but by one Jean-Paul Mourlon, translator, it seems, of Jimmy Carter and Hilary Clinton). There's also German Vollmann (3 titles), Spanish Vollmann (3 more), Japanese Vollmann (2), Greek Vollmann (2), and Czech Vollmann, all (not counting the French) with only one title (Butterfly Stories) repeated.
American Genius is only a Great American Novel for now (does it even have a British publisher?), despite Tillman's first book of stories, Tagebuch einer Masochisten, having appeared in Germany in 1986, four years before her first collection in English, READ MORE >