Matt Bell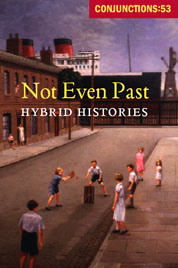 is out now, the Hybrid Histories issue, and as always full of magic power. Among those: Andrew Ervin, Samuel Beckett, Thomas Bernhard, Robert Coover, William Gass, Tim Horvath, Peter Gizzi, Francise Prose, Paul La Farge.
Matt Bell's incredible long story His Last Great Gift is also included, and can be read online here. It's a brain eater, as we've come to expect on the regular from Mr. Bell.
Its first graph:
SPEAR HAS ALREADY BEEN living in the cabin overlooking High Rock for two weeks when the Electricizers speak of the New Motor for the first time. Awakened by their voices, Spear feels his way down the hallway from the dark and still unfamiliar bedroom to his small office. He lights a lamp and sits down at the desk. Scanning the press of ghastly faces around him, he sees they're all here tonight: Jefferson and Rush and Franklin, plus his own namesake, John Murray. They wait impatiently for him to prepare his papers, to dip a pen in ink and shake it free of the excess. When he's ready, they begin speaking, stopping occasionally to listen to other spirits that Spear can't quite see, that he doesn't yet have the skills to hear. These hidden spirits are far more ancient, and Spear intuits that they guide the Electricizers in the same way that the Electricizers guide him.
There aren't that many magazines you can count on to be provocative and powerful from end to end most every time. Conjunctions is one of those. And you can subscribe for a year for $18 in the US. You will wish you had earlier, I can pretty much promise.
Uncategorized /
33 Comments
November 18th, 2009 / 4:24 pm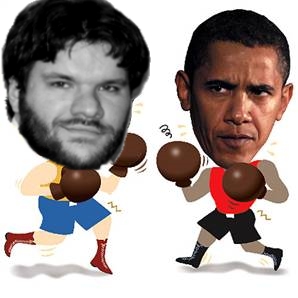 DZANC Books's new online literary magazine, The Collagist, has just posted its debut issue. Edited by steam-train-among-men Matt Bell (pictured at right, the totally casual one), The Collagist features plenty of big hitters right out of the dugout, including Chris Bachelder, Kim Chinquee, and Kevin Wilson.
The work in The Collagist's first issue—stories, poems, essays—covers everything from router anxiety to sinkhole champions; from snowman-inspired carnality to Eastern Oregon; from thoughtful video reviews to thoughtful verbal reviews (including a review of Brian Evenson's Fugue State by our own Ryan Call); from an essay about being in some dude's workshop by David McLendon to a story by the dude who ran that workshop, some dude named Gordon Lish, this Lish dude, dude Lish, Gordotron, named a story, ran a shop, worked.
There is also, of course, the clean-as-a-jeweler's-glasses presentation that we've come to expect from DZANC. Kudos to all involved, and do please readers give The Collagist your face, now and deeply. Press release from Matt Bell, with full contributor list, after the jump. READ MORE >
Uncategorized /
2 Comments
August 15th, 2009 / 1:14 am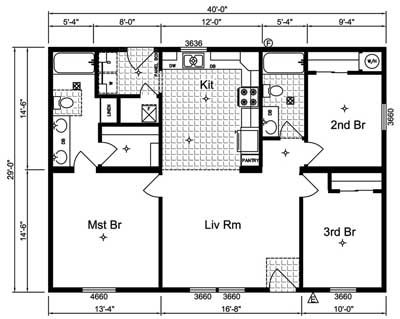 I remember the first time I read this story in Caketrain 4, I read it in the bathtub with some awareness of who Matt Bell was but not fully yet having found. By the end of it I remember going, "Oh, shit, this guy knows what is what and who is who." I was right to go that, because since then Matt has only continue to slay and slay and slay, and yet this story, in all that time, in comparison to so much wonderful work he's since published, has not lost an inch of its fine luster.
Herein Matt Bell demonstrates his amazing ability to meld the unknown and the curiously black with the most identifiable of human moments, without the baggage of sentimental cheese that often crops up in making something seem 'human.'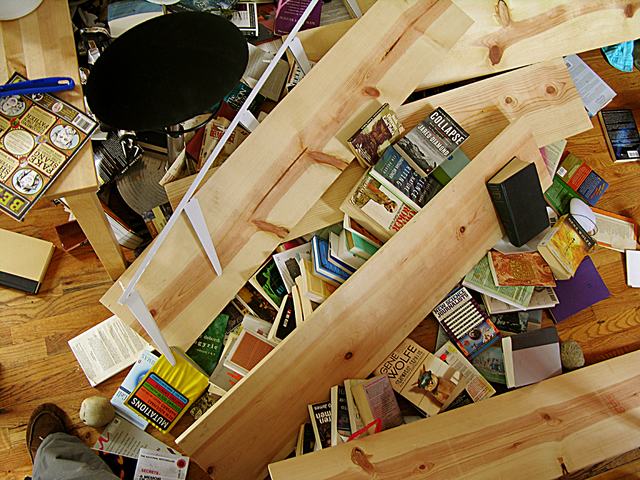 Scott Esposito has published the latest issue of The Quarterly Conversation, the contents of which are pretty fine this time around and include an editorial on the 'demise' of publishing, an intro to e-lit, a contest to give away $60 dollars worth of books, and many book reviews. Karen Vanuska's review of Oblomov encouraged me to expand my Russian reading list.
I'm still reading the issue, but thought I should mention a personal highlight: HTMLGIANT friend Matt Bell's essay on Brian Evenson's Last Days and Dark Property. Despite my having read little Evenson, the essay carried me along without giving away too much. I thought Bell neatly works through the two books, and his analysis made me wish I had more than The Wavering Knife and The Open Curtain sitting on my shelves.
Uncategorized /
8 Comments
March 4th, 2009 / 5:35 pm
Every year since 2004, Jason Sanford of storySouth has curated the Million Writers Award, a contest designed to promote online fiction. Here's how it works: editors and readers nominate their favorite online stories of 1000 words or more, then a team of judges whittle these nominations into a list of Notable Stories. Sanford then selects a Top 10, and people vote for the final overall winner, who this year will receive a $100 cash prize. Here are a couple paragraphs from Sanford explaining and advocating the award:
As the old saying should go: If you can't join them, beat them. The storySouth Million Writers Award for best online fiction of the year will help all internet-based journals and magazines gain exposure and attention … The Million Writers Award takes its name from the idea that we in the online writing community have the power to promote the great stories we are creating. If only a few hundred writers took the time to tell fifteen of their friends about a great online short story–and if these friends then passed the word about this fiction to their friends (and so on and so on)–this one story would soon have a larger readership than all of the stories in Best American Short Stories.
Last year, HTMLGIANT friend Matt Bell won the award for his story "Alex Trebeck Never Eats Fried Chicken", published in Storyglossia. Since Storyglossia is an excellent magazine, "Alex Trebeck" is a great story, and Matt is a terrific writer, something must be going right.
To be fair, the 1000 word rule is controversial. Some editors of online magazines believe the rule marginalizes sub-1000 word stories, which many proponents of online literature believe to be the form that the internet serves best. Wigleaf Top 50 Very Short Fictions award is a different and equally excellent showcase effort that helps somewhat alleviate this issue.
The important thing:  celebrating online fiction. Which the Million Writers Award has done for 5 years now, so kudos. And remember: it's up to you. Nominate your favorite stories, or Barack Obama's going to win this thing too.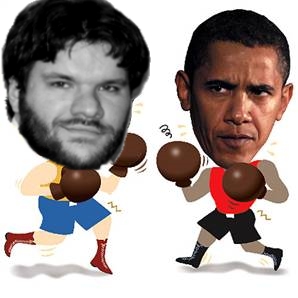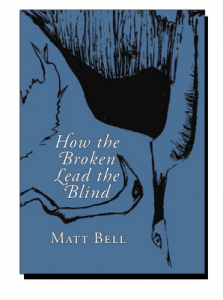 Willows Wept Press has revealed the cover of the first book in what promises to be a solid catalog. Matt Bell's How The Broken Lead The Blind anchors the press and is due to be printed this month. To fully appreciate the artwork by Christy Call, you can see a wraparound cover here.
You can preorder it at the website for $10. Get on it quickly, as there are only 100 copies to be printed.
And look out for the next Willows Wept book, Scott Garson's Vercingetorix.