Star Trek
Mike Young
—
Over at The Atlantic, Ian Bogost has a fascinating essay that frames itself as a discussion of the Star Trek: TNG episode "Darmok" (more easily remembered as the "Shaka, when the walls fell" episode, or the "Darmok and Jalad at Tanagra" episode, or that episode where Picard couldn't build a fire because he was too busy dramatically holding knives, and Troi and Data both got really dumb, and the aliens kept talking weird about all their past successes and failures) and extends itself into a discussion of language, logic, allegory, and SimCity. In other words, Ian Bogost obviously wrote an essay about poetry, whether he meant to or not, and we should all read it.
1. Dear God did I want to like this.
2. I'm something of a fan of the Wachowskis. Bound and Speed Racer are fun, and I adore the Matrix Trilogy (yes, even the sequels). And I have nothing against Tom Tykwer, either. I enjoyed Run, Lola, Run, and admired his stab at making a Kieslowski (Heaven). I wish there were more filmmakers out there like the three of them.
3. Cloud Atlas is pretty well-directed. It presents six different plots across six different timelines, and (speaking for myself) it was easy to follow, narratively. That's not nothing.
4. I've long argued that Titanic is a very well-made film. It's three hours long, with dozens of characters, and it never becomes confusing, never drags.
5. This will not be the first time I compare Cloud Atlas with Titanic.
First, it depends on what you consider a movie. If you define "cinema" as broadly as I do, then the answer is probably "countless." So let's pick something more discrete: feature films (which is what most people mean, anyway, when they say "movie").
There's no hard and fast rule as to what constitutes a feature. The term itself is a relic of theater-going: the feature film was the featured film—it was what the theater advertised outside, and presumably what compelled you to purchase a ticket and enter—as opposed to the various newsreels, cartoons, and serial installments that also ran (and then, eventually, stopped running). Theater-going in 2012 seems an increasingly old-fashioned hobby (see Roger Ebert's recent article on declining ticket sales), but we still use the word to mean "a long film."
But how long? The Wikipedia informs us:
The Academy of Motion Picture Arts and Sciences,[1] the American Film Institute,[2] and the British Film Institute[3] all define a feature as a film with a running time of 40 minutes or longer. The Centre National de la Cinématographie in France defines it as a 35 mm film longer than 1,600 metres, which is exactly 58 minutes and 29 seconds for sound films, and the Screen Actors Guild gives a minimum running time of at least 80 minutes.[4] Today, a feature film is usually between 80 and 210 minutes[citation needed]; a children's film is usually between 60 and 120 minutes[citation needed]. An anthology film is a fixed sequence of short subjects with a common theme, combined into a feature film.
Let's go with that 40-minute cutoff. Are we ready to start counting?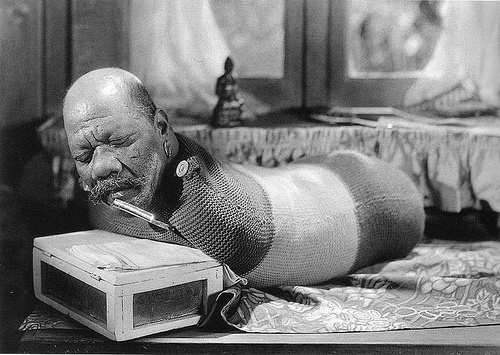 At Bark, I read a post about magazines who try new things and how most lit mags all say the same thing about their mission. At the AWP Bookfair last year, a woman came to our table and asked what we're looking for. I said, quite perkily, "We're looking for great writing," which was, clearly, the wrong answer but I had already answered that question approx. 1,311 times and wanted to be polite but also had nothing left to say on the matter. She pursed her lips and dropped the issue of our magazine like it was tainted. She said, "That's what everyone says," and then she flounced away.