Christopher Higgs
Christopher Higgs
—
For a limited time (30 September–9 October 2013) Vdrome is hosting: Matt Wolf's short documentary "I Remember: A Film About Joe Brainard" CHECK IT OUT!!!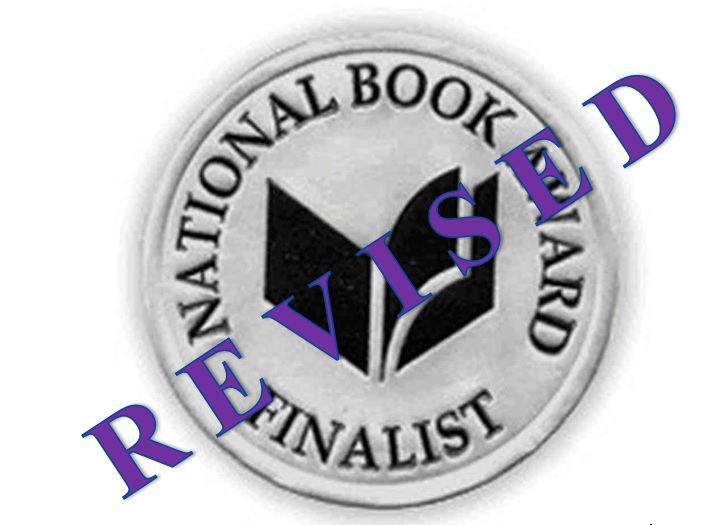 You heard the 2013 National Book Award longlists came out last week, I presume.
Perhaps you noticed the dearth of small press titles, and the ubiquity of familiar names and themes?
For what it's worth, I begrudge none of the recipients their nomination. In all sincerity, I'm sure they're fine books. But honestly I wouldn't know. I've read zero of them. Not a single book in any of the categories. And excluding the YA category, since I know little to nothing about that genre, I'm really only interested in reading six of the thirty selected. For the most part, the official selections just don't represent the type of material I would choose to spend my limited time reading.
That said, I see no reason to denigrate the official list. I do, however, see plenty of reasons to offer a different list of praiseworthy books that deserve more attention. So, I offer this revision in the spirit of the mission statement of the N.B.A.: "to celebrate the best of American literature, to expand its audience, and to enhance the cultural value of great writing in America." Hopefully this might encourage others to expand the scope even farther by creating their own revised longlists.
To compose my revised longlist of National Book Award nominations I first need to deterritorialize the genre categories, because many of the works I think deserve this recognition resist easy categorization as "fiction," "poetry," or "nonfiction."
Next, I will constrain myself to those books written by non-HTMLGIANT contributors, because it would probably seem too nepotistic to include them.
As well, I'll constrain myself to books that privilege text over image, which means I'll exclude a bunch of rad comics that could easily make my list. And I'll exclude "scholarly" texts, despite there being a fuckload of good ones this year.
And finally, I'll select thirteen books, because the official judges selected ten in each of the three categories and I'd rather there only be one category and I'd rather it be odd rather than even in number.
Now then, in alphabetical order of author's last names, my selections for the 2013 National Books Award Longlist:
Janice brought this up a few days ago, but I think it bears repeating. Johannes Göransson continues to mash blueberries and puncture orchids while juggling swords and cacti over at the Harriet blog this month with his "Corean Music" posts.
Here's a powerful glimpse from his latest, which seems to reverberate across a similar body of water I attempted to canoe sometime ago with my "How To Be A Critic" posts:
What would it mean to wade through the plague ground as a model of reading/writing as supposed to transcending the tasteless "too-much-ness" of poetry? Well, I think for one thing, I would do away with the model of "access"—take away the idea that when we read (or listen or watch etc.) that we are agents, that we are in control and we try to "access" the passive artwork with tools we've learned. Instead of access, lets think about fascination: When I read poems that I love I am not in control, not in charge, not trying to access some meaning that will redeem the work (make the shit valuable). No, I'm enthralled, overwhelmed, spellbound. This is what Steve Shaviro, writing about the movies in The Cinematic Body, "fascination." Instead of judging the poem, let's become overtaken by it. Instead of reinforcing our position as complete agents of evaluation, let's be compelled and possessed.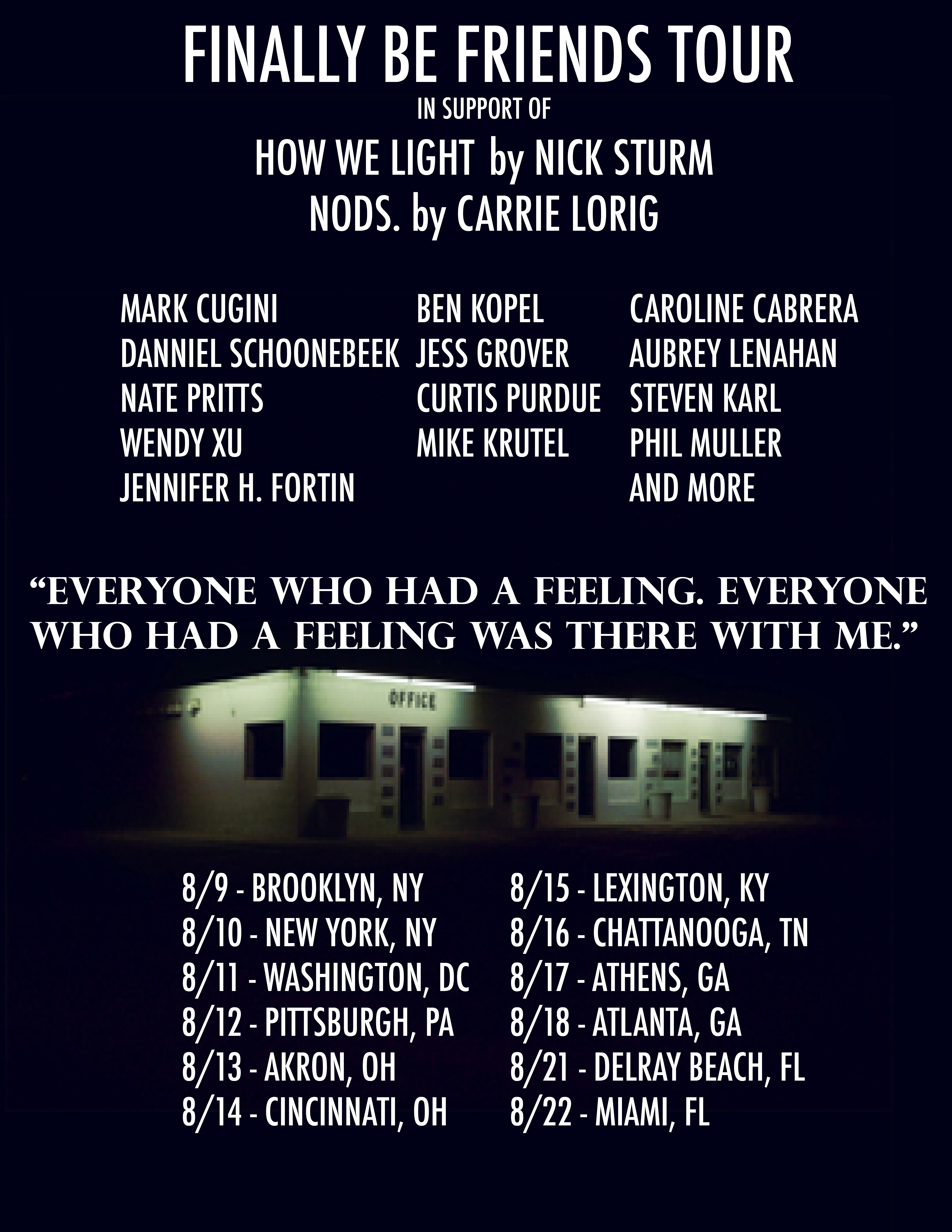 8/9 – Brooklyn, NY @ Unnameable Books 7pm Danniel Schoonebeek, Mark Cugini, Jennifer H. Fortin, Nate Pritts, Nick Sturm hosted by Alexis Pope8/10 – New York, NY @ H_NGM_N H_NG__T 49 West 11th Street #3&4 with Wendy Xu, Ben Kopel, Curtis Purdue, Jennifer H. Fortin, Nate Pritts, Nick Sturm hosted by Russell Dillon
8/11 – Washington, DC @ Three Tents Reading Series with Carrie Lorig, Aubrey Lenahan, Nick Sturm hosted by Mark Cugini
8/12 – Pittsburgh, PA (TBA) with Carrie Lorig, Nick Sturm
8/13 – Akron, OH (TBA) with Carrie Lorig, Mike Krutel, Nick Sturm
8/14 – Cincinnati, OH (TBA) with Carrie Lorig, Austin Hayden, Nick Sturm
8/15 – Lexington, KY @ Black Sheep Reading Series at Black Swan Books with Carrie Lorig, Nick Sturm hosted by Adam Clay
8/16 – Chattanooga, TN @ Fusebox with Carrie Lorig, Nick Sturm
8/17 – Athens, GA @ Avid Poetry Series at Avid Bookshop 6:30pm with Wendy Xu, Jess Grover, Nick Sturm hosted by Dan Rosenberg
8/18 – Atlanta, GA (TBA)
8/21 – Delray Beach, FL (TBA) with Steven Karl, Caroline Cabrera, Phil Muller
8/22 – Miami, FL (TBA) with Steven Karl, Caroline Cabrera, Phil Muller
Get Sturm's HOW WE LIGHT from H_NGM_N Books
Watch Sturm's Book Trailer for HOW WE LIGHT
Get Lorig's NODS. from Magic Helicopter Press
a.k.a. "Playing catch up with the stacks [6]."
In this series I share with you a stack of my recently acquired and most anticipated reading materials. The last time I did one was back in March. In 2012 I did one in November, August, and March, and in 2011 I did one in May.
This time, I figured I would review them, taking as my formal inspiration Julia Cohen & Mathias Svalina's short-lived but totally rad Home Video Review of Books.
Now then…
Conceptual provocateur Kenneth Goldsmith's new project involves printing off the entire internet. You can follow his Tumblr about it. There you'll see he's getting a lot of press for this idea. Some of it positive, some of it negative.
Change.org is actively seeking to stop Goldsmith from going through with his proposition. They've started a petition, which you can read here.
If you're opposed to Goldsmith's project, you can sign that petition.
If you support Goldsmith's project, you can join him, and according to his proposal, "Every person who contributes to Printing out the Internet is listed as a participating artist in this group show. LABOR is the best young gallery in Mexico — everyone gets a great line on their resume."
If you don't care, you can obviously ignore the whole thing.
"Hello Poetry Lovers"
from Quinta Essentia Vol. 0 written and read by Blaster Al Ackerman
video by Cristine Brache (using stock and found footage)
for the O, Miami Poetry Festival 2013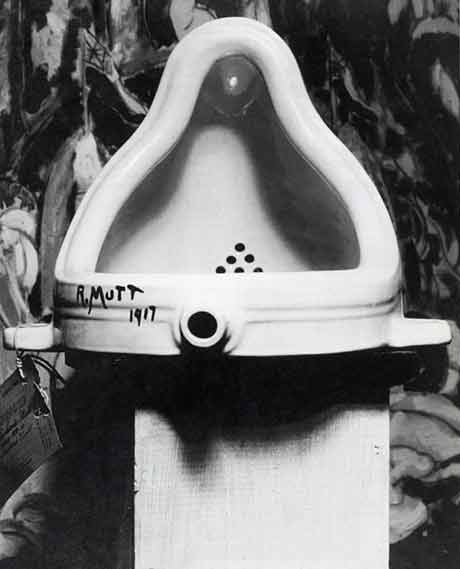 This week I begin teaching a six week summer course on conceptual literature. For those of you who might be interested, click through for the reading list I've assigned my students.