Tuesday, May 27th, 2014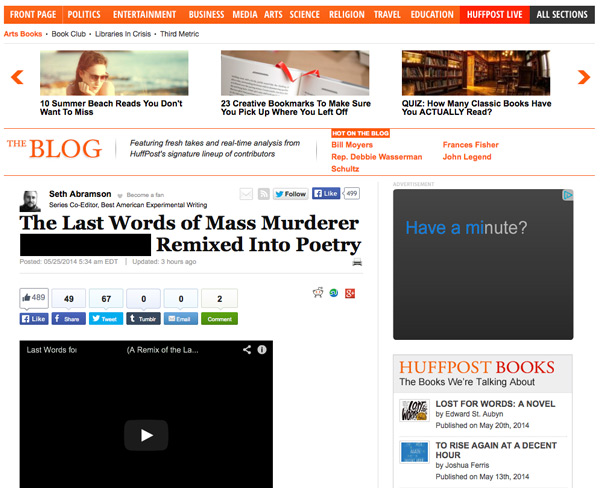 How do you ethically navigate your media?
When I heard today about the shootings in southern California, my first thought was, "oh, again?", and my second thought was, "Rachel is in southern California." After running to the computer to confirm that the shootings took place far enough away from where my wife is, and after feeling huge relief none of the victims were my loved ones, and after feeling momentary guilt for that relief in the face of others' grief, I felt the now-usual feelings of sadness for the victims and their loved ones, frustration at the cultural attitudes that enable and produce this now-usual violence, and renewed knowledge of my helplessness to protect those I love from "random" tragedy.
I then did my usual thing of scanning the web for information about what went on and what lead to it. I read a good deal of the killer's memoir/manifesto. I noted his childhood joy of opening a Pokémon booster pack to find a Charizard, his journey of dyeing his hair partly and then full-blond, his use of the term "playdate" to talk about hanging out with people when he was 17, his emotional connection to his N64, and his reverence for brand names. I realized he had probably killed his roommates before I saw any media mention that he had killed his roommates. I read that he had planned to kill his younger brother and his stepmother. I saw an excruciatingly self-involved man who in many ways still thought as a boy, and who had never been able to understand other people are human, like him.
After thinking a lot today about empathy—the visceral recognition of yourself in other people, of other people in yourself—and reminiscing some about feeling unloved, unattractive, outcast, and misunderstood, I scrolled past a Facebook post about Seth Abramson's remix of the killer's YouTube confession. I thought, "too soon!" and scrolled on. And then later scrolled past it, and then, on seeing it for the third time, read it. In the piece, Abramson reorganizes the killer's words into something life-affirming. Rather than railing against the dumb beast blond women and the thugs their animal minds force them to couple with, Abramson's piece intends itself as a message of comfort, understanding, and love for "Every single girl. Every single man. (Even obnoxious men!)" Even Elliot, the killer.
I then read the comments on the Facebook post.