January 2009
This evening, I got an email asking me if I wanted to add NOÖ Journal into a new literary magazine database called litmags.org. Here is some text from that email:
Dear Editor:

I'm a student working on my MFA in creative writing, and my final project for one of my classes was to construct a website through which readers and writers can more easily find literary magazines that suit their tastes and styles. This is an invitation to have your magazine listed in the site's database.
Okay, sure. Sounds good. Like competition for Duotrope. Cool. But here's what I wonder: do these databases really aid some earnest reader's desire to find a new favorite magazine all about snowshoe poetry? Because sometimes it seems like they just facilitate the ability to find "markets" that "suit" a submitting writer's "aesthetic." Which seems–with all due respect to the people who maintain and program these databases, people who work awesomely hard on their projects–like a depressing and bullshit way to go about reading and writing.
Steven Pinker had a piece in the NYT yesterday about John Roberts' flub of the Oath of Office, and why, from a grammatical standpoint, it doesn't matter. He argues that the long-standing injunction against infinitive splitting is "a myth."
Language pedants hew to an oral tradition of shibboleths that have no basis in logic or style, that have been defied by great writers for centuries, and that have been disavowed by every thoughtful usage manual. Nonetheless, they refuse to go away, perpetuated by the Gotcha! Gang and meekly obeyed by insecure writers.
I thought it was a pretty interesting argument, and I'm always glad to see a shibboleth overturned, so I forwarded the link to my friend Amy McDaniel, who of all my friends is probably the most interested in such things, as well as the best at them. (In addition to being an expert grammarian, she's also an expert on food, and you can/should check out her contributions to the Slashfood blog.)  She replied to my message with a one-liner: "Steven Pinker is an enemy of proper usage," to which I replied that "his insidious claims are deeply seductive." I imagine at this point she realized I don't know anything about Steven Pinker–or as much as I should about grammar–and so she sent me a passage of David Foster Wallace's "Tense Present," wherein DFW critiques Pinker's "descriptivist" approach to usage. The essay, which originally appeared in Harper's in 2001, can be read in its entirety here, or you can find just the part that Amy sent me to settle the matter pasted in after the jump.
Mike Young came to San Francisco a few weeks ago. We didn't document the experience, but it just so happened that we were 'in the way' while a picture was being taken for a website that documents SF art openings (scroll down to Rosenthal Gallery).
Anyway, in the vein of Selections from the Giant family photo album, I figure I'd consolidate our conversation into four snippets. Out of modesty and restraint, the photos are after the break.
Don't let the economy stop you from getting that Creative Writing MFA you've always dreamed of! Or, maybe, do let it stop you and just get the knock-off version here. For this semester everyone reading this blog has a full scholarship to get a Vicarious MFA from me/Columbia. Tomorrow's the first day of class, so I thought I might post a back-to-school warm up, in the Jimmy Chen fashion, using Google image search to find out what the internet thinks you can expect from your Creative Writing MFA.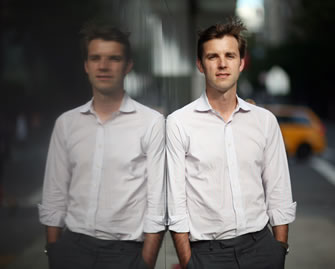 Your new, narcissistic friends will always look like they're posing for their  (future) author photos.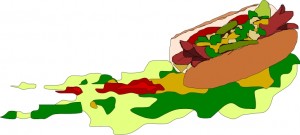 Make sure you take advantage of free hot dog condiments because it's probably the only meal you can afford today.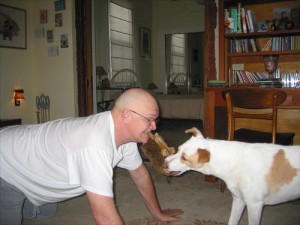 Get ready to have your stories torn apart by your workshop professor who brings in his dog to illustrate how worthless your work is.