Dalkey Archive
Blake Butler
—
Be sure to check out the incredible Dalkey Archive Summer Sale, where through June 4 you can get 5 Dalkey titles for $35, 10 for $65, or 20 for $120 (shipping included in the U.S.). These people work my credit card hard at least twice a year, and I love them for it.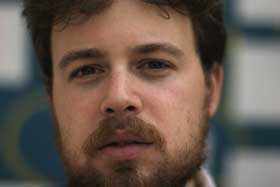 This month saw the release of Joshua Cohen's latest novel Witz, an 824 page monster of language from Dalkey Archive. The book focuses on the occasion of the plague-death of all the world's Jews, save one, Benjamin Israelien, who in his newfound cultural superstardom becomes an object of replication, then becomes the hunted. Beyond the plot, Witz is enormously powerful for its invention, its sound, its complex rhythms. Each paragraph and sentence alone is an orchestral thing, which in the larger context, and in the locomotion of the brutal, beautiful and often hilarious plot's rising, becomes easily one of the more courageous and stunning outfits in the last at least dozen years of publishing.
Last week or so I spent a few days emailing back and forth with Joshua about the book, his process and influences, faith, language, and the like.
JOB TITLE: Editorial Assistant
TYPE: Full-time, entry-level position
SALARY: $24,000–$28,000 depending upon experience and background, plus medical benefits.

JOB SUMMARY: Editorial assistant is responsible for the day-to-day editorial operations of the Press. This is an ideal position for the right person committed to entering publishing, undertaking challenging work, and becoming an integral part of Dalkey Archive Press.

REQUIREMENTS: Minimum BA (preference given to applicants possessing reading knowledge of at least one other language, with emphasis on French or Spanish); superior copy editing and proofreading skills; extensive reading background in literature; extensive reading knowledge of Dalkey Archive Press books and publications; superior writing skills; well-organized, able to manage multiple tasks and shifting priorities; able to communicate well and volunteer regular status updates to Publisher; available nights and weekends; able to learn quickly.

Expected Starting Date: June–August, 2010
Application Deadline: May 15, 2010
Uncategorized /
52 Comments
April 28th, 2010 / 10:03 am
We received quite a few entries and the quality was exceptionally high and picking the winner and finalists was pretty damn tough. Although, because of timing, we weren't able to work with Rick Moody to select a winner, scores have been tabulated, tea leaves have been consulted, incantations have been made and we have come up with a winner and nine runners up, all of whom will be published on a very special, very sweet website in the near future. Thanks, all, for playing!
Administrative note: If you offered prizes please e-mail contest@htmlgiant.com and we'll send you the appropriate winner or finalist's address so you can dispatch them their prize.
Winner:
Kristi McGuire Revising the Pharmacist In Love
Runners Up:
Amber Sparks For These Humans Who Cannot Fly
James Greer Second Hand Blue
Joseph Goosey I < 3 Escapism
Kyle Minor Synopsis of Late Chapters…
Matt Salesses In My War Novel
Sandra Simonds Strays: A Love Story
Kristen Gleason Dear Homeowner
Daniel Portland Portland: City of Rosebuds
Will Luers Imperfections
Blake Butler
—
Dalkey Archive is doing their 'we will eat your pocketbook and mind' sale again, which I have now taken advantage of 3 times and will likely a 4th: Holiday Sale at Dalkey! Get 10 books for $65, 20 books for $120, running through November 22.
Yeah, I know this won't make up for my being HTMLGIANT's least useful contributor (by far), but telling you about the ridiculously good Dalkey Archive holiday sale has to count for something. Right?
What if I drop a few names?
William H. Gass, Jean-Philippe Toussaint, Stanley Crawford, Rikki Ducornet, Rainer Maria Rilke, Gert Jonke, Donald Barthelme, David Markson, John Barth, Michel Butor, Robert Creeley, Robert Coover, Louis-Ferdinand Celine, Stanley Elkin, Witold Gombrowicz, Ben Marcus, John Hawkes, Pierre Klossowski, Robert Pinget, Raymond Queneau, Steven Millhauser, Carole Maso, Tsutomu Mizukami, Flann O'Brien, Gertrude Stein, Viktor Shklovsky, Christine Schutt
Well, here's the deal anyway.
To bring more world literature into everyone's holidays, we're offering—for a limited time—really big discounts through our website on all Dalkey Archive paperbacks (hardbacks and scholarly books excluded).

Choose one copy of several books, or multiple copies of a single book—while supplies last. And there's free shipping! (It's included in the price.) Offer is only good in the US, and expires December 10, 2008.

To take advantage of this offer:

Choose which books you would like (you can

search our online catalog

by title, author, country, series, or genre).
Click on the sale options below for 5, 10, or 20 books.
When you go to "Checkout" you will see, on the first screen offered, a "Notes" field. Please type into "Notes" the titles of the books you would like.

Choose:

5 books for $35 w/free shipping
10 books for $60 w/free shipping
20 books for $110 w/free shipping

Questions? Please contact Melissa Kennedy:
kennedy@dalkeyarchive.com
217.244.5700

And happy holidays from all of us at Dalkey Archive Press.
That works out to $5.50, $6, or $7 a book. Sale ends December 10. Get on it.