HTMLGIANT / Technology
Janice Lee
In an era of broad canonical redefinition, when more and more previously marginalized forms, from comic books to slash fiction, are receiving the literary attention they have always deserved, one storytelling medium remains stubbornly difficult for anyone, even its devotees, to take too seriously. That medium is gaming, and I'm afraid that it's all my fault.
I am a gamer. I have, admittedly, much more passion reserved for gaming's potential, its Platonic ideal, than for any of its present, more or less imperfect incarnations. Sadly, my attitude toward such an ideal waxes cynical of late. Ten years ago, electronic gaming was just starting to emerge from its reflex-test swaddling clothes and make faltering baby steps in a dozen directions exciting new directions, each a distant promise of something previously unseen in the world of art and literature. Today, the bloated man-child of mainstream gaming has all but sunk into a quagmire of the same stories repeated like a tattoo, with more flash and less substance as each year passes, as the intersection of "game" and "story" becomes increasingly cemented in a model that leaves little room for the kind of progressive storytelling originally promised. Its syntax, the language of player interaction in which its message is couched, has become lazy and predictable. The once promising child's development may be permanently arrested, and I, as a gamer, am to blame.
In a McCluhanian nod, that syntax, rather than the literal story being told, is the true carrier of gaming's message. It's the push-pull between the intentionality of the game designer, as expressed in the structure (digital or physical) presented to the player as "game," and the player's own investment and empowerment within the narrative. It is, in many ways, a revival of the call-and-response communal storytelling of folklore and early theater, except that, in a gleefully postmodern twist, the storyteller hopped a jet out of town months before the audience even arrived. The "story" is the sealed and packaged structure left behind, its white spaces carefully measured, the player's responses anticipated and, in many cases, artfully curtailed. The syntax encompasses both the (always limited) means by which the player is allowed to respond to the piece—say, by rotating the camera, jumping, pulling levers, pushing boxes, et cetera—and the degree to which the storyteller has correctly anticipated, and provided appropriate responses to, the player's interactions. Games that employ the same syntax cannot help but deliver the same message, over and over, no matter what the "story" appears to be on the surface.
Critically, the syntax is always imperfect (otherwise, the game would be a perfect simulation of real life, which would negate the game designer's authorial intentionality and, in any case, be unplayably boring). A great deal of gaming's storytelling potential lies in the allowed-but-unanticipated interactions, the frontier spaces wherein the player becomes more than a marionette acting out canned responses and takes on a more active, improvisational role. Not that this always occurs within the game itself.
Theoretically, games could be as broad in their form and intention as the written word. However, the vast majority of mainstream games occupy a stiflingly narrow syntactical space, forcing the player to repeat the same deeply worn gestures ad infinitum. First- and third-person shooting games—often, the only difference is whether the protagonist's legs are visible—dominate the home console market, with action-adventure titles in the style of Devil May Cry and God of War picking up most of the slack. On computers, the preferences differ, but the tropes are no less ingrained. With 90%-plus of a game's syntax devoted to the art of war, you can imagine the narrative range allowed.
The gating factors of syntax aside, there is a deeper problem preventing mainstream gaming from establishing itself firmly in the realm of serious storytelling: the interests of gamers, even those who look toward the horizon, are simply counterproductive to good storytelling. Put another way, people don't play games, even story-driven games, with the same expectations and motivations as they would read a book. Gaming attracts and rewards certain personality types and behaviors; in fact, it trains those behaviors, in a Pavlovian sense. Gamer's want to win, they want to win completely, and the act of playing the game reinforces those desires and expectations.
When I play games, I want to talk to, collect, and do everything that the game allows. I am not a competitive person; rather, I'm driven by a desire to fully appreciate the game's construction. If there are multiple endings, branching options, I want to see them all, and I want to see my time and effort rewarded. The problem is, these desires just don't make for very interesting or effective stories; I am incapable of acting in my own best interests in this regard. Even those games that attempt to push the envelope ultimately have to succumb to the gamer's demands, or they will not get played.
And worse, as a gamer, I do not actually want what I think I want. For the past decade, video game publishers have consistently pushed choice-driven storytelling as a key feature in their major releases, and it is clear from consumer response that this is something most gamers think they desire. From Fable to The Walking Dead, Deus Ex to Dishonored, the message is clear: gamers desperately want a part in the story being told; they want to feel as though their interactions matter.
EA and Bioware's Mass Effect series lives up to this promise better than most. From the first release of this space epic trilogy in 2007, the series has placed an emphasis, almost to excess, on player-defined storytelling that is both novelistic in its scope and cinematic in its execution. The series offers a roughly even split between kinetic over-the-shoulder shooting and loquacious story content, during which the player is bombarded by constant dialogue choices utilizing a "conversation wheel," via which players can select the tack, though not the actual content, of their in-game avatar Commander Shepard's responses.
Random
&
Technology
/
5 Comments
November 19th, 2013 / 12:00 pm
Erik Stinson
The author drives is a series of articles about automobiles by Erik Stinson.
MERCEDES S SERIES COUPE 2012 
I SEE THIS SHIT ON BUSHWICK AVE; NOTICE THE V12(?) ENGINE DECAL AND HOW FUCKING SMOOTH IT HOVERS AT THE CURB BELOW THE OLD GREYSTONES NEAR MYRTLE. IS IT A DRUG THING OR JUST A BAVARIAN STEEL LOVER, WHO WENT ALL IN? WHO KNOWS? WHO CARES? – IT'S A HEAVY PUSHED-OUT RIDE. YOU IMAGINE THE STREETLIGHTS BOUNCING OFF THE BUBBLE GLASS EVEN WHEN IT'S STANDING STILL.
CHRYSLER 300 2006-2014 (Above)
EVERY DAMN MODEL YEAR THIS ONE GETS MORE LEGIT. PEOPLE LOVE THIS CAR FOR IT'S BULK, I GUESS. THE WHOLE THING LOOKS HEAVY, SERIOUS, AND A LITTLE BIT BAT MOBILE. YOU SEE EM WITH THE MATTE BLACK RIMS. YOU SEE EM WITH THE AFTERMARKET BENTLY GRILL. THEY ROLL REAL SLOW AND PARK REAL NICE. JOHN VARVATOS EDITION WHO? I GUESS PEOPLE ROLL THROUGH IN THE DODGE VERSION OF THIS, THE CHARGER, BUT IT'S NOT REALLY MY PREFERENCE AND SEEMS WAY WAY LESS EMPIRE STATE OF MIND.
Craft Notes
&
Roundup
&
Technology
/
2 Comments
September 30th, 2013 / 1:35 pm
Lily Hoang
Do you know this guy?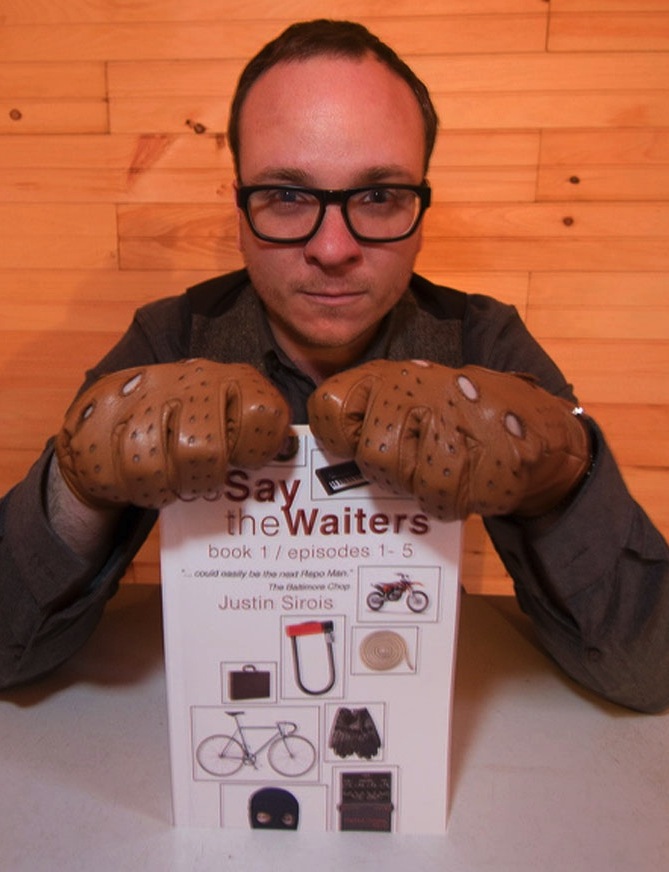 If you don't, you should. His name is Justin Sirois and he is number one. (I stole "X is number one" from Noah Cicero.) If you asked me, I'd say: Justin Sirois is ace.
Ace Justin Sirois has an app. Who the fuck has their own app?!! Check it out. 4.99 never seemed so attractive. What can you get for 4.99? Not a pack of smokes, but you can get this app. Booms.
Author Spotlight
&
I Like __ A Lot
&
Massive People
&
Technology
/
2 Comments
September 10th, 2013 / 12:42 pm
Andrew Weatherhead
Hillary Clinton was riding a horse around Congress in a misguided display of bravado.  The horse got spooked and started kicking desks over then bucked Hillary Clinton, who landed hard but was fine.  She started crying.  The horse terrorized Congress a little more before finding me (I was working as a page) and biting my forearm.  I panicked initially then realized it didn't hurt, the horse wasn't letting go, and the horse was suddenly docile for some reason.  It felt like it was trying to brush its teeth with my arm.  I led the horse out of the Capitol Building and onto the mall where it let go and jumped into the Potomac silhouetted by a setting sun.  I thought about tweeting at the New Yorker "I'm the page the horse bit" but decided against it in favor of showing up in person and offering to write one of those "Talk of the Town" columns about my experience.  So I went to the New Yorker office but had trouble finding the appropriate person to talk to.  I got into a fight with one guy that amounted to little more than flicking each other's ears when the other's back was turned.  Eventually I found the right person.  She was very nice and excited to speak to me and told me to get her something by the end of the week.  I flaked on the article for several months, quit my job as a page, and taught the cat and dog I owned in the dream to sleep on top of me, and each other, in a sort of pyramid shape.
Technology
/
7 Comments
September 6th, 2013 / 11:42 am
Jimmy Chen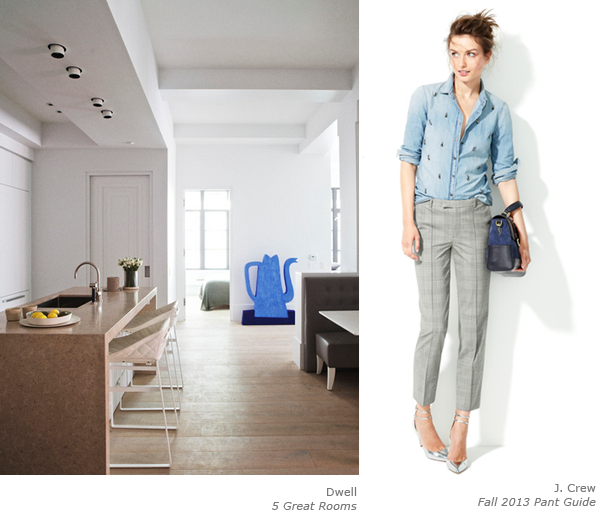 Studies have shown that the internet makes people feel bad. That these studies are almost always read online would make, you would think, one feel better. But the internet—where delusion and projection join hands in violent democracy—is also a reprieve from the horrible real world. It's a viscous cycle. As an idle masochist, I often visit Dwell to "keep up" with all the confidently sparse modernist homes lived in by well-adjusted designer type-A people. Europeans, vegetarians, zombies of good fortune. We assume the owners are at a party, symphony, gala, or fundraising, letting light fall upon their absence in the quiet glory of their restrained taste. I also habitually visit J. Crew, at times to browse the Mens' section for items that won't make me taller, but mainly to check out all the beautiful women I have no chance dating. The Abercrombie & Fitch girls seem inbred, and the Prada models look anemic, ridden with some disease. J. Crew does a great job at consolidating the yuppie, bougie, slightly artsy and bohemian looks very well, with a touch of polite hipster, into the perfect interesting-but-not-crazy woman. They are dream girlfriends. I'm talking a handjob at a Philip Glass concert. I'm talking photoshop.
Technology
/
15 Comments
August 30th, 2013 / 7:24 pm
Erik Stinson
Penguin and Random House aside, it's not unusual to witness the merger of two large companies – Publicis and Omicom this week, if regulators approve. These things happen, between competitors, in market spaces where the norm is already collusion, diffusion and consultancy.
Media companies and advertising agencies don't provide value in simple or easily counted ways, though we are told that the services they bill are common, reasonable, or even essential to the operations of their clients, who actually make and distribute products. Mom and pop and factory floor.
Actually, in some cases client companies are as vaporous and high-minded as the agencies that provide 'creative services' or 'brand management.'
Behind the Scenes
&
Technology
/
1 Comment
July 29th, 2013 / 11:35 am
Brooks Sterritt
A few months ago I took some photos of Bender's T.V. Text and Image, an installation of television sets with vinyl lettering. The text and (boxy) sets are from the late 1980s, and the video is satellite television, in some cases live.
Film
&
Technology
/
3 Comments
July 1st, 2013 / 5:11 pm
Garett Strickland
I AM THE OCEAN.
I am the tide. I am the rise and fall of a wave on a shrub laid in the earth. There are limits to my destruction, but not many. People, they say, "Where have you been? Ain't seen you in a while?" I am always gone and leaving all the time. This is a mode. I forget what I learned to learn it again, to learn it better than it can.
Do you know what it is to wake from a dream unknowing? You were there and now you are here where do we begin from there. When last you left, it was unexpected and it remains still. I cannot remain still.
The door swings open white cube. There are bodies and objects, differences. Spaces exist between the bodies and objects. Some you can drink and some you can eat. Inside the white cube the cube does a noise. The noise is the bodies and objects coming out of the noise, like cartoons come out of the dark. It's white in this cube. The noise isn't white. The noise has no color but the colors come out of it. Noise makes objects emerge to ear, choppings from the body-objects. The nails that hold the room together turn in their sleep and loosen from the wood of walls' embrace. [ . . . ]
: : : : :
I'm making a report of sorts (explosive sound). Tho certain oaths as it were undone to do so. In an age of new popes certain truths untethered can only be the way, need of the idea of the new. There is no secret no spark that will not in the very eye of night of time not rise as a shifting color from its source to know thru to us as each other. I release an animal day after day recoaxed to form from the wrecked hide & bone rended dissembled by dogs and gathered in a garbage bag, released at our wide edge of woods. Songs unheard unspoken in the sound-film.
The ECCLESIA at the circumference-is-nowhere, we're a bridge. We're chaotic, indigenous to blood, and refracting in every direction. The sublime, the grotesque, the liminal and the devotional are constantly excavated, birthing new edges and boundaries to be explored. It's in this that we, in our research and efforts, render all (other) expression possible.
In armchairs we here in the zenithal crux of the Azonic Lodge map and sigilize with thought the hidden canon, burn up or birth to throw the shapes that find their purchase.
TALL IS MAN
a PALE LIMP CYST
to speak a
TETRIS GRAMMAR TONGUE
AI EIS AI OU PHAR DOU IS EI OU
[ [ [ I have come in great rest in order
that we may give rest to our light in the root ] ] ]
We go down to Chaos to save the whole Light from it,
lighthouses slow rising from the blowholes of great whales
as their mouths no longer sucking lemon open
and the rotating beams as they meet they touch
describe the teeth of the crystalline cogwheels archoniked.
: : : : :
The first exoteric face of the ECCLESIA effloresced in Portland, OR about six years ago. This the only assembly as such going back epochs previous, tho still retaining past methods and likewise those existing on the mirrored fold of our future. In this way members are always emerging, realization actualized in the mystery school,
out of focus / triple-exposed
green room monitored and radioed,
shrinking and expanding of the unground
supporting the Fire in Thought.
Here you sense some other metaphysical machines. These constructed in long-standing cloistral projection, beam hatched of past sun-crust wombing swarm to burst forth each fully formed. In the rafters of what was called sky we take up with the echelons.
Hail fellow. Hello sister.
If you're with it you'll know, ya know ya know.
Whoa now you get it you feelin' me.
Ha ha yeah you got it.
Here is your staff and your tablet.
THE TABLET GIVES RISE TO ITS OWN EFFACEMENT
: brilliance is worthy only in the dark :
: : : : :
So I mean yeah come in have a seat. You want anything to eat or drink? It's only as hard to get comfortable as you make it so they say. But bitterness embarrassment futility doubt regret disappointment is some of the best fuel never talked about. As you can tell we're talking hear but the words seam funny in this great degree of silence we've soared like a box-kite outside.
Anyways I wanna play you this song. Listen to this song. You're gonna love it.
: : : : :
TIME OUT RUNG ROUND CAGES ORBIT TONSURE SHATTER CUNT FOLDS BLOOMING CREST OF CROWN BOWL PASS IN WELCOME WEB SILK FLAME POUR IN THRU NOSTRIL FACING OWL FACED UPWARD CATCHING DIVING HEART BARB UNDONE ORB EXPANDING US TO THIS THIS THIS THIS THIS THIS MOMENT
[_______]
Behind the Scenes
&
Technology
&
Word Spaces
/
2 Comments
May 9th, 2013 / 2:28 am
Mike Young
Hey, have y'all seen and heard this Story Tapes project that Eliza Smith and Faith Gardner have put together? They have a sweet logo, and they post interviews/audio/video of writers reading their own stories, or swapping and reading another writer's stories, and it's all really nicely produced and soundtracked.
Stories by people like Scott McClanahan, xTx, Delaney Nolan, Dylan Nice, Alissa Nutting, Mary Miller, Sarah Rose Etter, Amber Sparks, Matt Rowan, Lauren Becker, Casey Hannan, Tania Hershman, and some cool new-to-me people like Alicia Mountain, Sean Schlemmer, Josh Denslow, Owen Poindexter, Molly Laich, Megan Kruse, Berit Ellingsen, and more.
More people should do stuff like this. Is this a thing? Are lots of people doing well-designed and steady video/audio reading series things like Story Tapes? Can you post some links in the comments?
Technology
&
Web Hype
/
10 Comments
April 24th, 2013 / 12:52 pm
Erik Stinson
Nobody really gives a shit about the history of adveriting. This isn't a complaint. It's a thesis.
Behind the Scenes
&
Technology
/
5 Comments
April 23rd, 2013 / 2:39 pm