October 2008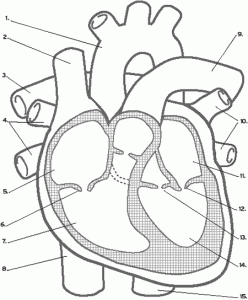 from Diagram:
rises from the giant patch, is out. Consider it an earliness, a bonus, since sometimes we run late too. Perhaps you have noted it and mocked us for it, or raised a glass to our tardiness. Both are fair responses. But this time the new issue is a preemie. So cute! So gross! It's a live live.

Featuring some SCHEMATICS:

* A Baby's Face is Small
* An Analysis of the Lever Escapement
* Another Method for Making a Cloud Descend With One or More Persons In It.
* Evidence of Validity of Sensory Evaluation of the Overall Appearance of Pap Smears
* Surgical Procedure: The Unicorn

Some smokin' hot REVIEWS of books that are good: [Nicky Beer on Elizabeth Bradfield] [Amanda Maule on Clay Matthews] [Matt Dube on Ben Segal]

And horrifying contributions from:

* Arlene Ang
* Brent Armendinger
* Christopher Cheney
* Joanne Diaz
* Jehanne Dubrow
* Ori Fienberg
* Elisa Gabbert
* Melissa Ginsburg
* Boris Jardine
* M. Kasper
* Marissa Landrigan
* Daniel J. Langton
* Stacie Leatherman
* Margaret MacInnis
* Jack Martin
* Teresa K. Miller
* Trey Moody
* Sierra Nelson
* Kim Parko
* Isaac Pressnell
* Justin Runge
* Margot Schilpp
* Amy Schrader
* Jeffrey Skinner
* Don Thompson
* R. A. Villanueva

Have I mentioned that we are more than willing to wash you in your entirety? I hope so. I had really wanted to mention that. So: check it out at <http://thediagram.com>.
Uncategorized /
Comments Off

on Diagram 8.5 is live
October 27th, 2008 / 12:56 am
A link to this blog turned up in my inbox this morning, with an attached note addressed to me and my little sister: >>This is my first cousin Arnold's daughter. I never saw her. I do not know what this means. Can either of you explain it. You can tell me when you get here if you have no time now. Love, Grandma<<
Okay, let's play the game. You've just woken up. You've clicked through and read the blog, and watched the video. You pretty much get what they're up to (e.g. miscellaneous corporate nerd stuff). So……..keeping in mind that your goal here is not to snark your heart or out, sow confusion, or express derision, but rather to communicate just enough meaning to satisfy the person who asked the question……..H0W DO YOU EXPLAIN THIS TO GRANDMA?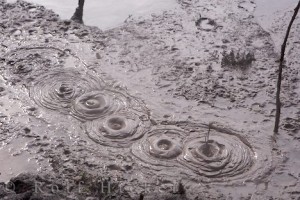 Reader, go buy.
I did. I will tell you what I think of them when they arrive. And I read them. I will read them before I tell you what I think of them.
I will probably read them before I tell you what I think of them.
There is a 64% chance I will read them, or maybe at least skim them before I tell you what I think of them.
57% maybe.
Definitely I will probably read, skim, or at least open them before I tell you what I think of them.
Also, I am sorry that this post moved Kendra's down the page a little. I apologize to you, the reader.
And Kendra.
And to…well, you know. Them.
Uncategorized /
22 Comments
October 24th, 2008 / 4:59 pm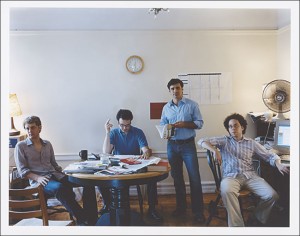 Okay, this is complicated: ADD is Attention Deficit Disorder, and the acronym spells 'add,' and so, people with ADD are to do two things: 1) read the name of the following journals all the way through by 2) adding the letters following the addition sign. You may ask, 'what is the point of this shit?' to which I reply, 'fuck off, I'm a contributing writer.'
I don't no much about this journal, though they seem somewhat negative. I can imagine their rejection letter: No
From our very own M. Young and R. Call, this is a beautifully designed journal featuring the hard hitters of online lit today (R. Lopez, T. Lin, B. Butler, K. Spitzer, N. Cicero, C. Smith, et al). The Germanic umlaut is Mike's way of saying 'I'm am the fuhrer.' The black and white logo reminds me of a cow. Noo Moo.
At 12PM sharp everyday, Diane Williams orders a latte and biscotti and sits down at a café and opens submissions. She has an engraved letter opener which reads "e-mail is for a-hole." Once, she came across my submission and used it for a napkin. 'Kiss me,' my story said, and was ignored.
There's something about being really smart and living in NYC that makes people who are either not as smart or not living in NYC feel like shit. Every time I see the photo of the editors in their apartment/office, burdened by the implications of their formidable ideas, I feel obsolete, pathetic, and stupid (I will admit, alot of that is my father's fault). If you look closely at the clock, you'll notice it's 12:30PM, half an hour behind Ms. Williams. She downed the biscotti and is off to zen camp. 'Kiss me', I said to those guys, and they said, 'the comma goes inside the quotation mark.' Choads!
Uncategorized /
22 Comments
October 24th, 2008 / 1:34 pm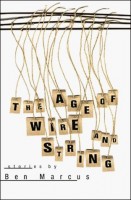 I am in a bad writing phase or something. I haven't been writing very much recently. Instead of writing, I'm reading a lot of things: student papers, composition textbooks, books to review, and then some stuff to make me feel better. Everyone has that shelf or two of books that they read to feel better, I guess. I'm rereading Ben Marcus. Slowly. I just finished Notable American Women a few days ago. Now I'll start The Age Of Wire And String. I pulled the book off my shelf to look at it and a few pieces of paper fell out.
I might have shown this to a couple of people, so sorry if this is old news.
On the papers is an index. I made an index of all the terms Marcus defines in the book and listed the page number of the definition. I made this index one summer a few years ago. I enjoyed making it. It made me feel busy and involved in something. I don't know if it is worthwhile. I don't even know if this makes sense.
But some of the terms you can actually look up as you read – DROWNING METHOD, for example, shows up in the text on page 10, but it isn't defined until page 94.
That was a good summer.
Okay, here it is after the jump (and I understand if you make fun of me):