Christopher Higgs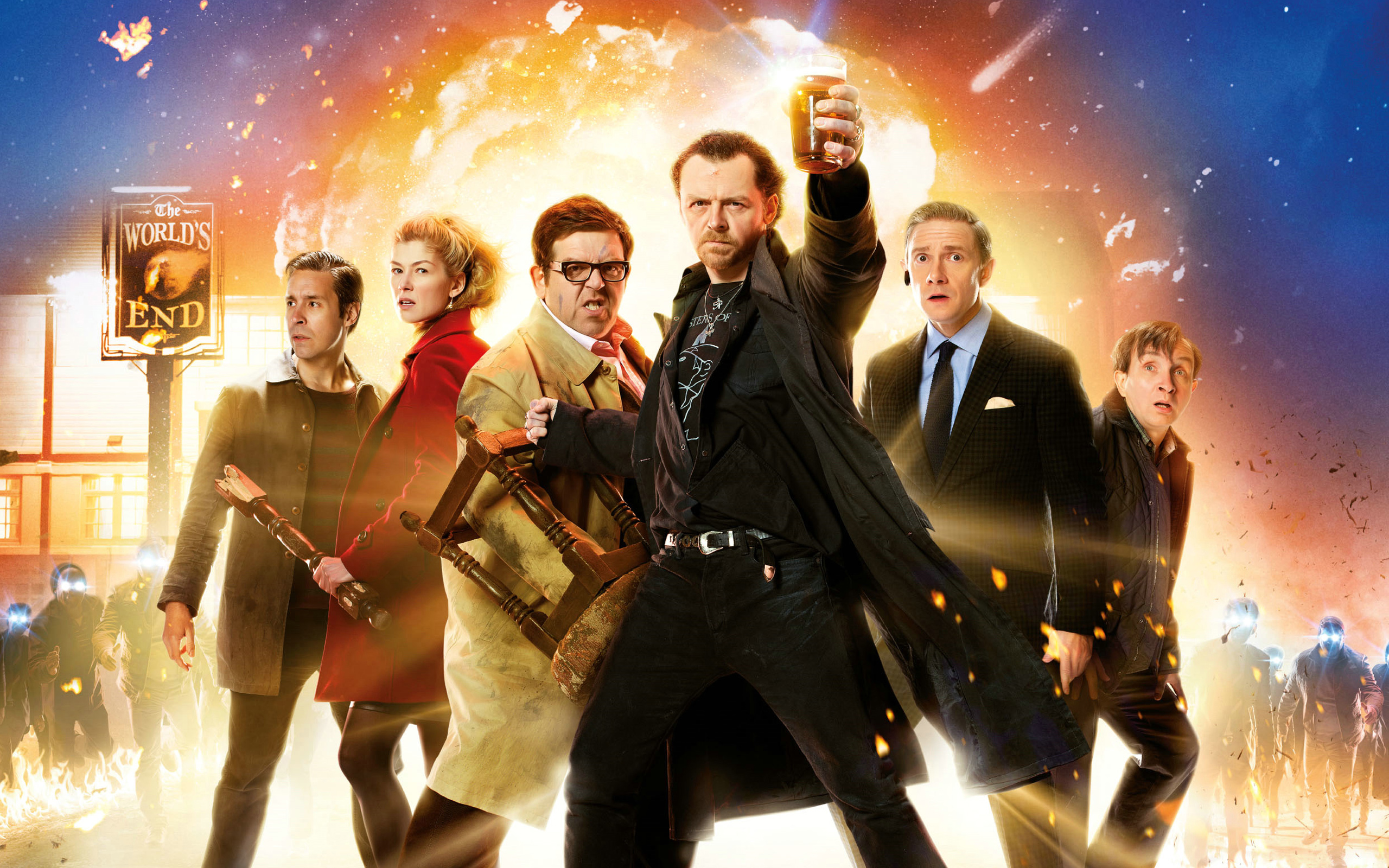 [Update 1 September: Since posting this, I've seen The World's End a second time, which radically changed my opinion of it. I now think it an extremely complex film and a masterpiece, perhaps even Wright's best work to date—see my second attempt at a review/analysis.]
1. I love everything that Edgar Wright has made.
2. Spaced is one of the cleverest sitcoms I've ever seen, demonstrating repeatedly how innovation can be wrested from the most hackneyed cliches of a given form.
3. Shaun of the Dead I rank among the greatest zombie films made, the full equal of Night of the Living Dead and (the original) Dawn of the Dead.
4. Hot Fuzz is probably Wright's best film to date; three viewings in, I'm still grasping its subtleties.
5. Scott Pilgrim vs. the World is my probably favorite film of the past three years—when I am honest with myself, I'm forced to admit that I love it even more than Drive or The Ghost Writer.
6. Edgar Wright is the only celebrity that I follow on Twitter.
7. I now go into everything that he makes expecting nothing short of sheer brilliance and genius.
8. I went to see The World's End opening day.
9. It pains me greatly to say that the movie is, to date, my least favorite work of his.
I'm still bogged down with school (almost done) but I thought I'd throw a little something up, pun intended. Two months ago I wrote an analysis of Susan Sontag's "Against Interpretation" where I argued that, rather than being opposed to all interpretation, as some believe, Sontag was instead opposed to "metaphorical interpretation"—to critics who interpret artworks metaphorically or allegorically. ("When the artist did X, she really meant Y.") I thought I'd document a few recent examples of this—not to pick on any particular critics, mind you, but rather to foster some discussion of what this criticism looks like and why critics do it (because critics seem to love doing it).
The first example comes from Chicago's Museum of Contemporary Art, in particular the exhibit "Destroy the Picture: Painting the Void, 1949–1962" (which is up until 2 June). One of the works on display is Gérard Deschamps's Tôle irisée de réacteur d'avion (pictured above, image taken from here—I didn't just stretch out a swath of tinfoil on my apartment floor). The placard next to it reads as follows:

A few years ago at Big Other I wrote a post entitled "Experimental Art as Genre and as Principle." That distinction has been on my mind as of late, so I thought I'd revisit the argument. My basic argument then and now was that I see two different ways in which experimental art is commonly defined.
By principle I mean that the artist is committed to making art that's different from what other artists are making—so much so that others often don't even believe that it is art. As contemporary examples I'm fond of citing Tao Lin and Kenneth Goldsmith because I still hear people complaining that those two men aren't real artists—that they're somehow pulling a fast one on all their fans. (Someday I'll explore this idea. How exactly does one perform a con via art? Perhaps it really is possible. Until then, I'll propose that one indication of experimental art is that others disregard it as a hoax.) Tao visited my school one month ago, and after his presentation some folks there expressed concern, their brows deeply furrowed, that he was a Legitimate Artist—so this does still happen. (For evidence of Goldsmith's supposed fakery, keep reading.)
Eventually, I bet, the doubts regarding Lin and Goldsmith will fall by the wayside. Things change. And it's precisely because things change that the principle of experimentation must keep moving. The avant-garde, if there is one, must stay avant.
That's only one way of looking at it, however. Experimental art becomes genre when particular experimental techniques become canonical and widely disseminated and practiced. The experimental filmmaker Stan Brakhage, during the 1960s, affixed blades of grass and moth wings to film emulsion, and scratched the emulsion, and painted on it, then printed and projected the results. Here is one example and here is another example. And here is a third; his films are beautiful and I love them. (The image atop left hails from Mothlight.) Today, countless film students also love Brakhage's work, and use the methods he popularized to make projects that they send off to experimental film festivals. (Or at least they did this during the 90s, when I attended such festivals; I may be out of touch.)
Those films, I'd argue, while potentially beautiful and interesting, are not necessarily experimental films. As far as the principle of experimentation goes, those students had might as well be imitating Hitchcock.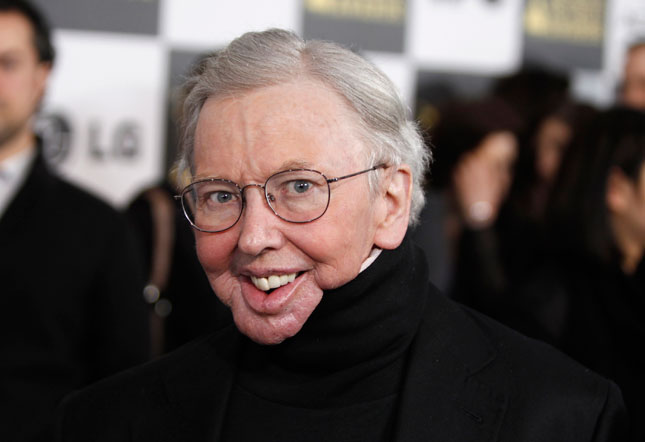 At the risk of greatly oversimplifying matters, if you want to be a critic, you have two options: to proceed either in good faith or in bad. Both approaches have their limitations.
[Update: I posted a follow-up to this post, here.]
1.
Susan Sontag's seminal mid-60s essay has come up several times at this site. I've been busy rereading it since Xmas, and want to take this chance to set down some thoughts regarding it.
2.
Obviously, whatever interpretation is, Sontag seems against it.
3.
What, then, does Sontag mean by "interpretation"? Does she mean any and all interpretation, as my fellow contributor Chris Higgs recently argued? Or something else, something more specific?
Blake has stated, over at Vice, that he doesn't want to read any more books about straight white people having sex. Stephen has stated, right here, that he is prepared to read many more novels about people fucking. There are substantial differences in these claims that we could pause to examine ("don't want to read" vs. "am prepared to read"; "straight white people" vs. "people"; "sex" vs. "fucking"), but forgive me if I let those subtleties drop. Because I would rather observe that, if this is the scope of the debate, then it's akin to one person saying, "I am tired of books about dogs, and no longer want to read more novels about them," to which someone else replies, "I'm still willing to read some canine fiction."
Recast in that light, it's easy to see that neither person is right or wrong. How could they be? It is simply a matter of taste. One man has gotten tired of all those dog books. The other man is not yet so tired. The literary market, no doubt, will cater to them both. And perhaps, over time, demand for dog-free writing will grow, and drown out the pro-dog side, and the market will shift and, for some time, it will be hard to come by a copy of Marley and Me. (Here it might be helpful to replace "dogs" with some other thing, like vampires, or zombies, or alt-lit.) But through it all, one's preference is perfectly free to steadfastly remain one's preference. What's not at stake, in other words, is the right to like whatever you like. The books you read say something about the person you are, and you should be proud of whoever you are! Display your chosen book(s) on the train to signal your affiliation with one of this nation's many vibrant subcultures. Who knows? Another member of that subculture may spot you, in which case you can exchange nods, smiles, kisses! What's more, today, thanks to the Internet, you can even make a list of the books that you like, then talk with fellow fans! (There are even web-sites devoted to this!)
Let's try thinking instead about this argument in terms of genre. A new cowboy movie has comes out, and you and all of your friends go see it. Afterward, you're wondering whether it's any good or not …

As promised, back to Shklovsky! In Part 1, we examined his fundamental concepts of device and defamiliarization. In Part 2, we saw how context and history deepen what defamiliarization means. (That's what led us to take our New Sincerist detour.) Now, in this third part, let's return to Chapter 2 of Theory of Prose, where Viktor Shklovsky discusses "special rules of plot formation."
Here it'll be useful to remember that one of the meanings of rule's root, regula, is "pattern." Because Shklovsky is talking less about "rule of law" than he is about the patterns that devices combine to make.
Whenever you write—and it doesn't matter whether you're me or Chris Higgs or Mike Kitchell or Kathy Acker or Georges Bataille or whomever—you're working with conventions. None of us invented these words, nor words, nor their spellings, nor syntax, nor sentences, nor punctuation. We didn't invent writing. Nor did we invent literary criticism, or essaying, or blogging, or the HTTP protocol that transmitted this post to your computer. We're all working within overlapping systems that, by virtue of the accident of birth, we find ourselves in. This should cause us no distress because rather than stifle our creativity or inhibit our originality, these systems and their rules provide the very basis for originality and creativity. Without any patterns or conventions we would be left with only noise, in which no innovation whatsoever is perceptible or even possible. It is in fact patterns and conventions that provide the opportunities for disruption and deviation.
In Chapter 2, Shklovsky is trying to understand patterns that authors use when stringing devices together. He isn't interested in defining every pattern; nor is he interested in critically evaluating them (e.g., "this pattern's better than that one"). Rather, he wants to examine commonly used ones and demonstrate (the following point is crucial) how even though the patterns are simple and common and predictable, they provide practically infinite opportunity for defamiliarization—and therefore artistry.
In the rest of this post I'll focus on the simplest of those rules, repetition, with examples taken from Nirvana, Weezer, and Tao Lin.
I've decided that, from now on, all I'm going to write about at this goddamned site is this goddamned thing.
… No, seriously, I'm delighted that so many have chimed in. Thanks to everyone! I thought one massive reply would be easiest. If you read this whole thing, may your god shower blessings upon you. And if I missed any pertinent responses, kindly direct me to them in the comments. (I was traveling last weekend, and as such had trouble keeping up with all the discussion.)
1.
I've claimed (here, here, here) that one thing at stake in the New Sincerity is the discovery of what maneuvers currently count as "feeling sincere." That such maneuvers exist I consider more an observation than a topic for debate. E.g., Blake, in his recent post about Marie Calloway's Google doc pieces, wrote that Calloway's recent work: